Ingredients

(Pic 1)

2 packages frozen vegetarian fish (white color or in seaweed sheet, available at health food stores), thawed


1 Tablespoon butter or margarine


Crushed roasted peanuts (to sprinkle over fish for flavor, the amount is optional)


Spring roll wrapper (rice paper wrapper, prefer "Rose" brand) *


1 head Romaine lettuce, washed


1 bunch Chinese chives *, washed


1 bunch cilantro, washed


1 bunch laksa leaves *, washed


1 bunch fresh mints*, washed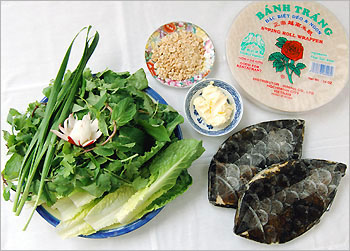 (Pic 1)

Dipping sauce ingredients

(Pic 2)

1 Tablespoon olive oil


4 oz or 3 stalks lemongrass *, minced


1 can (8 oz.) crushed pineapple


1 bottle (8 oz.) wholegrain soy sauce *


¾ cup canned Coco Rico coconut soda * (open and set aside for half an hour)


2 Tablespoons creamy peanut butter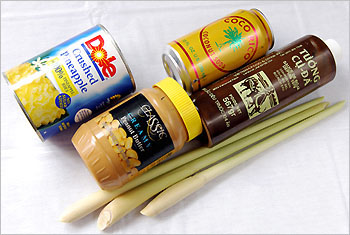 (Pic 1)
* Available in Asian Markets


Directions

Dipping sauce :
Preheat a medium saucepan on medium heat and add in the olive oil. Stir-fry the minced lemongrass until partially golden. Add the crushed pineapple and stir quickly. Shake up the bottle of wholegrain soy sauce and pour into a saucepan.

Turn to high heat to bring the sauce to a boil. Then lower heat and add in the Coco coconut juice. Bring to a boil again. Add the peanut butter and stir well. Remove from heat and let cool. Add the fresh sliced chili peppers to make it tastier.
Baking the vegetarian fish :
Preheat the oven to 400° F for 10 minutes. Coat the vegetarian fish with the soft butter or margarine and place it onto a baking dish. Put in the oven and bake for 10 to 15 minutes. Remove from oven. Wait a little bit cool, sliced the baked veggie fishes.

Place the baked veggie fish slices on a plate and sprinkle the crushed peanuts on top.
Spring roll wrapper :
  Dip the spring roll wrapper into warm water, and place on a big plate .


Decoration

Wrap the vegetarian fish, the lettuce leaves, and the fresh herbs with the spring roll wrapper. Dip into the sauce for tasty flavor.