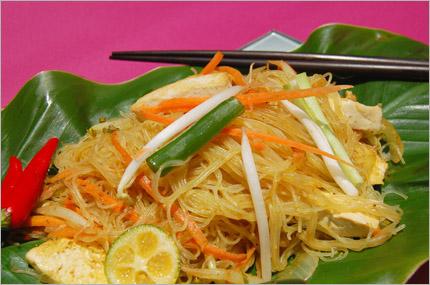 Provided by Kao Hsiung Center, Formosa

Ingredients


150g rice noodles, softened in water, boiled and rinsed, set aside


¼ piece (120g) firm tofu, sliced (not too thin)


1/5 (80g) small onion, thinly sliced


70g shredded carrots


80g bean sprout (about a handful)


2 green onions, only use the green leaves, cut into 1.5" section


8g salt (or to taste)


5g natural M.S.G


15g sugar


15g curry powder


Directions

1. Add 1 tbsp oil in a heated pan, fry tofu slices until golden brown, remove and set aside.

2. Add 1 tbsp oil in the pan, heat with medium to high heat, add onion slices and fry with high heat until fragrant.

3. Add tofu, carrot, bean sprouts and green onions. Keep stirring. Add cooked rice noodles and turn heat off.

4. Add all the seasonings and mix well. Again, turn on the heat, stir quickly with medium heat until the rice noodles become dry and fragrant.

5. Sprinkle a little green onion pieces for decoration before removing from the heat.