Ingredients


300g Gluten sausages (pic 1)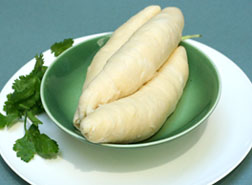 (Pic 1)


Seasonings

(pic 2)

1 bag five spices for braising*


3 tbsp soy sauce


30g crystal sugar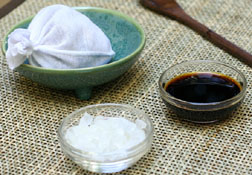 Directions

1. Cleanse gluten sausages. Drain and set aside.

2. Cook five spices bag, soy sauce and crystal sugar with some water until boil. Add gluten sausages and continue to cook under low heat for about 20 minutes. After the gluten sausage thoroughly soaked with flavor, remove and drain.

3. Fry the drained gluten sausages under medium heated oil until golden grown. Remove and drain the excess oil. Cut into sections and lay out in a plate. Ready to serve.
*Five spices in bag for braising food are available in Asia store.
*You can make gluten by yourself, please refer to Homemade gluten.