Ingredients


300g gluten sausages (Pic 1)


Sweet potato starch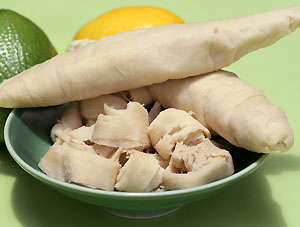 (Pic 1)


Seasonings


½ tsp five spices powder


½ tsp cinnamon powde


½ tsp Chinese pepper (fagara) powder


½ tsp black pepper powder


½ tsp white pepper powder


1 tsp sugar


1 tsp salt


Vegetable and fruit seasonings to taste

Mix above ingredients well and set aside.


Directions

1. Cleanse and dry gluten sausages. Tear into small pieces by hand (it's more tasty this way).

2. Soak the gluten pieces into the seasoning mix until become tasty (for at least one hour). The longer they are soaked, the stronger the taste. You can soak overnight in the fridge if you prefer stronger taste.

3. Cover the soaked gluten pieces with the sweet potato starch and set aside. (Do not let them sit for too long because the sweet potato starch will become sticky after absorbing water.)

4. Fry in medium heated oil until the surfaces become crispy. Remove and ready to serve.
*You can make gluten by yourself, please refer to Homemade gluten.