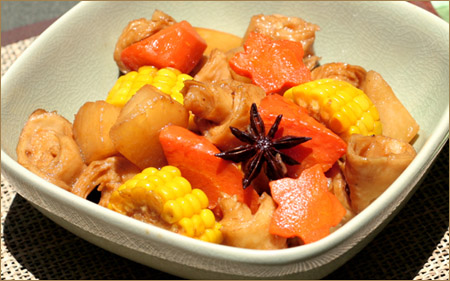 Recipe provided by Kao Hsiung center, Formosa

Ingredients


300g gluten sausages (pic 1)


120g carrots, peeled, wash and cut into chunks


120g radishes, peeled, wash and cut into chunks


1 sweet corn, wash and cut into chunks (above 3 ingredients, pic 2)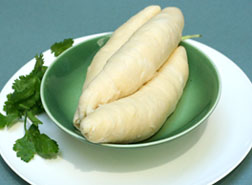 (Pic 1)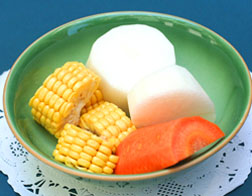 Seasonings


3 tbsp soy sauce


2 star anises


1 tbsp sugar


1 bowl of water


1 tsp cornstarch


Directions

1. Cleanse gluten sausages and tear into small pieces by hand. (It's tastier this way)

2. Mix cornstarch with some water. Set aside.

3. Fry gluten sausages in medium heated oil until golden brown and remove from heat.

4. Fry carrots and radishes in the same oil until light brown. Remove and set aside.

5. In a heated pan, add 1tbsp oil and cook sugar, soy sauce, star anises, and water till fragrance is emitted. Add fried gluten sausages, sweet corn, carrots and radishes. Simmer with low heat. When the sauce is almost absorbed, add cornstarch mix and stir well. When all sauce is absorbed, turn off the heat and arrange in a plate. Ready to serve.
*You can make gluten by yourself, please refer to Homemade gluten.