Recipe Provided by the Belgium Center

Ingredients

Serves4
(Pic1)


120g soy sauce ( can change the portion depending on the brand and/or taste of the soy sauce or add more salt if necessary.)


45g sugar (approximately 2 Tablespoons)


45g oil (approximately 2 Tablespoons)


500-600 cc water


6g (3 to 4) star anises, or 6g cinnamon bark (optional)


1 package (580g) tofu, or frozen tofu


250g carrots cut into bite-sized pieces


400g potatoes cut into bite-sized pieces


6-10g garlic (optional), it will make veggie stew flavor similar to meat stew


1teaspoon natural mushroom seasoning* (optional)


1-3 onions (optional), onion and carrot will release a lot of sweetness after cooked


1 radish (optional) , needs to be cooked with carrot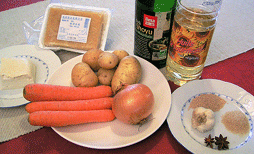 Directions

1. Over high heat, preheat the oil in a completely dried pot with cover.

2. Add carrots and immediately put the lid back on. In order to avoid being touched by splattering hot oil, please stand right behind the lid. (Pic 2)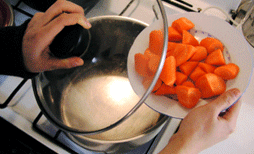 3. Cover the handle and the lid with a piece of cloth, hold the handle, and gently shake the pot in order to evenly heat carrots (Pic 3). Continue to heat for another minute. Once the oil stop popping, reduce heat to low. Carefully open the lid, add sugar, soy sauce and water (preferably warm water).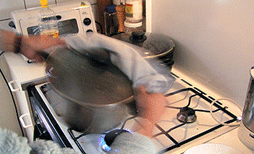 4. Increase heat to high and cook until boiling. Add tofu, potatoes, onions, natural mushroom seasoning, and star anises (or cinnamon bark. It is best not to use two spices at the same time). Taste stew, add more salt or soy sauce to your liking. If you like garlic, crush garlic cloves with the side of a knife, peel and add into the stew.

5. Cover and continue to cook on high heat. Turn to low heat once the stew start boiling. Simmer for at least thirty minutes and remove from heat. Before serving, you can sprinkle a little diced coriander to increase the taste and the look of the stew.




Notes:
1. There are many ways to make Chinese stew. Different combinations of vegetarian protein and vegetables can produce different kinds of tastes. Other variations for protein include: bean curd*, soft bean curd roll*, wheat gluten sausage**, deep fried tofu, soft bean curd pocket*, deep-fried bean crud pocket*, Bai Ya tofu*, veggie ham*, veggie meat ball*, and lentils. Variations for vegetables include: konjaku, seaweed, Chinese cabbage, mushroom, corn, chestnuts, leek and bamboo shoots. All of them taste good in the stew.

2. The soup of the stew can be used to make noodle soup.

*Available at Asian Markets
**Available at a Health Food Store.