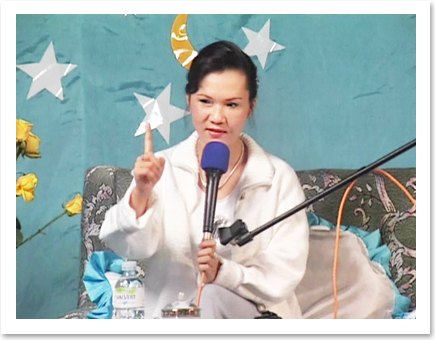 Poland
---
Polish fellow initiates had been waiting for years for Master to visit our country, and it was with great joy that we received the news that Master was coming to Poland. We were very exited at this news and at the same time we wanted to do our best to prepare for Her arrival in our country. Very quickly we rented a hall for the lecture. We also informed the media about Master's visit and put ads in the press, and on radio and TV. Many initiates from all over the world came to help us with distributing flyers on the streets of Warsaw. The preparations for the lecture took a lot of effort. We worked day and night. We were tired but the delicious food prepared by the disciples gave us energy. We had a very large response. The telephone in the Center rang continuously for days. But we still didn't know how many people would actually attend the lecture, so we were extremely happy when we saw that the lecture hall was filled to capacity.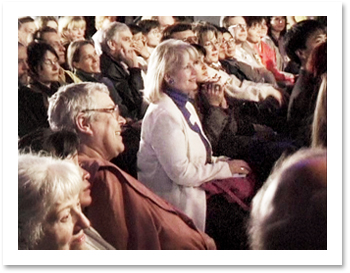 During the lecture Master said: "Poland is a holy land. Because one of the greatest men on the planet was born in Poland, his Holiness Pope John-Paul II. Master mentioned that in the Bible, it says: In the house of my Father, there are many mansions. These different mansions, or different levels of consciousness or different levels of the universe exist at the same time. And therefore we have the choice to choose one event or another at a lower level or an event of a higher level at the same time. There is a way we can choose. God gives us the free will to choose which event is most pleasing to us. After initiation, because the connection with God which had been severed before, is newly reconnected, we live our lives in peace, in security, and in the immense love of God every second, awake or asleep, because we have the choice to leave the coarse, gross, rough energy, the rough level of energy behind us or below us. And we have the choice to ascend into a higher level of life, which exists at the same time, and to take out whatever goodness is from that higher level.
People asked Master many questions. The atmosphere of the lecture was permeated with peace and happiness. Master's love changed people's hearts. One person who attended the lecture said that he never expected that it would affect him so much......