Mexico
---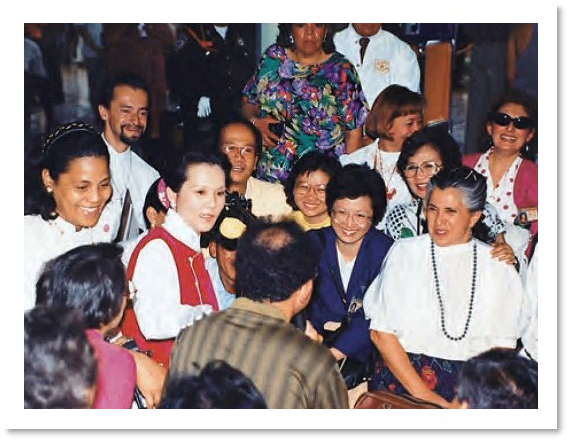 Describing the story of how the lecture was arranged, brother Huang Honghai said: "At that time there were no initiates or friends in Mexico who could offer help. Then a former Miss Universe made a phone call to the Costa Rica Center saying that she had read Master's sample booklet and wanted to be initiated into the Quan Yin Method. She had been trying to locate Master since first reading the book. Through the help of this would-be-initiate and one of her friends, plus the cooperative efforts of initiates from Formosa, America, Mainland China, and South and Central America, thousands of people attended the lecture. This lecture in Mexico turned out to be the one with the most far-reaching impact among all the lectures given by Master in South and Central America. Recounting the whole story and the follow-up during the next few years, we are further convinced of Master's omnipotence and omnipresence."
Sister Wang Leejing told us: "In a suburb of Mexico City, there are relics of the ancient Mayan culture that remind us of a glorious and highly spiritual era through which Mexicans lived. Although the Mayan culture has faded out, the pure and kind hearts of the Mexican people remain. When shopkeepers and street peddlers received Master's pictures from us, they warmly expressed their gratitude and naturally paid homage to Master with great sincerity."
Brother Yang Chuan Ping stated his views about the people of Mexico as follows: "From the way they showed their love toward Master we could recognize the romantic and pure nature of the Latin Americans. When we put up the posters with Master's picture on them, many people came up to us and asked for them. We had to repeatedly explain that we could not give these pictures to them until the lecture was over. When we put the posters on utility poles, they repeatedly kissed Master's picture on the posters. After searching our memories, we simply could not find a record of ardor as strong as theirs. The lecture was held at a university. When we held Master's poster while walking around the campus to let more students know about the upcoming lecture, the students warmly said hello to us and asked our names. They seemed so intimate that we felt they were our brothers and sisters. Although the local residents are not rich, they bought more books by Master than people from other places did. This showed how much they loved Master's teachings."