Turning Our Burdens into Joy
---
Spoken by Supreme Master Ching Hai, California, USA, March 9, 1994 (Originally in English),Videotape No. 409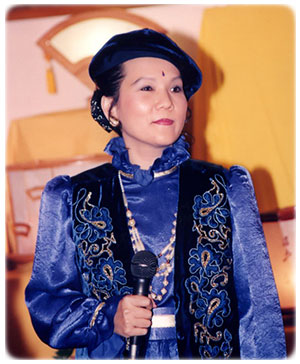 Foreword:For those highly enlightened Saints who thoroughly understand the game of creation,a reclusive life in the remote mountains,far from the mundane world, is one of happiness and freedom from care and worry. However, these Saints often choose to remain in the dreary world to help and set real-life examples for sentient beings. Thus, we are sometimes blessed to gain a glimpse of Their lives, of Their elevated words and deeds. By observing their actions, we can learn how an advanced spiritual practitioner applies the great wisdom of the universe in the secular world.

Sometimes we can turn problems into joy, turn nuisances or burdens into beauty. For example, I normally wouldn't have this outfit. (Master indicates the vest and skirt ensemble She is wearing.) And I didn't think of making a new one since I had already designed so many the last time, and I haven't worn or even tried them all on yet. But someone, I don't know who, slipped this jacket inside my room. I think it was one of our ex-nuns, who wanted to show the sincerity of her repentance for leaving me alone in the desert with the flowers. So she probably went out and bought this vest and threw it inside my window one day. But when I saw it, I said, "Oh, my God! How can I wear this?" (Master and everyone laugh.) Because she only bought this, so what did that mean? Can I wear it like this (the vest only) to go to group meditation? I can't. Maybe I might do it one day and shock you all out of your shoes. But I don't have that inspiration yet so be prepared.
So I kept thinking, "What can I do with it?" because I didn't have any clothes to go with it. Most of my clothes are conservative, just a tunic and white trousers; that's it. Then a jacket to cover the "must-cover" places, (Master jokes) so that people think I'm a moral, ethical and very good practitioner, very enlightened and so on.
So now I didn't have any clothes to wear with this kind of vest. And I couldn't wear it alone. But first of all, I couldn't throw it away because it was already there. Second, it was too small; I wouldn't know who to give it to since I'm the smallest size in our group - maybe the "biggest," but also the smallest. So it just became like a burden and was lying around for some time. And then I said, "OK, we can make clothes to go with it, and then make use of it." And the result is that today it's very pleasing to your eyes, but it was a burden before. So we can turn a burden into a joy, and not just for me alone; all of you can enjoy it.