His luminous performance as Bernardo in the classic film adaptation of the Broadway hit musical, West Side Story, starring Natalie Wood, Richard Beymer, Russ Tamblyn, and Rita Moreno, earned Mr. Chakiris an Oscar and a Golden Globe Award.
A singing and dancing natural, George Chakiris appeared in films with Cyd Charisse, Debbie Reynolds, and Bing Crosby, to name a few, and in the film classics, There's No Business Like Show Business and White Christmas, and screen adaptations of the musicals Brigadoon and Gentlemen Prefer Blondes starring Marilyn Monroe. He shared his experience of being one of the dancers in Ms. Monroe's song "Diamonds are a Girl's Best Friend" from this iconic movie: "Such a fantastic number. Jack Cole, the choreographer who created that number, was one of the greats of all time. I remember, there was Marilyn Monroe, we were all behind her, and she was fantastic. It's a red background. She's in a pink dress. Visually, it's so incredible, and all of us who were dancers at that time, we were very lucky to be part of movie musical history." 
In classic films, (from top)

The multi-talented George Chakiris danced, sang,
and acted in West Side Story.

Gentlemen Prefer Blondes
with Marilyn Monroe;
White Christmas with
Rosemary Clooney.
Mr. Chakiris was chosen for the London, UK cast of the Broadway musical West Side Story playing the role of Riff, the leader of the Jets. West Side Story's renowned creator Jerome Robbins, who co-directed and choreographed the film version as well, then cast George Chakiris as Bernardo, the leader of the Sharks, which led to his memorable, Oscar-winning performance.
Meanwhile, the gifted performer's popularity in Europe continued. He starred in Bebo's Girl and The Theft of the Mona Lisa in Italy and the French film The Young Girls of Rochefort with Catherine Deneuve and Gene Kelly. Mr. Chakiris recounted, "When people were that professional and that good and that kind and everything, it just makes everything you do easier. And it's a beautiful movie." He has also starred alongside Charlton Heston, Cliff Robertson, Lana Turner, Yul Brynner, Dirk Bogarde, and others. Mr. Chakiris has been honored with the status of "Officer of the Order of Arts and Letters" by the French Minister of Culture.
For Loving the Silent Tears, Mr. Chakiris was the esteemed guest speaker giving an introduction to honor Supreme Master Ching Hai. He spoke about the significance of the premiere of the musical as the celebration of the 19th Anniversary of Supreme Master Ching Hai Day, proclaimed in 1993 by Honolulu Mayor Frank F. Fasi.
On stage, Mr. Chakiris said: "I'm pleased today to tell you about someone who has a great appreciation for the arts. She is herself an accomplished poet and artist. But she is known throughout the world as a spiritual teacher and humanitarian. She also loves the arts, because the arts bring us together. And Supreme Master Ching Hai's message is that all beings are the same, human or animal, and have the right to live in peace and dignity on this beautiful planet; and that each person can do his or her part to save lives, better our planet, and be heroes. And my personal way to be a hero and save these important lives is to be a vegetarian."
In The Young Girls of Rochefort
with Catherine Deneuve

King of the Sun
with Yul Brynner

The Big Cube
with Lana Turner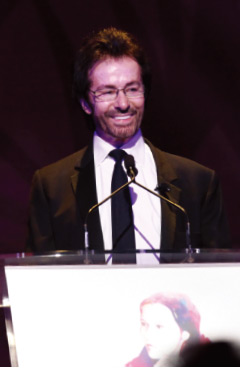 As guest speaker at the world premiere of Loving the Silent Tears, George Chakiris spoke about the meaning of Supreme Master Ching Hai Day.
Mr. Chakiris has also spoken about the universal theme of Loving the Silent Tears, "May each one find his peace,"  as expressed in the musical's lyrics based on Supreme Master Ching Hai's poetry collection, Silent Tears. He shared in an interview, "It'd be a wonderful thing if everyone on the planet could be aware of striving for inner peace. It's important. We always want peace in the world, don't we? And we don't get enough of it, do we? It has to start from each of us individually. I think people who search in this direction and achieve something in this direction, it extends beyond them. You'll see it in what they do and how they work, and how they deal with other people and different kinds of situations. So again, it's an incredibly beautiful and important thing to strive for."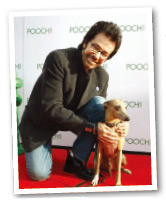 George Chakiris with one of his dog companions.
With the musical promoting both peace and vegan values, Mr. Chakiris commented on Supreme Master Ching Hai's slogan, "Be Vegan, Make Peace," as follows: "'Be vegan' and 'make peace' are fantastic four words to think about in daily life and in everything we do. Being vegan means to me that we not only eat healthy foods, but we have respect for all life on the planet. And that's important. And 'make peace,' that's important as well. Peace really has to start with us, individually. And then hopefully it will spread, and we emit that, so to speak, in our behavior in general and the things we do, whether it is private or work."
Mr. Chakiris is also a successful jewelry designer and maker who credits the inspiration for his beautiful jewelry collection to his first dog, Sammy the Italian Greyhound. He explained, "I loved this little dog so much. Whenever I was away working in the theater, I was gone for eight, nine months at a time. So the last time I was there working, when I got home I looked at my little dog Sammy, and I thought, 'Nine months is a long time out of his life. So, I'm not going to do that to him again. I'm going to stay here. I'm going to be with Sammy.' And then I even started taking classes in silversmithing. And little by little, I started making things. And I ended up without realizing that I had a collection. I now have a Japanese distributor, so I'm selling at a really beautiful department store in Tokyo called Mitsukoshi, and a couple of places here in Los Angeles. But I started because of Sammy, my little dog."
With his inimitable brilliance and exemplary dedication, George Chakiris has indeed made a deep impression in the history of entertainment, bringing joy to many generations. And his compassionate, gentle, and humble nature is surely an integral part of his profound and lasting legacy.

..............................................................................................................................