In addition to countless other awards, honorary citizenships, and letters of commendation and congratulations for her from dignitaries around the globe, the occasion of Supreme Master Ching Hai Day has been honored every year since. The 19th anniversary was commemorated with much exuberance through a charity event featuring the world premiere of the phenomenal musical Loving the Silent Tears. The celebration, held on October 27, Golden Year 9 (2012) in Los Angeles, California, USA, was attended by an audience of over 6,000 at the historic Shrine Auditorium and was simultaneously streamed live online worldwide on SupremeMasterTV.com.
'The simple honesty of her message'
Unprecedented in many ways, Loving the Silent Tears can be described as an artistic salute to Supreme Master Ching Hai and her positive principles, with the show's message of love, peace, compassion, and remembrance of one's own divine greatness within.
The event's distinguished guest speaker George Chakiris, a vegetarian Academy Award-winning actor best known for starring in West Side Story, spoke about the significance of Supreme Master Ching Hai Day and also conveyed his best wishes.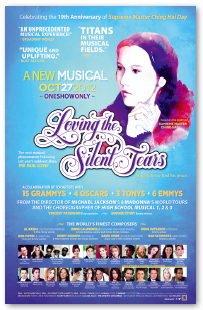 A poster of Loving the Silent Tears: The Musical
"I think that Supreme Master Ching Hai has always exemplified the kind of humanitarian that she has always been in relation to her beliefs," observed cast member and 2-time Grammy Award-winning pop star Jon Secada. "First and foremost is that integrity, that transparency of truth in the message that has never swayed. I think that's what makes this musical so much more beautiful tonight, to represent really just the simple honesty of her message, and what she's always done for many, many years."
The evening was the result of some of the world's greatest artists uniting to present a once-in-a-lifetime musical, as well as a special program, in tribute to the philanthropist. They included winners of 15 Grammys, four Oscars, three Tonys, and six Emmys – the four premier prizes of music, film, theatre, and television, respectively. Coming together from the top of their fields – ranging from Broadway and Hollywood, to pop and other genres of music, most of the cast and creative team members had never worked together before. However, they all felt one and the same, compelled to take part in this production, and Supreme Master Ching Hai's benevolent ideals and moving verses were certainly the shared source of inspiration.
"When I read the poems, the content was so beautiful, so positive, I just thought it was a great idea," said Jorge Calandrelli, the 6-time Grammy-winning composer (Crouching Tiger, Hidden Dragon). "That's why when I wrote the music, mainly I responded to what the lyrics were."
Grammy Award-winning pop icon and Loving the Silent Tears cast member Jody Watley expressed, "There is just a gentleness, and a great spirit. She's like a hero. To help bring her words to life, to be a part of that, is very special to me."  
'Her giving and her positiveness'
Supreme Master Ching Hai (from top)
– Visiting an orphanage
Yerevan, Armenia (May 15, 1999)
– Comforting flood victims
California, USA (Jan 1997)
– Christmas gifts for disadvantaged
children
Mexico (Dec 9, 2010)
– Rescuing abandoned dogs
Hungary (Mar 1, 2005)
Supreme Master Ching Hai's worldwide contributions as a renowned spiritual leader, humanitarian, poet, and artist bespeak her boundless love for all beings.
As an enlightened spiritual teacher, Supreme Master Ching Hai imparts the Quan Yin Method of meditation, which has helped countless people around the world in reconnecting with their true Self, and thus experiencing greater fulfillment, wisdom, and love in their daily lives. In addition, she has been invited by governments and respected organizations to give spiritual lectures throughout the globe.
Having attended the live videoconference with Supreme Master Ching Hai at the The Real Love musical premiere in 2011, Kristoff St. John, a 2-time Emmy Award-winning actor, vegetarian, and Loving the Silent Tears co-MC, noted, "I certainly know that she knows more than me. And that's the key when you are traveling life's journey, is that you meet people who are on another level. I'm pretty sure that's where Supreme Master Ching Hai is."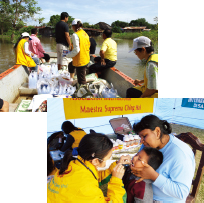 Supreme Master Ching Hai sends disaster aid, asking Association relief teams to go whenever possible.
Supreme Master Ching Hai teaches by example that love should be shared with others, especially those less fortunate. Over the past 20-plus years, she has contributed more than US$30 million toward disaster relief and various charitable endeavors. Responding to calamities from earthquakes in Japan, to hurricanes in the US, floods in Europe and South America, droughts in Africa, and bushfires in Australia, Supreme Master Ching Hai has extended unconditional material aid, prayers, and words of solace, while asking our Association members to travel to the most affected areas to offer help and comfort, especially to the most vulnerable. Her love transcends any boundaries of race, country, or religious affiliation.
"The number one thing… is her willingness to give," said Emmy Award winner Bonnie Story, the choreographer of Loving the Silent Tears. "It's amazing. I look at the things that she's willing to put her time and money and efforts into, and I would love to thank her for her giving, and for her positiveness, and for what she represents. And I think we all should be more like her. She has accomplished a lot and continues to accomplish a lot."


Thoughts from
Loving the Silent Tears Artists

"I feel quite honored and humbled to be here, to be a part of this momentous occasion, to be celebrating the 19th anniversary of Supreme Master Ching Hai Day. It's beautiful, obviously, to be part of something which is meant to send a message of bringing peace and harmony to all living creatures, all living beings on this planet; it is the most important thing we can do."
— Corey Feldman, award-winning actor (The Goonies, Stand by Me); vegetarian




"I think Supreme Master Ching Hai has done an amazing job with all the messages she's put out. There are not many musicals that are all related to a good message like this."
—Kiril Kulish, Tony Award-winning actor/dancer/ singer
(Billy Elliot the Musical)




"She has a beautiful way with words, very thoughtful, very loving. Writing is just one of her many gifts. She's very inspirational. She's very wise. ... This is not just about being good to yourself, it's about helping others, and we're all part of this planet, and all part of this world, and I think the poetry reflects that."
—Liz Callaway, Tony-nominated and Emmy Award-winning singer/actress
(Cats, Anastasia)




"Obviously, God blessed her deeply that she could reach so many people throughout the world."
—Patti Cohenour, Tony Award-nominated actress/singer
(The Phantom of the Opera)


Supreme Master Ching Hai does not accept donations and only encourages others to help their neighbors in need. As a fully enlightened Master, she utilizes her spontaneous talents attained through meditation as an independent source of income for her humanitarian activities. Her diverse artistic creations, including her poetry, also serve to remind people of their heavenly origin and noble qualities. Many of them were presented at the event in an elegant art exhibition open to all guests.
Nan Schwartz, a Grammy Award winner and one of the esteemed composers for Loving the Silent Tears, described Supreme Master Ching Hai as "an amazing woman who's doing something very huge in the world by being so influential in a positive way to millions of people, through her works; through her television network; through her shows; through her teachings; through her fashion design; through all the things she does. She's someone that I want to know and want to meet."
With concerned foresight, Supreme Master Ching Hai has called for the protection of our animal co-inhabitants and the environment by advocating the sustainable and merciful vegan way of living. To further assist others to transition to the more healthful plant-based diet, Supreme Master Ching Hai inspired and guided the fast-rising and popular Loving Hut restaurants through which our Association members are able to introduce to the public affordable and exciting vegan cuisine. Through her efforts over the years, millions of people have changed to a compassionate lifestyle and in turn saved countless animal (and human) lives.
"The beautiful things that they stand for, being vegan and world peace, and to try to find out the reasons to stop global warming, these are all things that I believe in very strongly," stated Loving the Silent Tears director and Tony Award nominee Vincent Paterson. "So it's wonderful to be participating in something with a group of people who feel so strong in their heart that it's important to try to change the world and make the world a better place for everybody – and especially animals, I love animals so much."
'Her beautiful poetry'
As 2-time Academy Award-winning composer Al Kasha said about Supreme Master Ching Hai's philosophy, "She teaches about love and she teaches about peace, and the way she does it is just incredibly honest."
Mr. Kasha was so moved by Supreme Master Ching Hai's gentle yet courageous messages, that he had first proposed the concept for the new musical, one that would be based on Supreme Master Ching Hai's Silent Tears poetry collection.
Director Vincent Paterson said, "These are her beautiful poetry that some wonderful composers in the United States have taken and made into incredible songs."
The poem anthology Silent Tears articulates the human longing for God imprinted in all truth-seekers' hearts, as well as the search for everlasting peace beyond the suffering of this world. During a December 2012 videoconference with Supreme Master Ching Hai and Supreme Master Television staff in Los Angeles, the poet shared that she had written these poems in the 1980s when her mission just began in Formosa. With a little more leisure time then, she was able to "tune in with all the humans," and thus was inspired to write Silent Tears.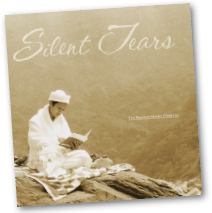 Silent Tears, poetry collection by Supreme Master Ching Hai in her 30s, Formosa - 1980s
She explained, "It's just the empathy to humans' struggle to achieve the impossible. I mean the almost impossible, like the higher level of enlightenment. We all go through this, saints, sinners, mortals, all alike. If you want to seek your true Self, this is a struggle like that. So I feel all the humans' feeling. It comes from within. It comes from my oneness with all humans' struggle and pain. Even the non-practitioners, they also have moments of despair and moments of need to turn inward, to pray to some power that they don't even know what, to pray to the God that maybe they do not even believe. Always there is a struggle within the humans' heart. So my poetry, Silent Tears, is just the reflection of that."
Supreme Master Ching Hai also expressed her surprise that her heartfelt, privately penned verses have become so widely known, saying, "I never thought about it that way, that anybody would even like it. All of my poems that have become music and so-called famous a little bit nowadays, I never thought that anybody would even lay eyes on it, even read it. Truly like that! … I am surprised. Still am surprised. I'm happy about it, I feel good about it, but I'm still thinking, 'Oh, people like it? Really?'"
According to media reports, the poetry from Silent Tears and its musicalized presentation was "inspirational" (The San Marino Tribune), "insightful" (MTV), and "a poetic masterpiece" (THE Magazine). The Beverly Hills Courier newspaper highlighted the poetic aspect of the show with an article titled, "Loving the Silent Tears Brings Poetry to the Stage." Meanwhile, the premier theatre news site Broadway World announced, "Eminent composers have come together to set Supreme Master Ching Hai's soulful verses to music."
Certainly, the artists involved with Loving the Silent Tears resonated with Supreme Master Ching Hai's Silent Tears and from the start were eager to create with her verses.

Thoughts from
Loving the Silent Tears Artists

"When I read the whole script I was amazed at how many different points of view Supreme Master Ching Hai used to approach the individual's relationship to God, to a Supreme Energy. I was fascinated by her inventiveness, and by her selflessness. That, you don't see very much in commercial theatre, a selfless writing, a selfless expression of a heart's desire to have a closer walk with God, a closer relationship to the universal energy."
—Mark Janicello,
Italian tenor (vegetarian)




"Supreme Master Ching Hai, she's an amazing woman. I was able to watch some of her speeches, and just her essence, she brings such joy to the world. As I listened to her, I couldn't help but be happy because what she said and how she said it penetrated me. I was able to just see her joy and share in her joy. So I'm so happy that we'll be able to celebrate this with her."
—Junior Case, actor




"I think it's very admirable. How do you even express your gratitude for someone who has given themselves over to this kind of a life? … I think this will be a fitting honor in a way, because think of all the people coming together, to honor the ideas that she's put forward."
—John Iacovelli, Emmy Award-winning
scenic designer (Peter Pan)



Tony and Emmy-Award-winning composer Don Pippin enthused, "When I started to write to them, I just constantly kept reading them, because there's so much meaning in them. And I try to sort of equal that in the music, if I can."
Apart from the musical numbers, the storyline of the musical also echoed the longing for inner peace expressed in the Silent Tears anthology. Loving the Silent Tears' book writer Cynthia Ferrell said, "The way I got inspiration for this piece is by reading the poems. The philosophy and the flavor of the poetry, it informed everything."
Tony Award-nominated actress Patti Cohenour said, "Poetry is such a personal expression, and she's a remarkable poet. Obviously an inner light. I just hope [the people] enjoy the music and the poetry, that it somehow touches their hearts as it has touched mine."
'I love the name of this musical'
As for the show's title, the production's creative team didn't have to look far. The phrase from Supreme Master Ching Hai's expressive verse, "Loving the silent tears for You more than the diamonds of the world," stood out as a main theme.
As Supreme Master Ching Hai continued sharing her insights on Silent Tears, she explained the meaning of "Loving the silent tears" in her own words:
 "I just wrote the way I felt. Like when you're crying, you feel relieved. Crying relieves the longing emotion, the choking emotion of frustration of not knowing God, of the so-hard-to-find God, so-hard-to-feel-connected-with God. So when you're crying, at least you feel elated, you feel unburdened. So the practitioner feels some comfort while struggling to achieve the impossible. I mean the almost impossible, like the higher level of enlightenment. That's why I said, 'Loving the silent tears,' because at that time, you are so desperate to feel connection with God, to want to see the Master inside you, want to see your real Self. Even if people offered you diamonds, you would not care! You would love to just sit there and thinking of the Master inside and crying, and thinking of Master, loving the Master, missing the Master, instead of looking at these worthless stones that they call diamonds. That's what it is. That's what I felt at that time."
"I love the name of this musical very much," said Chinese platinum pop star and vegetarian cast member Kay Tse. "Actually, this poetic name came from the poetry of Supreme Master Ching Hai. Many of her poems are talking about the equality of all beings, about their suffering, about how we humans, as one of all beings on Earth, can help others, and how to appreciate other beings' existence, how to sustain our love."
---
"The essence of life is love.
The essence of God, of Buddha, of Allah, is love.
There is nothing else but love.
When we make the choice of love, that's the
highest choice, the noblest choice."
—Supreme Master Ching Hai (vegan)
Lecture in Malaysia - April 2000
---
Acclaimed singer Kay Tse was also the only cast member to sing a song that was composed by Supreme Master Ching Hai herself, which moved some audience members to tears. The lyrical "Talking to a Stone Buddha" was composed in 2007 in Formosa during a difficult time for its songwriter. As Supreme Master Ching Hai recalled, "I felt the world, they were just so much misguided, so much in darkness." Shedding tears in deep sadness for humanity, her genuine feelings could only be tangibly felt by the audience.
Supreme Master Ching Hai had sung this special song spontaneously during a gathering with some Association members. "When I first heard Master Ching Hai singing her song, she sang without music," Ms. Tse said. "And it moved me, because she sings with a lot of sentiment, but at the same time you feel very peaceful listening to her singing. … I found it very easy to sing along. It moves you along the way very naturally because it's beautifully written. I think it's a very special piece and I'm honored to be in it."
The musical's multicultural cast
on stage for the finale song,
"Loving the Silent Tears."
'She reaches people internationally'


Thoughts from
Loving the Silent Tears Artists

"The way she puts her lyrics together and the things she talks about… The musical is representing a natural form of living and a natural form of eating. That's the best way and the healthiest way to live. So big up (my respect), Supreme Master Ching Hai."
—Derrick "Duckie" Simpson, founding member of Grammy Award-winning Black Uhuru




"I love poems and to be able to read and hear and perform her poems in music was phenomenal. I am going to read her poetry more… I just feel like I could learn a lot from her poetry, as well."
—Brian Joo, Korean pop star
(Fly to the Sky)




"Master Ching Hai is concentrating her whole life on finding inner Self, peace and love. Her whole life is about this, and each year she is donating hundreds of thousands of dollars to charity. I have to thank her. Anybody that makes this cause of humanity and unselfishness, a cause for the world, has to be respected and cherished."
—Siavash Shams, Persian superstar



The artists came to discover that Supreme Master Ching Hai's rich poetry encompassed not only feelings of profound sorrow and longing, but also plenty of joy and bliss, as well as humor. As Frank Evans, the award-winning writer/lyricist who adapted the poems for the musical, confided, "I've always been attracted to Supreme Master's sense of humor, and it's unique. But though we haven't met, I feel in sync with the humor, so it's easy to work with the material."
In addition, Loving the Silent Tears: The Musical was, as media reported, "an unparalleled cultural celebration."
As Al Kasha said of Supreme Master Ching Hai, "She reaches people internationally, and I said, 'Why don't we do something that is international?' And so this musical is international."
Tony Award-winning Broadway star Debbie Gravitte further noted, "To see this room full of incredibly beautiful, talented people from all over the world… it was just like, 'This is too incredible.' Singing about loving people and finding your spiritual path, it's a win-win for everybody."
Fellow cast member, Italian tenor and vegetarian Mark Janicello, elaborated on the universal scope of the poetry: "When you read Supreme Master Ching Hai's poetry, you know immediately it is from Supreme Master Ching Hai. And that is all one could ever ask from any poet, from any writer, that it be individual and unique to that person. I think any individual who is looking for peace in themselves, in their family, in their community, in their nation, on the planet, can relate to the words that I read in Silent Tears and in Loving the Silent Tears: The Musical. The teachings and the poetry of Supreme Master Ching Hai are leading us, bringing positive energy into the universe."
'Her work will be an example'
Although Supreme Master Ching Hai could not be in Los Angeles for the musical due to her intensive meditation retreat, she conveyed words of appreciation and hope to everyone present in a video greeting.
As one attendee shared, "Her message really moved me and it has inspired me to take that step forward in my life. I was very, very happy to be able to hear her words – from her."
In keeping with Supreme Master Ching Hai's philosophy of unconditional love, the anniversary celebration concluded with a special presentation of donations. On behalf of the artists, she honored three charities with gifts totaling US$300,000, as a token of her gratitude for their noble work.
"The amount of charitable donations she gave…!" began Loving the Silent Tears musical director and composer Doug Katsaros. "One of my favorite charities is Broadway Cares / Equity Fights AIDS, and when I saw that up there, she didn't give them US$20,000 or US$50,000. US$100,000! This is a sizeable amount of money. It is generous. It is a perfect gift for many people. Each of her gifts touches not only people, but animals. It is a tribute to her title."
Immediately following this event, Supreme Master Ching Hai pledged another US$150,000 for humans and animals affected by the devastating Hurricane Sandy on the eastern US coast. Shortly after, for the Christmas season, she donated US$400,000 to the homeless monks and homeless people around the world, among many anonymous gifts for orphans, dogs in shelters, and others in need. In fact, many of Supreme Master Ching Hai's charitable works are done quietly and anonymously.
Aulacese cast member Hồ Quỳnh Hương remarked, "What she has done for so many people, inevitably many people would know and cherish and support her work. And she's just one person. But her work will be an example for an exponential number of people to follow. If there are many people as great as her, then this world would really be Heaven."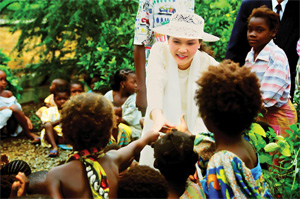 Supreme Master Ching Hai on a
humanitarian trip in Côte d'Ivoire (Aug 1995)
In commemorating the 19th Anniversary of Supreme Master Ching Hai Day, Loving the Silent Tears went beyond one night of entertainment, becoming a welcome invitation for all of us to renew the noble ideals found within our very hearts.
As Supreme Master Ching Hai once said as she was honored with the World Spiritual Leadership Award during a 1994 ceremony in the USA,
"To help others, it is our birthright, our privilege. … Our efforts to help our brothers and sisters and to elevate our planet, which is our only home at this moment, so that we all can live in a very reasonable and decent condition, that is the duty of all of us."
We are grateful to Supreme Master Ching Hai for endowing our world with such beautiful and uplifting verses such as those in the Silent Tears anthology. With humble wishes for her well-being and realization of her selfless mission, we join in prayers that the world will soon prevail in peace, love, and happiness for all.

..............................................................................................................................