| | |
| --- | --- |
| Vincent Paterson has had longtime collaborations directing and choreographing for 7-time Grammy winner Madonna and 13-time Grammy winner Michael Jackson. | |
"I hope that the outcome of Loving the Silent Tears will reflect all of the love and the goodness and the positive energy that we feel in putting this piece together."
— Vincent Paterson,
Tony-nominated director/choreographer


Madonna, world's
top-selling female recording artist
A rare and eclectic artist, Vincent Paterson is a highly sought-after director and legendary choreographer whose accomplishments span the worlds of Broadway, opera, concert tours, film, music videos, television shows, and commercials.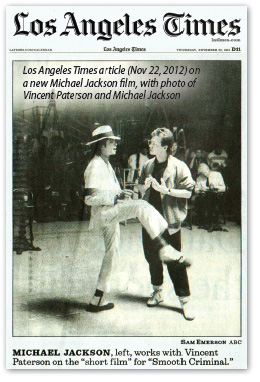 Los Angeles Times article (Nov 22, 2012)
on a new Michael Jackson film, with photo
of Vincent Paterson and Michael Jackson
The brilliant Mr. Paterson has been known as a key creative energy source in the careers of Michael Jackson and Madonna, collaborating with each of them for many years. He had been a prominent dancer in two of Michael Jackson's most famous music videos.
He explained, "I danced in 'Beat It.' I was one of the lead gang leaders in 'Beat It.' I was also assistant choreographer and a zombie in 'Thriller.' I did that, you know. [Shows the zombie dance moves from 'Thriller'] (laughs) So I got to know Michael really well."
Cirque du Soleil's
"Viva ELVIS" show
Mr. Paterson went on to create what would be the King of Pop's all-time classic "Smooth Criminal" music video. In the years to come, Vincent Paterson also directed and choreographed Michael Jackson's "Bad" world tour, as well as a number of his other most memorable performances.
For Madonna, he directed/choreographed one of her world tours and the famous performance of "Vogue" at the MTV Awards, and choreographed her "Express Yourself" video, among many other projects.
Leaving his mark in Broadway theatre, Mr. Paterson received a Tony Award nomination for his choreography of Kiss of the Spider Woman, collaborating with renowned Broadway producer/director Hal Prince. His choreography and/or directing work have been seen as far as on London's West End (Lenny for director Sir Peter Hall), in Germany for Berlin's first original production of the musical Cabaret, and in Prague, Czech Republic (Gulliver's Travels). More recently, he wrote and directed Cirque Du Soleil's "Viva ELVIS" show.
Equally at ease in opera, he directed and choreographed Massenet's Manon with soprano Anna Netrebko and Plácido Domingo as conductor. He was nominated for Best Television Arts Program at the Montreux Film Festival for directing Anna Netrebko: The Woman, The Voice.
---
"Theatre is a magical place. I think that good theatre is always about something spiritual. You experience something, I hope, that when you leave the theater, something inside of you, some DNA has altered a little bit, so that maybe when you step outside of the theater door you can create some positive fragment of energy that would act as a ripple effect and kind of pass that on throughout the world."
—Vincent Paterson, Tony-nominated director/choreographer
---
Meanwhile, in the film industry, Mr. Paterson also has choreography credits that include the Oscar-winning musical film Evita starring Madonna, and movies of acclaimed directors such as Steven Spielberg (Hook starring Dustin Hoffman and Robin Williams), Sydney Pollack (Havana starring Robert Redford), Mike Nichols (The Birdcage), and Lars Von Trier (Dancer in the Dark starring Björk).
In addition to work on over 250 television commercials, Mr. Paterson directed and choreographed the TNT special In Search of Dr. Seuss, for which he received an Emmy nomination and five ACE Award nominations. Another Emmy nomination was earned for his choreography in HBO's Comic Relief VII. In 2008, he appeared as a judge on the reality TV talent search show, Step It Up and Dance.
Explaining his remarkable versatility across the art forms, Mr. Paterson shared, "I had my first dance class when I was 24 years old. So, I had had another whole life before that, that didn't involve dance. So my interests were varied. I was as much interested in opera as I was MTV. And I think having the knowledge of how to choreograph as well as how to direct, and having studied acting for many, many years and been an actor for a while, it opened a lot of different doors, because I could relate to dancers, I could relate to actors, I could relate to singers. And I think that having that kind of knowledge afforded me these unbelievable opportunities in a gamut of genres."
As the director of Loving the Silent Tears, he masterfully carried out a beautiful vision of humanity and peace that involved presenting the profound poetry of Supreme Master Ching Hai through an all-star cast and elevating songs, along with the cultures of 16 countries represented in soul-stirring dances.
On the red carpet prior to the premiere of Loving the Silent Tears, he happily affirmed, "We always do the best we can. You never know how the audience reacts, but it seemed that last night the audience loved it so much that this afternoon I'm meeting with all of the stars to tell them that if they keep on applauding, 'You've got to come back and [do] one more bow."
Following are excerpts from Mr. Paterson's interview with Supreme Master Television prior to the musical's premiere, in which he shared wonderful stories about his artistic beginnings, working with Michael Jackson and Madonna, and directing Loving the Silent Tears.
I majored in drama actually, theatre. I had nothing to do with dance. I used to pass by on my way to work a little dance studio all the time, and I would peek in and I would see the kids in there dancing and stuff. And I was about 23 years old. And finally one day I thought, "You know what? I'm a theatre person. I don't exercise. I don't do that much. Let me go in and see if I should maybe take a dance class." So they didn't have adult dance classes. And the woman was very sweet and she said, "If you'd like, you could come in and take with the young adults." And that was kids that were like 11 to 15 years old. I studied very, very hard, and four years intensive training. I auditioned for nine months for everything I could. Never got a job. And finally broke through, and then my dancing career kind of took off. I did everything from touring the world with Shirley MacLaine, to doing commercials.
I loved dancing, but I felt that I had more of an affinity for being the sculptor rather than the clay. I was fortunate enough in the very beginning. It was the early stages of music videos. So they called and said, "Would you like to try some choreography on Van Halen or David Lee Roth or something like this?" And I said, "Yeah, sure, I'd love to do that kind of thing." So I tried it and I really loved it. And that's sort of how it all began.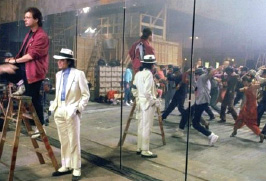 Vincent Paterson (left) and Michael Jackson
during work on "Smooth Criminal"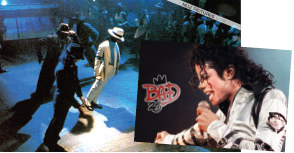 Michael Jackson's famous "Smooth Criminal"
music video and "Bad" world tour were both directed/choreographed by Vincent Paterson.
I collaborated with Michael Jackson for 17 years. Last night actually I went to a private screening [of the documentary Michael Jackson: BAD25] at Sony. The "Bad" tour was Michael Jackson's first solo tour. Prior to that I had done a few wonderful projects with him. He called me and asked me if I would conceive and create a video for him to a song called "Smooth Criminal." And then I did one for "The Way You Make Me Feel," and multiple other pieces that were in his short film, Moonwalker. And then his first tour came up, and he asked me if I would direct it and choreograph it. And I did. And that was the "Bad" tour. But I went on to work with him for many, many years after that, creating performances for him on the Grammys or on the Super Bowl, a couple of commercials for Japan. The last thing that I did with him was at the end of the '90s, and I directed and choreographed a video that became number one around the world.
I always make notations about things that excite me or something that inspires me, or a new thought. And I not only bring that into the choreography, but in directing and in the conceptions that I come up with, and what I create. In terms of choreography, Michael told me early on, he gave me a beautiful thought. He said, "Don't try to impose your ideas on the music, let the music talk to you and tell you what it wants to be." So as a choreographer that's what I've always done. I've spent a long time with the music in my head, in headphones. I just sit back and let it sort of flow over me like a meditation. And then those vague and abstract concepts start to take physical shape when I get into a studio.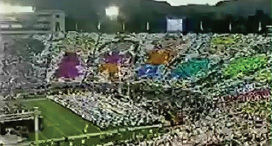 Michael Jackson's memorable Superbowl
halftime show, 1993
The largest group that I've ever given any direction to was when I choreographed the Superbowl for Michael Jackson ("We Are the World"). And I had to talk to all of the people at the Superbowl, in the stadium, because we did a card trick. … Michael loved children, and so one of the things we did was we had all of the people in the audience begin to hold up these cards, and as they went around the whole entire stadium, it turned into a chain of almost paper cut-outs of little children holding hands. That would have been the greatest mass of people. And what is that, 50,000 people or something? I don't even know. (laughs)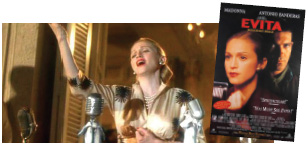 Film Evita starring Madonna;
choreography by Vincent Paterson
Madonna was also another wonderful creative being whom I had the opportunity to work with for many years. I think about 12 or 13 years. I worked on a Pepsi commercial. It was a historical piece; it was a three-and-a-half-minute commercial; it was the longest commercial that had ever been done. And I was asked to choreograph it. And that's when I met her. She didn't really want a choreographer when I arrived, and I was a little embarrassed about that. The director had brought me in. But I decided, "Okay, let me work with these kids that are in the background, these dancers." And I started to play with them, and one day I was working with them and they were all facing me, and I see them sort of slowly stop. And I'm thinking, what are they stopping for? I'm standing here in front of them and telling them what to do. And I turned around, and there was Madonna. And she kind of had on a big robe and kind of fuzzy bunny slippers, and her hair in curlers. And she said, "What are you doing?" And I said, "Don't worry, I'm not choreographing anything for you, I'm not doing anything for you. I'm just working here with the background stuff." And she goes, "No, I like it! I'm going to go change, let me learn what this is." So that's kind of how it began. We got along really, really well. And I went from that to then choreographing a video for her called "Express Yourself." And then, she asked me to choreograph and direct the "Blond Ambition" tour. I think I was the only director/choreographer that she's ever used to do the entire show myself. All the other shows that she's done after that, she's hired like five or six or seven different choreographers. So I thought that was a nice feather on my cap. I enjoyed that. Then I did the movie Evita for her, which was a really fun event. I've done a lot of other projects with her, Academy Awards, other things, but you know, it all kind of becomes a big blur after a while! (laughs)
I was approached by Cirque du Soleil to create a dance show for them. And so I worked with them for a few years, creating the piece, writing the piece. It was about Elvis Presley. So it closes at the end of August, and over a million people have gone to the show. And I really enjoyed having the opportunity to work with acrobats. I'd never done anything like that before. I like to always be challenged. I always like to try something that I've not done before.
I got a call from Hal Prince, and he was doing a musical, Kiss of the Spider Woman. Terrence McNally had written it and John Kander and Fred Ebb had done the music. And he wanted to know if I was interested in choreographing it. It was a very strange request for me, because one day Hal Prince called; the next day Michael Jackson called and asked if I would direct his next tour. And I had to decide between Michael Jackson or doing Broadway. Well, I'd already done Michael Jackson and I'd already done Madonna, and so I'd done two hugely successful concert pieces. The "Bad" tour broke three Guinness World Records. It was the largest audience that had ever attended a live concert. It was the largest amount of shows that were ever done at Wembley Stadium, and I can't remember what the third one was. So I thought, "You know what, I've done two concerts now. I've never done Broadway." And if I'm going to do it, who better to work for than Hal Prince – the "Prince of Broadway," John Kander, and Terrence McNally? I also had the wonderful opportunity of working with Chita Rivera who starred in it.
In terms of directing this project, Loving the Silent Tears, I liked the idea of it. I liked the idea of having a show like this and what's behind it. I thought, "Oh, this won't be difficult," because it was first presented to me almost as a revue. It was poems that had been created into songs and dances that would accompany them. As we went on, it got bigger and bigger and bigger so that it then became a story attached to the songs. And the cast went from one size to a bigger size to a bigger size to a bigger size. So now we're talking about something that's fairly close to almost a cast of a hundred when you figure the orchestra and the principals and the ensemble and the two extra companies that we're bringing in. I think we might even be going over the cast of a hundred. So, from the first conversation to today, we've really expanded this project.
We're literally circling the globe with this project. The show visits 16 different countries, so to speak. How do we do that? Well, we came up with a device. We're creating a train that's sort of a train of spiritual enlightenment. While we're in the reality of the action and the drama that transpires between two people, guided by a third, we go to these moments where something that they're discussing, even in a very vague sense, materializes, or is appropriately sung about in these beautiful poem songs. It's deep enough that it has a resonance to it, and I think it's all interwoven beautifully now.
---
"I had the best time. Love you all. Thanks for trusting me and for a remarkable experience."
—Vincent Paterson, Tony-nominated director
---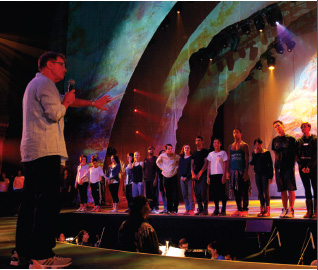 Directing Loving the Silent Tears rehearsals
at the Shrine
They're beautiful poetic prayers that have been set to music. It's beautiful sentiments. I've read these poems, I think they're beautiful. But we wanted to have some narrative that would thinly weave these together. So I had suggested, maybe it's a story about someone older and someone younger, and they're both going through problems, seeking some kind of enlightenment, which is what most of the poems are about. And they somehow have conflict with each other, and the resolution of that conflict brings them back to a place where they're open to step forward in their spiritual life once again.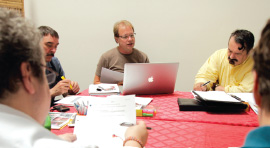 Loving the Silent Tears production meeting
The scope of this project for the amount of time is almost an impossibility. I think, "Oh, well, everybody thinks we're going to do it, so we're going to do it. We all have faith so let's just jump in and make the thing happen." We have three weeks to create something like 22 dances as well as all of these scenes that pull all of these pieces together. It's a massive amount of work in a very, very limited amount of time. I had the first production meeting the other day, and I went through the script and talked through sets and sound effects and costumes and things like this. It's a mammoth, vast production for the amount of time allotted.
You come into a new project, you meet new people, it's new energy, it's exciting, people come with fresh ideas. I know Jody Watley is going to sing. I know that Jon Secada is going to sing. I know that Black Uhuru is going to do the Jamaican section. And they're all very, very talented on the world stage. As for the dancing cast, I'm absolutely blown away, because the project that I did for Cirque du Soleil is closing at the end of this month, and we were fortunate enough to have some of the most amazing dancers who exist in the United States. And the majority of them are now going to come over and do this project with us. Most of the creatives are new to me. Our set designer and our lighting/projection designer are two gentlemen whom I've known of for a long time and have respected their work for a long time but never had had the joy to collaborate with.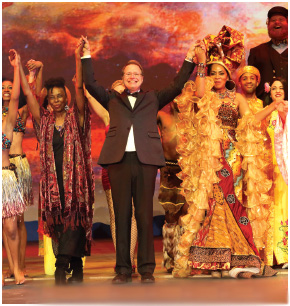 Vincent Paterson with the cast taking final bows
It should absolutely be a magical evening. They're going to hear great music. They're going to see great dancing. It will be a wonderful evening of theatre. You have a fun time; beautiful costumes, great sets to look at. So all of that I think is one reason to come, but also, I think there's some beautiful messages here, about enlightenment and self-realization, and that's always nice to hear, and that's always a nice reminder to have  throughout life.

"On this project, Loving the Silent Tears, everyone so far, from the very first meeting, has been so positive and so kind and with such open hearts, and a beautiful perspective on how to live life, that I would be very surprised if that didn't all infiltrate what we're creating. I just hope that everyone will be able to get a sense of what has inspired us to put this piece together, what it means to us, and the beautiful messages that we hope to present."
— Vincent Paterson, Tony-nominated director/choreographer
An Interview with Vincent Paterson on Saigon Radio Hải Ngoại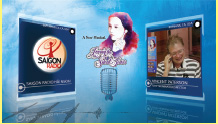 A household name for the Aulacese community abroad, the radio channel serves an estimated 750,000 listeners across Southern California, USA.
Radio Host Mộng Lan: Mr. Vincent Paterson, It's an honor for me to be talking with you today.
Vincent Paterson: Oh, thank you. Well, first of all, it's an honor to do this interview, Mộng Lan. It's wonderful, and I'm so excited that so many people are listening and are excited about the show.
Radio Host Mộng Lan: The poetry, is that from Supreme Master Ching Hai?
Vincent Paterson: These are her beautiful poetry that some wonderful composers in the United States have taken and made into incredible songs.
Radio Host Mộng Lan: So Mr. Paterson, do you happen to know Supreme Master Ching Hai before the show was being put into place?
Vincent Paterson: No, it's my introduction to the entire organization. It's the first time I know anything about them. And I think it's terrific. The beautiful things that they stand for, being vegan and world peace, and to try to find out the reasons to stop global warming - I mean, these are all things that I believe in very strongly. So it's wonderful to be participating in something with a group of people who feel so strong in their heart that it's important to try to change the world and make the world a better place for everybody. And especially animals, I love animals so much.
Radio Host Mộng Lan: It's an honor for the Vietnamese community to welcome you into our community.
Vincent Paterson: Speaking of the Vietnamese community, I have fallen in love with Hồ Quỳnh Hương, who is here working with us. And she is so incredible, she is so sweet.
Radio Host Mộng Lan:  Mr. Vincent Paterson, you're going to be in collaboration with the top artists with 15 Grammy Awards, 4 Oscars, 3 Tonys, 6 Emmys. I understand that you can be very busy because they are top performers in the world and from six continents, right?
Vincent Paterson: Oh absolutely. The exciting part is when you hear this wonderful… We've been listening to recordings on tape to create this piece. And the last two days, the performers have come in and sung live while the dancers are dancing. And everyone just danced around and said, "Oh my God, I have goosebumps on my flesh because it's so exciting to hear beautiful voices in person." And it's really going to be an incredible event.
"Hi, my name is Vincent Paterson, and I'm the director of Loving the Silent Tears, and I want to say:
Be Vegan, Make Peace."
— Vincent Paterson, Tony-nominated director