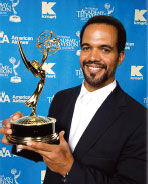 He has been voted one of People Magazine's "40 Most Fascinating People on TV" and one of the "Top Ten Soap Studs" of all time by E! Online.
Kristoff St. John has also guest starred in over two dozen television shows including Suddenly Susan, Martin, Living Single, and The Cosby Show, to name a few. The well-loved actor is also a talented director and sought-after television host.

A true lover of life and a committed vegetarian, Mr. St. John co-hosted the musical extravaganza Loving the Silent Tears, celebrating the 19th Anniversary of Supreme Master Ching Hai Day.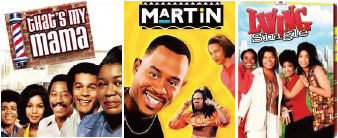 Let's get to know more about this charismatic star and his fascinating thoughts on his life and the Loving the Silent Tears event.
We were a very close-knit family, and vegetarian, raw food eaters for a period of time as well. I did a lot of studying of books early on. I vividly remember reading War and Peace at the age of seven, Leo Tolstoy. And not only reading it but understanding it. My parents were very big on English and language and education. My dad was this very eclectic, creative force, a writer, director, actor, and he married a British actress who had studied at the Royal Academy of Dramatic Arts. So I grew up sort of in a showbiz trunk. By the time I realized it, I was able to memorize [acting lines]. I'm not quite sure how that happened, but maybe just going over and over the material all the time. It's second nature. It's not the easiest job in the world, but I have fun doing it.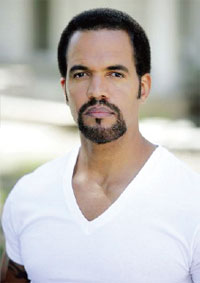 Plant-strong, animal-protecting actor
Kristoff St. John
I joined The Young and the Restless in 1991. By the end of the first episode, the creator of the show called me and said, "How would you like a contract?" "Sure, why not?" I was very excited and very proud. And I didn't think I would be there longer than three years truthfully and this is 22 years later. From early on, I recall working with the Happy Days cast. At the time, Happy Days was extremely popular and the #1 show. I played [the famous author] Alex Haley in Roots and I got to work with Alex Haley along with James Earl Jones. I liked Charlie's Angels growing up. And so when I got the chance to work with them…! Not only that, Wonder Woman was huge back in the '70s when I got to work with Lynda Carter… It's just so much fun to meet people along the way, this journey that we call life.
Oh, what a great event The Real Love musical was last year. I saw it in some paper and I remember vividly looking at this poster going, "Real Love and with special guest Don McLean…" We were listening to Supreme Master talk about a variety of things. But seemingly the essence of it all was love and serving fellow man, and just a real gentle approach to what she had to say. And when the musical play – such a beautiful musical, so well done, so well produced. The singers were incredible, the dancing… But more importantly, the story, this search that this young lady was on in India, it just struck a chord within me because I've been to India, and I knew that it was about Supreme Master's life. And it was all worth it [attending]. It really was.
2011 world premiere of The Real Love
musical, with guest of honor
Supreme Master Ching Hai (vegan)
Kristoff St. John on the
red carpet with his guests
Supreme Master Ching Hai, I got this feeling that she was so balanced and so gentle with her approach. And for me that meant a lot. Having been exposed to Hinduism for ten years, being a Hindu, I am very aware of where she is coming from inside. It felt as if I was watching, at the end of her talk, a saintly lady, someone who has been gifted with things that we haven't been gifted with.
I am on the other side of it this time, the cast side rather than just the spectator side. It's going to be Jon Secada, Jody Watley, and just so many great people, musically inclined people, I mean, people that are Oscar winners. The dancers, the overall production values I know are even higher than last year which means that this could be mounted on Broadway if it needed to be. So, I'm excited, I really am.
Being vegetarian now, I find myself feeling so much lighter and freer and fresher, and I can sleep less and do more. I hear this from so many people who are vegetarians and vegans. I started feeling much lighter. My activities were energized. My thoughts were clearer. Was it just some sort of mental thing that was happening? No, it was an actual physical chemistry that was occurring at that time. It took a minute to release the toxins, the poisons.
Finding inner peace is vital. If you don't have inner peace, you are not living. Everyone has their own personal journey. My journey for finding inner peace has been since the day that I was born. My children have taught me a lot about inner peace. I'd say more patience than peace, but through patience you find peace! I've done a lot of studying… but it's a real personal thing. I think so many people are unaware of what they are truly doing here. I can't speak for them, but I run into people who appear as if the lights are on [in their mind] but there's no one's home, that they may not be aware of their track. Every so often, it takes a little prodding to get to someone. We are all capable. That's the key though – to find inner peace. Do we leave this planet without finding it? Certainly hope not. I think it's right there to find, but you really have to look for it.

"I'm backstage and this is the wildest, the coolest day of production because today is the day! From the red carpet to the stage… We're going to celebrate. It's a day that's auspicious and special. This is all about peace, love, and goodwill. So tonight, I am an ambassador for all three. Woo!"

—Kristoff St. John,
2-time Emmy Award-winning actor; vegetarian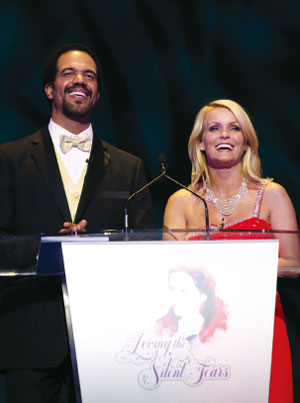 Co-hosting the Loving the Silent Tears celebration
with fellow vegetarian and actress/TV host Kelly Packard.
It's a dignified, prestigious event. Supreme Master Ching Hai is high on my list – anybody who services love, peace, goodwill towards men, to fellow man, is right up there in my book. … Aerial acts, things that you would not believe. This is six continents gathered in one place. This is diverse cultures, ethnic backgrounds from all over the place. This is what the melting pot is all about. That's why this wonderful city of Los Angeles is a perfect place to have this.
What can people attain from attending the Silent Tears musical? It's entertainment, so you are going to achieve a great night out of your life. I mean, this is why I'm an entertainer, because as depressed and sad as someone can be, they can come to a show like this and leave out of here feeling like they've left their troubles behind. And at the same time, they are getting a little bit of extra food for the soul. And in fact, I'm going to change that and say a LOT of "bit extra food for the soul."
Hi! I'm Kristoff St. John. And I'm here to tell you, Be Vegan, Make Peace. Love, not war. Give back, don't take. Applaud… and hug your fellow man. Because, man, that's what we need – a little bit more love.