Special Reports
Airport Anecdotes
By Sister Initiate Sun Xiu-lan, Taipei, Formosa

As we set out on our homebound journey after this retreat, some members of the working team were discussing visa problems with immigration officers at Seoul Airport when they discovered among the officers a strong curiosity and interest in the teachings of the Supreme Master Ching Hai. One of the officers had attended a lecture given by Master several years ago. When shown the Korean edition of the Supreme Master Ching Hai News, joy lighted up their faces and each requested a copy of the magazine.

While passing through the customs upon arrival in Korea, a fellow practitioner was questioned by a customs officer because he had not filled in his contact telephone number. Due to the language barrier, he asked for my assistance. Later I found that the officer was interested in learning more about our spiritual group and also yearned to pursue spiritual practice and attend the retreat.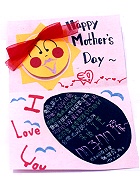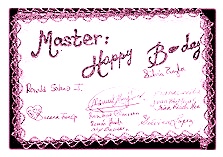 Cards of congratulations made by fellow initiates in celebration of Mother's day and Master's birthday.
Birthday Celebrations For An Enlightened Master, And The Inauguration Of The Korean Youngdong Center Notes On Building Youngdong Center Wisdom Of The Ancestors A Meditation Hall In Heaven
Here Is Heaven Master And Disciples Are One Inner Connection
The Mystic of Concentration To The Other Shore Airport Anecdotes Traveling Nonstop On The Journey Of Love, Master's Trip To Latin America Fulfills Initiates' Longing Happy Reunion Within The Latin American Family