Story World - Reflections on Loving the Silent Tears: The Musical
The Love of the Inner Master
in Action
By a Loving the Silent Tears: The Musical Reception Team Member
Los Angeles, California, USA (Originally in English)
Being part of the reception team for Loving the Silent Tears: The Musical was a moving and unforgettable experience for everyone involved. Supreme Master Ching Hai's poetry collection, Silent Tears, which inspired the amazing event, speaks to the inner Master, or the Supreme Wisdom, Truth, Virtue, Beauty, and Love within all of us. And working at a musical featuring its profound verses faithfully reflected this fact.
The world-renowned composers, writers and performers whose extraordinary talents were presented in the musical were greeted by reception-team members as they entered the venue, the Shrine Auditorium in Los Angeles, California, USA. As the artists and other VIP guests walked down the red carpet in the radiant sunshine, with eyes lit up and faces glowing, they were cordially welcomed by the reception team and a group of our Association members dressed in colorful, traditional costumes from around the world.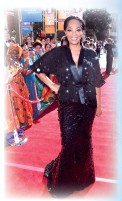 Grammy-winning pop and R&B icon Jody Watley
Grammy-winning pop and R&B icon Jody Watley smiled joyfully and beamed with loving energy while strolling through the entrance. Another superb artist, the Italian tenor Mark Janicello, said during an interview with Supreme Master Television that in his lifelong career, he had never been a part of a production that was done with such a generosity of spirit like Loving the Silent Tears. This heartfelt comment was a testament to the bliss of the inner Master being manifested in the performers.
In Her loving message to the audience, Supreme Master Ching Hai said, "Though I couldn't possibly watch the event, and though I am not aware of the content of the program in advance, I trust that it will be great, and all who watch will enjoy it hugely."
May the heavenly songs of Loving the Silent Tears continue to uplift and enthrall human beings for generations to come!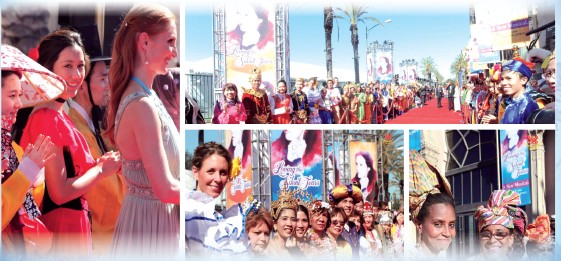 VIP Red Carpet: Association members dressed in colorful, traditional costumes
from around the world