On Air with Tony Sweet conducted an engaging interview with Loving the Silent Tears stars Flo Ankah and Mark Janicello, with radio hosts Tony Sweet and Eddie Connor: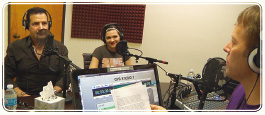 Tony Sweet: Both are going to be in Loving the Silent Tears. And just watching the highlights from it just really touched me in a lot of ways, because it's bringing people from all over the world together to make this musical, and I love that. I mean, it really is inspiring. Now Mark, I know you've done a lot of stuff all over the world too, what attracted you to do this show?
Mark Janicello: Well, I was very surprised, quite honestly. In the commercial theatre you very seldom deal with spirituality on any level except the most superficial. And here, the Supreme Master Ching Hai's poetry is talking about all of us wanting to have a relationship to a higher power, to God, however you want to call it. And they musicalized these poems, which in and of themselves are quite beautiful, using Grammy, Oscar, Tony and Emmy-winning composers.
Eddie Connor: It sort of raises the electricity, don't you think?
Flo Ankah: Yes. There is some momentum that it is going to be spectacular.
Mark Janicello: I saw a run-through of the show on Tuesday, the first run-through. The dancing is unbelievable! You have ballroom dancing, you have jazz, you have hip hop. And to see the guy who's dancing in my number with me, he was on stage with Celine Dion in Vegas for all that time!
Eddie Connor: Don't you find that it completely erases all prejudices? Don't you find that when you do what you're born to do, that it completely heals the planet?
Flo Ankah: Sure, I find that the very first thing that came to me after reading the script is that it's like it's a world with no boundaries. It has performers in the same song with countries that would never look at each other.
Mark Janicello: And I think that the organization of Supreme Master Ching Hai and her followers, their whole goal is to bring understanding of different cultures, by showing different cultures working together, singing together. This is the goal of any artist in any case.
Tony Sweet: And I love how they're doing it here in America.
Mark Janicello: Of course, it is the media center of the world. And I think they are so ambitious and so generous, the whole production is a generosity. It's going to knock everybody's socks off!
Flo Ankah: I feel that in today's entertainment, there is a tendency for everyone to go towards the same norm. And so in this, like the first day, we rehearsed with all the vocalists, I was really stunned because every single person had so much soul and so much heart in the sound.
Mark Janicello: We have Black Uhuru, the first Grammy-winning artists for reggae. These guys are reggae legends. And I'm rehearsing my big opera number there, and the guys were sitting in the room in the rehearsal studio because they just like the way I sang. And they said, "Oh wow! That's just so great what you're doing." And I'm like, "I'd kneel before you guys." And it's a mutual admiration society because we all respect the others. You know, we've got Kay in Cantonese and Hong Kong, she's a pop superstar, singing in the choir with me and with Flo.
Eddie Connor: But that's the way it's supposed to be. When you do what you're born to do, and you're both doing it, you will rendezvous on the Earth plane with other like-minded people who have higher dreams, goals, and aspirations than everyday people dared to dream. You will find each other on this planet. And you will find each other in a place like the City of Angels (Los Angeles), and you will morph and transform the frequency of this Earth plane. And you will take it beyond, beyond.  
Mark Janicello: I'm a little bit stunned because that was really impressive.
Tony Sweet: Eddie's a psychic and he has a lot of great insight on stuff like this.
Eddie Connor: So I wonder how you guys are going to hold it together when you're getting a standing ovation, when the entire cast is out on stage, taking your bows, tears streaming down your face, the audience will have tears streaming down their face. I mean, it's going to be otherworldly.
Flo Ankah: Everyone, the audiences and the performers equally, we will just be in the moment together.
Mark Janicello: Yeah, and I really feel it has been a gift of the universe toward me, toward Los Angeles, toward all of us.
Tony Sweet: I think it's very important that we have stuff like this. You know, there can be all these shows that tour the country, but I think stuff like this, it brings not just the talent but just the heart and the soul onto one stage. And like you said, not too many other musicals give me goosebumps just watching.

The diverse cast of Loving the Silent Tears