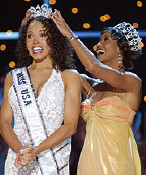 Winning the Miss USA beauty pageant in 2003 (above), health-conscious vegan
Susie Castillo shines with inner beauty, as well.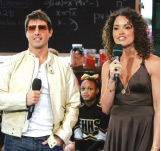 MTV host Susie Castillo interviewing Tom Cruise
As an actress, Susie Castillo portrayed Mercedes Hernandez on the hit TBS sitcom Tyler Perry's House of Payne, among other shows. She also co-starred in the Hallmark Channel's A Holiday Engagement, and was featured in the independent film More Than Stars and Disney's feature film Underdog.
Ms. Castillo currently lives in Los Angeles and spends time supporting her favorite non-profits for children and animals. She lives a green, vegan lifestyle.
For Loving the Silent Tears, media such as PopStop TV, Go Vegan Radio and Environmentally Sound Radio interviewed Ms. Castillo about her career, her compassionate lifestyle, and the musical. Let's find out about what she had to say.
Q: As a daily host of MTV's popular show, TRL (Total Request Live), you've interviewed some of the biggest celebrities in entertainment. Tell us about one of your most memorable guests.
Susie Castillo: I interviewed everyone from Jennifer Lopez, to Christina Aguilera, Shakira, but I think one of my favorite people that I ever interviewed while I worked at MTV was probably Tom Cruise. He was just very gracious to everyone. He stayed for the entire hour of the show and every commercial break, just stayed out there and talked to the kids and it was just really nice.
Q: You have so many young teenaged fans who look up to you as a role model. In fact, they inspired you to write your first book, Confidence is Queen: The Four Keys to Ultimate Beauty through Positive Thinking. Tell us about the message you wanted to share through your book.
Susie Castillo: The message basically is that beauty, true beauty, starts within. When you wake up in the morning and look in the mirror, are you following your dreams? Are you doing what your spirit truly wants to be doing? And so I encourage the readers to figure that out first, and the first key is about spirituality, which I believe is the foundation of life. And if you're connected to that and enlightened, then you're able to build upon that and you have a strong foundation.
Q: It's fantastic of you to encourage young people to lead meaningful lives. Speaking of which, we learned that October 27 is not only the date of the premiere of Loving the Silent Tears musical, but it is also your birthday! So how do you feel about spending your birthday in this way?
Susie Castillo: I can't think of a better way to spend my birthday than by attending an event promoting peace for everyone. And promoting veganism, I think it's such an important message. And to celebrate Supreme Master Ching Hai and her fantastic poetry.
Q: What influenced you to develop a love and respect for animals?
Susie Castillo: I remember as a child, my grandma instilling in us that no matter how little you think you have, there are always people and beings that are suffering on the planet and have even less than us. As I've grown older, the love just continues to grow for all living beings. It breaks my heart when I see animals being mistreated. As we all know, in agriculture, that's like one of the biggest mistreatments that animals endure in our country.  The more I educated myself about the subject, the more I was able to make wiser, more intelligent decisions in my life.
Q: Through your blog and simply by being a good example of healthy living, you have helped others to make beneficial changes in their lives. Why do you spend the time to let others know about the vegan lifestyle?
Susie Castillo: I just think it's really important; you get this one body in this lifetime, and we should treat it appropriately and not trash it. And so many people trash it, myself included before I educated myself. I've seen some tremendous positive changes in my health in the last six years when I switched to a plant-based diet and I wanted to share that with the world. I don't even get colds anymore and that alone is a gift. So I try to just shout it from the rooftops.
Q: Is there a motto or principle that you live by?
Susie Castillo: I live by the Golden Rule: treat others as you would like to be treated. And to me, that includes animals as well. They should be loved. They are souls on this planet just like we are.
With a loving heart and positive thinking as cornerstones in her life, it's easy to see how Ms. Castillo achieves her inner and outer beauty.