Letter of Appreciation
Saving the Seals Together
By Award News Group (Originally in English)
Native to the coasts of Namibia and South Africa, Cape Fur Seals are threatened by an annual hunt for their fur, which involves the slaughter of 86,000 baby seals and 6,000 adults, as well as family separations and severe disruption of colonies. Many groups and individuals around the world have raised concerns about the brutality and ecological effects of this carnage, second in scale only to the Canadian hunt, which claims the lives of hundreds of thousands of Harp and Grey Seals each year.
To address the imbalances, cruelty and abuse that plague this beautiful species, Mr. Francois Hugo founded Seal Alert SA (South Africa) in 1999, after his first rescue of a ten-month-old Cape Fur Seal. As a major advocate for these loving animals, the organization rescues and rehabilitates seals in need of help as it works to re-establish their habitat and general safety. A significant advancement toward this goal was made in 2008, when Seal Alert SA was successful in securing a 27-nation European Union ban on all seal products originating from Namibia.
Upon learning of Mr. Hugo's noble work, Supreme Master Ching Hai offered Her  support for the organization, and in November Golden Year 6 (2009) honored him with the Shining World Compassion Award (see News 205 for detailed report), along with a contribution of US$200,000 to aid in his courageous efforts to end seal hunting in Namibia.
With the generous kindness of Supreme Master Ching Hai, Mr. Hugo was able to create the only seal rescue facility of its kind on the African continent. As part of his long-term efforts to assist in restoring their communities, he also secured a change to South Africa's national policy. The new guidelines stated that Cape Fur Seals would no longer be banned from returning to island homes they had fled many years earlier due to intensive hunting.
In 2011, Master contributed an additional US$150,000, sending Her "best wishes for (the seals') peaceful well being and relatedly that of our world." In one of Her letters to Mr. Hugo, She wrote, "As the seals say, 'One day all species, both human and animal, will look upon each other as brothers and sisters.' We pray for that day with all our heart and tears with you."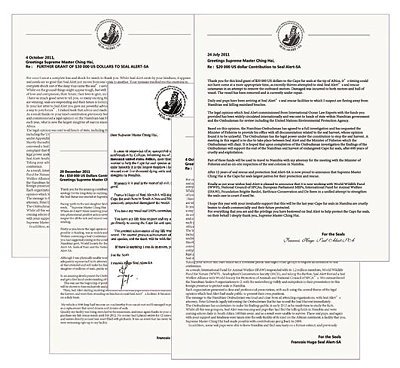 Thank-you letters and receipts from Mr. Hugo for Master's contributions totaling US$250,000.
Deeply touched by Master's compassion and encouragement, Mr. Hugo replied, "It is clear you and the seals have been communicating directly with each other, for the timing in all the universe of such a further grant could not have come in a more appropriate time to help legally save them as a species. I am truly shocked beyond words, at your unseen ability and gift, to speak (for) and see those needing your help." Over time, Mr. Hugo has continued to express his gratitude as well as keeping Master updated on news about the progress made through Her funding, including building a baby-seal nursery, constructing a new floating jetty and walk-on ramp, repairing the group's catamaran and purchasing new motors. "Thanks to you, Seal Alert is now the most equipped seal-rescue response facility of its kind in the world," Mr. Hugo declared.
Following advice given by Supreme Master Ching Hai to work together, Mr. Hugo commissioned an opinion from legal experts in oceanic law based on his past 13 years of research. Their opinion was then sent to all heads of state in Namibia, with an unprecedented decision that followed, allowing a complaint to be filed by Seal Alert SA that would be investigated by the Namibian Ombudsman at the highest level in government.
At the September 2011 Seal Conference, attended by representatives from many organizations, Namibian Ombudsman Advocate John Walters launched a public assessment, taking the first step to help end the slaughter of millions of seals. Moreover, Mr. Hugo has learned that a new Cape Fur Seal colony has been expanding on an island off the Angolan coast, and other groups of seals have been returning to South African waters that are now safer due to the government's suspension of seal hunting and Seal Alert's restoring campaigns.
| | |
| --- | --- |
| | |
With great excitement, Mr. Hugo informed Master in a December 2011 letter of the amazing changes he had witnessed: "It was like Seal Alert had suddenly become a magnet for all the sick and injured seals, and with it brought waves of positive changes that clearly the universe was sending." In addition, a seal statue was erected in Her honor at the Seal Alert SA rescue center. As his letter stated, "Facing north to the seal slaughter fields in Namibia and forever looking after the seals at the centre, the inscription reads, 'Supreme Master Ching Hai – May You Forever Watch Over Cape Fur Seals.'" Affectionately addressing Master as "the Cape Fur Seal's mother," Mr. Hugo added, "You made positive thought into positive action that is bringing change to an entire species."
In January 2012, as She commended Mr. Hugo's devoted perseverance to protecting the innocent and vulnerable animals, Master contributed another US$100,000. This support, according to Mr. Hugo, has lifted a huge financial worry and enabled him to focus on bringing further attention about the seals' urgent plight to both the media and the government.
God bless you, Mr. Hugo and Seal Alert SA, for your diligent efforts to preserve the precious Cape Fur Seal. And thanks also for Supreme Master Ching Hai's attention and assistance toward this compassionate cause, as we pray that the year 2012 will see the end of the unconscionable act of seal hunting, and may the day soon come when all beings live fearlessly and peacefully with one another.

To learn more about Seal Alert SA, please visit:
http://sealalertsa.wordpress.com/about-us/