Vegan Elite

Dr. Neal Barnard—
A Living Embodiment of
the Hippocratic Oath
By Award News Team (Originally in English)
Neal Barnard, M.D. is a vegan nutrition researcher, best-selling author and the founding president of the US-based non-profit organizations The Cancer Project and Physicians Committee for Responsible Medicine (PCRM). Following his training as a physician and psychiatrist, Dr. Barnard began to investigate the impact of diet on health. This in turn revealed the benefits of plant-based nourishment. Today, he is a prominent advocate of the low-fat vegan diet as the foundation of mental and physical well being.
Founded in 1985, PCRM has evolved into a nationwide organization of doctors and laypersons who promote preventive medicine through good nutrition, while campaigning on behalf of issues such as ethical research. The organization is also actively involved in raising awareness of the benefits of a plant-based diet through such projects as the 21-Day Vegan Kickstart program along with seeking to amend to federal dietary guidelines.
The Cancer Project was created in 1991 to inform the public about the role of the plant-based diet in prevention and recovery from the disease by providing comprehensive information as well as vegan nutrition and cooking classes. As an adjunct associate professor of medicine at the George Washington University School of Medicine and Health Sciences, Dr. Barnard has been the principal investigator for several studies examining the links between food and health, including a US National Institutes of Health-funded study showing that a low-fat, plant-based diet can actually reverse diabetes. Much of his work has been published in top scientific and medical journals.
Dr. Barnard is also the author of over a dozen books on nutrition that have collectively sold more than two million copies, with countless people who have regained their health due to his research and published works. He is often interviewed by the media for his perspectives on diet and health issues and is one of America's most sought-after experts on diabetes prevention and reversal.
His latest book, 21-Day Weight Loss Kickstart: Boost Metabolism, Lower Cholesterol, and Dramatically Improve Your Health, is based on the PCRM program that shows those wanting to slim down how to do it quickly with plant-based foods that not only control appetite but also increase energy levels. Hollywood actress and vegan Alicia Silverstone wrote the book's foreword. Since 2011 Dr. Barnard has been touring the US, explaining the principles of this weight loss plan in free one-hour lectures to maximum capacity crowds.
With compassion for animals one of its top priorities, PCRM is also active in working to end animal testing in the medical field. The organization recently succeeded in stopping a Michigan, USA animal shelter from selling stray dogs for lethal experimentation in medical research and is currently campaigning to halt the suffering and death of pigs in a Mississippi, USA medical school.
Shining World Compassion Award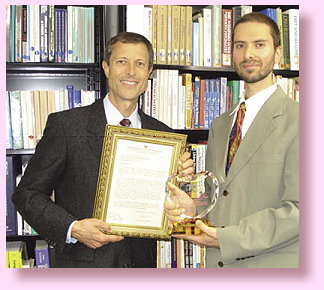 Dr Neal Barnard (left) receives award
In recognition of his continuous and devoted efforts to better public health and our planet over the years, Supreme Master Ching Hai honored Dr. Neal Barnard with the Shining World Compassion Award. On August 25, Golden Year 7 (2010) our Association members, on Supreme Master Ching Hai's behalf, presented Dr. Barnard with the Award plaque, a letter from Master, an organic tea set, a selection of Master's lecture DVDs and music CDs, and Her #1 international bestseller, The Birds in My Life.
In the Award letter, Master applauded Dr. Barnard's achievements, stating, "Your enlightened leadership, richly endowed with noble loving qualities, has and is, making an enormous positive difference to our world….Doctor, you are the living embodiment of the Hippocratic Oath: noble, moral, virtuous and of exemplary repute. Thank you for uplifting our world with your inspirational example of love in action."
Receiving the Award, Dr. Barnard humbly said, "I am not sure that I deserved those very kind words, but I am very, very grateful for Her expressing that." In return, he offered Supreme Master Ching Hai some of his books and DVDs.
To watch Supreme Master Television's program on Dr. Neal Barnard and award presentation, please visit: http://video.Godsdirectcontact.net/magazine/EE1682.php
Toward More Humane Laws:
PCRM Legislative Fund
Thank-you letter from Ms. Elizabeth Kucinich
for the US$50,000 contribution from Master.
Following Dr. Barnard's receipt of the Shining World Compassion Award, Supreme Master Ching Hai offered US$50,000 to PCRM's Legislative Fund in support of its ongoing efforts to improve animal welfare through changes to US government policies. This contribution was made as part of an event organized in February Golden Year 8 (2011) by Ms. Elizabeth Kucinich, Director of Government Affairs of the PCRM Legislative Fund. Ms. Kucinich, who herself is a vegan and is also the wife of vegan US Congressman Dennis Kucinich, had invited Master as a special guest to the occasion. Although Master could not attend in person due to Her very busy schedule, She sent a representative to present the heartfelt contribution.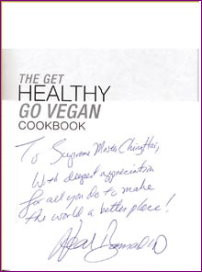 Book autographed by author Dr. Barnard with the message, "To Supreme Master Ching Hai, With deepest gratitude for all you do to make the world a better place!"
Ms. Kucinich later sent a warm letter of thanks to Supreme Master Ching Hai for Her kindhearted generosity. She wrote: "Our efforts continue to build on all fronts with regards to our work to end research and medical training using animals, and to work to create a great campaign to promote farm subsidy reform... I have great visions for this campaign. Your continued support of our work is so gratefully appreciated. Thank you again."
Dr. Neal Barnard also conveyed his heartfelt appreciation to Supreme Master Ching Hai for the gift to the PCRM Legislative Fund, saying, "I would just like to thank you so much for really being an inspiration to so many people and for your support of the work that we are doing."
We extend our deepest gratitude to you, Dr. Neal Barnard, for your courageous endeavors to present lifesaving truths about the healthy vegan lifestyle, as we also salute Ms. Elizabeth Kucinich and the PCRM Legislative Fund for advocating the passage of humane laws in the United States.
May your compassionate work continue to be endowed with Heaven's blessings in bringing us all closer to World Vegan, World Peace.

To learn more about the Physicians Committee for Responsible Medicine, please visit:
http://www.pcrm.org/
For more information about 21-Day Weight Loss Kickstart: Boost Metabolism, Lower Cholesterol, and Dramatically Improve Your Health by Dr. Neal Barnard, please visit: www.Amazon.com