Master's Compassion Brings Comfort
to Tornado Disaster Victims
By Southern USA Relief Team (Originally in English)
On February 5, 2008, dozens of tornadoes swept across Mississippi, Arkansas, Tennessee, Kentucky and Alabama, USA, in the nation's most severe disaster of its kind in almost 23 years. Over 50 people lost their lives and hundreds of homes were destroyed. Deeply concerned, Master immediately contributed US$20,000 and instructed fellow initiates from centers in the USA to go to the affected states.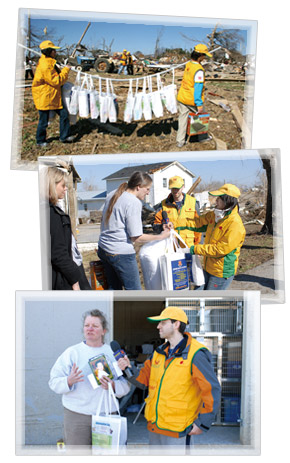 | | |
| --- | --- |
| | Veterinarian Dr. Lorrdine Purcnis, at her animal hospital whose roof was destroyed by the tornado, expresses her deep thanks to Supreme Master Ching Hai for the gifts and financial aid. |
Two relief teams from the Dallas, Georgia, Indiana and Ohio Centers quickly formed, purchased relief supplies such as socks, bottled water and toothbrushes, and packed the items into Alternative Living bags along with sample booklets and Supreme Master Television flyers. One team visited and distributed the items to various shelters in Alabama, where a tornado had traveled a 10-mile path and struck 80 homes.
The other team went to Tennessee, Kentucky, Arkansas and Mississippi to bring material and spiritual comfort to the victims. The initiates also purchased more relief items based on local people's needs. In Tennessee, the team members went from door to door, distributing supplies and financial assistance. They presented US$500 to a vegetarian veterinarian to rebuild her animal hospital and another US$1,000 to the Community Foundation of Middle Tennessee for its animal disaster-relief fund. In Arkansas, many people opened the sample booklets to read as soon as they received their relief bags. In Mississippi, the team gave money and sample booklets to the pastor of a Baptist church, who could not believe the team had come from such a long distance to help, and promised to pass the money along to the tornado victims.
While distributing the gifts, the relief teams also helped in clean-up efforts wherever they could. They are thankful for the compassionate care Master showed through Her financial assistance and funding of material supplies, which moved many disaster victims to tears. After receiving the aid, the recipients all looked happier, more hopeful and more confident about being able to return to their normal lives.


News coverage about this relief operation is available online on Supreme Master Television at: http://video.Godsdirectcontact.net/magazine/NEWS524.php

Expenditures by Supreme Master Ching Hai
for Tornado Relief Work in Southern USA


| | | |
| --- | --- | --- |
| Description | Amount (USD) | Receipt |
| Water, gloves | 297.66 | A1 |
| Food (chip, cookies, snack) | 626.04 | A2 |
| Toothbrush, toothpaste, blanket throw | 502.21 | A3 |
| Gloves, blankets, flashlight, batteries | 1,579.20 | A4 |
| Purchased items & financial aid for tornado victims (from Arkansas & Alabama) | 1,772.16 | A5 |
| Contribution to help animals tornado relief | 1,000.00 | A6 |
| Contribution to help 159 tornadoes victims | 14,950.00 | A7 |
| Total | US$20,727.27 | |

Serving God's Children
By Houston News Group (Originally in English)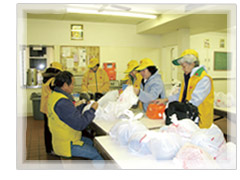 Soon after the New Year, the weather changed dramatically from 89 degrees to a low 60 degrees Fahrenheit in Houston. Concerned about our homeless friends in the city, local initiates packed approximately 200 gift bags containing necessities including cotton socks and knitted beanies. They also prepared hot coffee and donuts to serve at a homeless shelter on January 20. The supervisor of the shelter, Billy Joe Shepherd, was delighted to help. He even provided a viewing area to broadcast Supreme Master Television's SOS message on Global Warming.
Mr. Shepherd told the initiates that he used to be a working person living in Seattle, but got laid off from work many times. Though he didn't know the reason, he felt confident that there was a plan for him. Later, he started to working for The Love's, an organization for the homeless. Since then, he has devoted the last 15 years of his life to helping his fellow brothers and sisters. He felt complete and content about his decision. For his dedicated contribution to others, the initiates lovingly presented him with a copy of Master's book The Birds in My Life. Mr. Shepherd was touched and uplifted by the gift.
We are thankful to be able to help others and that once again Master has guided us to find another friend who has the same ideal of serving God's children.