Comforting Victims of Extreme Cold Weather
By Au Lac News Group (Originally in Aulacese)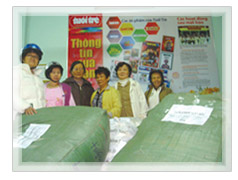 Since the beginning of January 2008, extremely cold, damaging weather in Northern and Central Au Lac has cost the lives of many people and animals, and brought severe damage to local crops.
Out of loving concern for their fellow citizens in the affected areas, Aulacese initiates immediately sent them six bags of relief supplies, including 56 blankets, 52 sweaters and other clothing items. The sisters and brothers are also raising funds for the victims in the second round of their relief effort.
May God bless the suffering Aulacese, so that they may soon recover from the disaster and return to their normal lives.