Beautiful People and Beautiful Events
Darcy Goodwin
♥♥♥♥♥♥♥♥♥
- A Truly Inspirational Being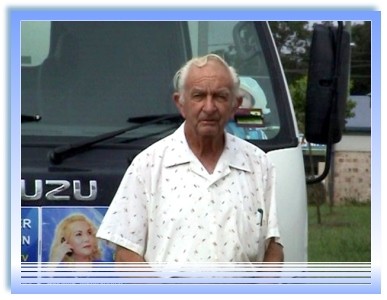 By Northern Rivers News Group, Australia (Originally in English)
For the past 17 years Darcy Goodwin has single-handedly operated a mobile soup kitchen from his van in the Northern Rivers region of northern New South Wales, Australia, providing free, regular, vegetarian meals for all in need.
At the ripe age of 80, Darcy has been a vegetarian for over 75 years and is in robust enough health to provide his services to neighboring towns in his district every 6-and-a-1/2 days a week, 52 weeks a year. The half day he's not serving he uses to prepare for the coming week! Darcy's days are mostly spent collecting food contributions of over-ripe and day-old food from local fruit shops and bakeries, preparing food, traveling to places then setting up, serving food, and dismantling his mobile kitchen. He also personally delivers food parcels and furniture to the destitute in more remote regions.
But don't expect to hear him complaining about his tiring schedule. Darcy's heart only wants to serve his fellow man and claims it brings the utmost joy simply being able to help. On his van appears the motto 'Caring is Sharing' and he definitely walks his talk – he is happy to talk to anyone, especially those society has disregarded. In fact, Darcy often remarks on the exceptional manners and respectful behavior he has observed over the years from the grateful recipients of his help.
Before he began his '5 Loaves' mobile soup kitchen, Darcy was involved in ministry activities for his church. He says his work on the streets has given him far greater opportunity to practically change lives. Darcy does not receive financial help from any government or welfare group for the work he does, although he has been presented with many community awards over the years in appreciation of his selfless work.
Recently, following the floods in northern New South Wales, the Supreme Master Ching Hai International Association's disaster relief team was blessed to have Darcy's assistance in distributing food hampers to affected families. Darcy himself had been affected by the floodwaters while out on a recent delivery, leaving his van in need of repair. The Supreme Master Ching Hai International Association was very happy to offer financial assistance to get his van back on the road, and Darcy was very appreciative and moved by Master's generosity.
Darcy Goodwin is a living example of Master's Love in action. We all are greatly touched by his kindness and selfless devotion.