Beautiful People and Beautiful Events
The Gift of New Life as Father and Son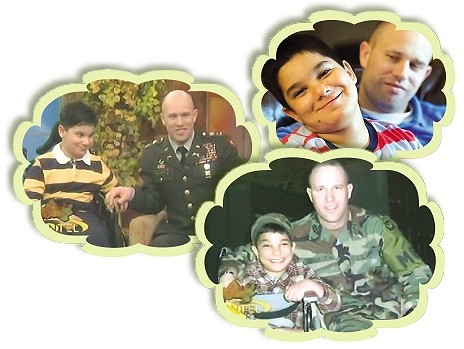 By brother initiate David M., Ohio, USA (Originally in English)
"And whosoever shall receive one such little child in my name
receiveth me." (Matthew 18:5)
The recent experience of an American soldier reminds us to live one of Master Jesus' humble teachings. While stationed in Iraq, Captain Scott Southworth became a loving "soldier of compassion" through his affinity with a physically challenged boy he met at an orphanage.
The two became friends, and soon the boy was affectionately calling the soldier "Baba," which is Arabic for "Daddy." Shining through the boy's physical ailments was a kind, spiritual heart. His name was Ala'a, which means "to be near God." One day, Captain Southworth was informed that Ala'a had to be moved to another orphanage. At that moment he knew that he wished to become Ala'a's permanent daddy.
The adoption process was long with many obstacles, but like Ala'a, Scott was blessed with spiritual faith. To overcome the difficult road, Captain Scott prayed often, received help from friends and also heeded the sage advice of his mother, to just "let God work." One day, the phone call he had been waiting for came from the US Department of Homeland Security, who graciously granted his loving wish to adopt Ala'a on "humanitarian parole." Captain Scott immediately bought airplane tickets to meet Ala'a and was later so relieved, saying, "I could hug him. I could hold him. I could protect him."
Since Ala'a and Captain Scott were reunited, things have been going smoothly for both of them. Ala'a has received free ongoing medical care and is enrolled at a new school with new friends, while Captain Scott has started a campaign for others to be able to adopt orphaned Iraqi children. Their relationship highlights the global family that we are all part of, regardless of different religious, political or geographical backgrounds. We wish many joyful moments for Captain Scott and Ala'a, and that all may remember the love of God in their actions - bringing more and more light and peace to our world.

References:
http://www.cnn.com/2007/US/12/23/saving.orphans.ap/index.html?section=cnn_latest