Report From Panama
Helping The Disaster Victims
Of Severe Hurricane Mitch
Hurricane Mitch led to a severe flood disaster in Darien and Chiriqui provinces. Some roads and bridges collapsed and residents' houses and schools were damaged. Only a few people died, but thousands became homeless and lacked food, medicine and clothing. Fellow initiates in Panama immediately collected funds, food, medicine and clothing and sent them to Vicariato of Darien, where Father Emiliani and his collaborators received these items. Although, due to time limit, the contribution was not much, it was our sincere wish to help in some way.

With great surprise we saw that some days later, Hurricane Mitch caused its greatest damage in Honduras and Nicaragua. We then collected more money to help the people of these countries, because they are the poorest in the region and the need there was the greatest.


Report From Costa Rica
Relief items contributed by the Supreme Master Ching Hai International Association were brought to the Costa Rica airport waiting to be sent out.
Powerful Hurricane Mitch created a flood disaster and a mud-rock slides, from which many caused were seriously injuried and/or died, with hundreds and thousands of people being left homeless in several countries in Central America. The disaster in Honduras and Nicaragua was the most severe. Many villages in Honduras disappeared and the country's farmers suffered serious crop losses.

Upon learning the news, Master immediately allocated funds and sent a Quan Yin messenger to the Costa Rica to purchase food and medicine for the disaster victims in Honduras and Nicaragua. Concerned fellow initiates in the big Quan Yin family also became concerned and made contributions on their own initiative.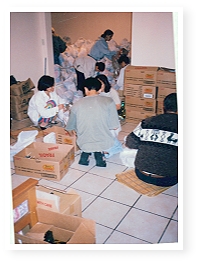 Fellow initiates in Costa Rica packing relief items.
After having purchased disaster relief items, fellow initiates in Costa Rica worked day and night to pack them. With the help of the Honduran and Nicaraguan Embassies in Costa Rica, the relief items were shipped by sea, air and land transport to the disaster areas in Nicaragura and Honduras. The Quan Yin messenger and some fellow initiates went to Honduras to distribute the relief items and deliver Master's love and concern to victims. Fellow initiates in Costa Rica worked for many days at the airport helping to sort and load items collected from all over Costa Rica for victims in Honduras.

Master has often told us that disasters and sorrows are meant to remind us of the ephemeral nature of physical life and that we have to get back into the safety of the fortress, the Kingdom of God. Upon seeing such devastating events happen so frequent and the affected areas become bigger and bigger each time, we were all very saddened. We hope that the people of Earth will be awakened as soon as possible to remembering God, and will not wait until disasters happen to any of us.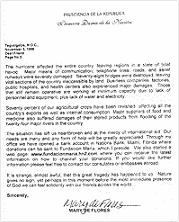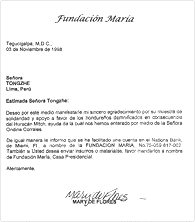 Letters appealing for help from the First Lady of Honduras.
As the First Lady of Honduras, Mrs. Mary De Flores, said in her letter to a Quan Yin messenger requesting help from the Supreme Master Ching Hai International Association, "It is strange, almost awful, that this great tragedy has happened to us. Nature gives no sign, yet perhaps in this moment before the most immediate presence of God we can feel solidarity with our friends across the world." Yes, nature gives us no sign. We never know what will happen in the next moment. So, besides material comforts, we also packed with greatest sincerity a sample booklet in each bag of relief supplies, hoping to bring the message of Truth to victims and helping them to find their Home in the Kingdom of God. We were sure that this was the most precious gift that we could offer them.
---
Hurricane Mitch Disaster Relief in Honduras and Nicaragua
November, 1998
Items

Money received(US dollars)

Expense (Costa Rican Currency)

Receipt No.

Contribution from Supreme Master Ching Hai

40,000

Contribution from the fellow initiates in Middle &South America:

10,269

Materials for Honduras: Food

5,368,197

1

Packing materials

106,543.75

2

Materials for Nicaragua: Food

4,229,747.45

3

Medicine

1,456,900

4

Packing materials

40,440

5

Total

50,269

11,201,828.20
(41,956.60USD)

Balance

8,312.40
We are still in the process of purchasing relief items for the victims. 
The rest of the receipts and a further report will be published in the next
 issue of the News magazine.

| | |
| --- | --- |
| (The Herald November 1, 1998) STAYING ABOVE WATER: Hondurans crowd into makeshift tents to escape the flood waters at Valle de Sula, just outside San Pedro Sula. | (The Herald November 1, 1998) Nicaraguans living near Lake Xolotlan retrieve debris from their homes Saturday to help in rebuilding after the flooding. |
Receipt From The Embassy Of The Honduras Republic In Costa Rica (Originally In Spanish)

The Embassy of the Honduras Republic, has received from the Supreme Master Ching Hai International Association of the Donation of food in:


4862 gallons of water
500 sacks of 100 kilos of rice, corn powder, beans, coffee, salt, milk
200 boxes of Cookies
10 boxes of candy

To contribute to the emergency fund, created to help the victims afflicted due to the Mitch hurricane in Honduras.

San Jose, November 19, 1998
Ambassador
Aristides Majia Castro


Two Receipts From The Embassy Of Nicaragua In Costa Rica
(Originally In Spanish)
We have received from "The Supreme Master Ching Hai International Association", food and medicines donations for the victims of the Mitch Hurricane in Nicaragua, to be delivered to the National Commission of Emergency, as follows in detail:

400 sacks of food (100 pounds each) with rice, beans, sugar, coffee, salt, toothpaste & toothbrush, soap, matches, etc.
100 boxes of liquid milk (1.340 Liters)
50 boxes of vegetable Margarine (1.600 Pounds)
78 sacks of beans (2.340 Kgm)

Medicines:
300 UN. Dimenhidrinato 5 ML
300 UN. Difirona 50% 2 ML
300 UN. Electorlitos bags of serum 400G
300 UN. Yodo 2% 1000 ML
450 UN. Sulfacetamida Colir. 20% 10 ML
200 UN. Alcamil Plus 100 ML
1000 UN. Nistatina Cream 15 GR

November 12, 1998
On behalf of the
Ambassador of Nicaragua
Margarita Guerrero de Lopez
Adviser