By Sister Initiate Leina Leong, San Francisco, CA USA (Originally In English)

In front of the San Francisco community Convalescent Hospital, Quan Yin practitioners Got ready, with gift bags and News magazines, to visit the elderly patients and staff. One of The sister initiates handed out small laminated photos of Master to each of us, each photo with a different look. I stuck my head out of the car and heard myself say: "Wow! Look at this one! Master s expression is so precious." "You like that one, huh?" "I like this one."



Then it was time for us to go inside. We greeted everyone and gave out the gifts and News magazines. In the community room, brother Joseph played classical music on the piano to entertain everyone. A newly admitted patient, alert and friendly, told us to let brother Joseph know that most of the patients are too weak to clap or talk. However, they really do appreciate the music and our visit very much.



As we greeted the patients, their faces lit up immediately. They were eager to reciprocate our visit with a few words and gestures of gratitude. Those who were up to talking shared stories of their lives and were interested in hearing about ours.
In that place, death was so near, yet so was life. We felt their suffering, their appreciation, their delight and vice versa I'm sure. Most of all, Master s unconditional love filled every corner and every soul.



Later on at home, I noticed that Master's photo on the kitchen wall was simply perfect. The picture in the meditation room was exquisite, so was the photo in the bedroom, not forgetting the one that the sister initiate had given me earlier in front of the Convalescent Hospital. I thought that little photo of Master seemed ordinary then. And now, it is simply perfect in every way as well. The discriminative chatter in my head had quit somehow. "When did it stop?" I asked myself. Perhaps it was when I held the hand of a very frail woman at the Convalescent Hospital. The incredible silence between us was so filled with gratitude and love. At that very moment, I realized that I was holding Master s hand.

By Musician Nhat Ngan, USA (Originally In Au Lac Language)

Musician Chau Ky (left)

After attending an Evening of Music and Poetry –Traces of the Previous Life and Love Songs hosted by the Supreme Master Ching Hai International Association, Los Angeles Center at the Long Beach Convention Center on December 29, 1996 with an audience of over 6,000 of both Au Lac and foreigners (nearly 9 hours of performance) and making a good contribution to the success of the performing arts, we said good bye to the performers with the utmost enthusiasm in our hearts. It was even more exciting when Supreme Master Ching Hai, before leaving, said that She would instruct the event coordinators to send all the proceeds from the show back home Au Lac to the writers and musicians who have been forgotten during the upcoming Tet (year of the Bull). According to Her, these writers and musicians are very worthy of the public s admiration and gratitude for their great contributions in hard work and creative thought to the enrichment of literature and arts of Au Lac over many decades without any compensation.



Amidst my busy schedule in preparation for the upcoming Tet program, I was quite surprised and exhilarated to be contacted by a representative of the Suam Ching Hai International Association in Los Angeles with an invitation to join their team to travel to Au Lac to distribute gifts to the writers and musicians during Tet on behalf of the performers of "An Evening of Music and Poetry Traces of the Previous Life and Love Songs".



After making the necessary arrangements and preparations we left for Au Lac on February 2, 1997 (december 26, Lunar year). The team consisted of two representatives from the Association, a treasurer and a cameraman, as well as myself who represented the performers. Before leaving, the treasurer informed us that the total amount of money to be given to the writers and musicians from the Association was US$50,000 (US$20,000 from the proceeds of the show and $30,000 donated from Supreme Master Ching Hai).

Poet Bui Gian (left)

After a long 16 hour flight, we touched down at Tan Son Nhat Airport in Au Lac. It was steamy hot in Saigon during the days before Tet which was not much different from the Summer months in Los Angeles.



In order to save time and to get the money into the hands of the writers and musicians in a meaningful way in time of Tet, immediately after getting to Saigon from the airport, we made contact with the musicians who represented the former Association of Musicians in Saigon -- Thanh Son, Mac The Nhan, Chau Ky, Hoang Trang, Bao Thu. We asked them to help us contact the remaining musicians in Saigon and in the neighboring areas to get together the very next morning (05/02/97) to receive their gift of money.



When members of the artists circle had finally gathered, the number reached over 50. On behalf of the show's host, we delivered the opening remarks and began the distribution ceremony. One by one, these brothers and sisters were extremely touched and happy. (The money was allocated according to each person's situation which was the recommendation of those present, from $200 to $1,000).



In the opening remarks welcoming folks in the artists' circle, we informed them that these gifts were from Supreme Master Ching Hai Herself and the Supreme Master Ching Hai International Association in Los Angeles after an Evening Of Music and Poetry entitled "Traces of the Previous Life and Love Songs". This special vening was designed to introduce Ching Hai s poetic works which were composed into music by the prominent musicians abroad like Pham Duy, Thu Ho, Le Dinh, Nhat Ngan, Phuong Vu, Le Vu and Supreme Master Ching Hai Herself. These songs were performed by the top artists abroad, with singers Duy Khanh, Khanh Ly, Le Thu, Mai Huiong, Xuan Phat, Duy Quang, Thai Hien, Thai Thao, Tuan Ngoc, Phuong Vu, Le Uyen Phuong, My Huyen, Kieu Loan, Dan Hung; musicians Duy Cuong, Duy Minh, Duy Hung, Hua Bich Thuan, Ta Nhu Viet; the traditional instrumentalists in the legendary Nguyen Dinh Nghia family; actor Tran Quang, actress Mai Phuong and comedian Van Son, Hoai Linh.

From left to right, musician Nhat Ngan. singers Huyen Tran & Hong Van, and poet To Kieu Ngan


Poet Hoang Cam

After the ceremony, musician Chau Ky, the doyen of the artists circle in Saigon, on behalf of these folks extended his thanks to Supreme Master Ching Hai and the Supreme Master Ching Hai International Association. He said: "Every year, in the Tet approaching days like these, we often receive gifts from a representative sent over by brothers and sisters of the artists circle abroad for us to enjoy Tet. But this year, the latest report tipped us that due to many set backs in the organizing work no gifts would be available.



Amidst our being unhappy due to this dispirited report, we suddenly received and invitation from Suma Chng Hai and Her Association to come and receive the special spring gifts. Frankly speaking, we were extremely surprised and touched by Supreme Master Ching Hai and Her Association s concern. This year, You indeed have brought the unexpected spring time to the writers and musicians in the country. We don t know what to say besides extending our sincere words of gratitude and our prayers to the Most High to bless You in the new year.



The number of gifts of money distributed to the artist circle in Saigon and vicinity was roughly over 100. The artist circle inculded musicians, singers, poets, writers...conunting those that had already passed away like Le Thuong, Hung Lam, Duong Thieu Tuoc, Y Van, Truc Phuong, Minh Ky, Hoai Linh, Thanh Vu, Vu Hoang Chuong, Dinh Hung, Nguyen Trung Cang, Tan An... Their families were also entitled to receive their gift just like the writers and musicians who wre still alive. A number of special gifts were also distributed, as recommended by the former Association of Musicians in Saigon, to those artists who had been through more difficult times and circumstances, like musicians Do Thu and Khanh Bang who are completely blind. Musician Thang Long is so poor that he has to work as an umbrella repairman around town. Poet Bui Giang is anormal and lives the life of a wanderer. In the case of poet Bui Giang, we had to spend many days searching every dead end street and alley in Saigon and Gia Dinh to find and give him his gift of money. Poet Tuong Linh has poor eye sight from illness and while waiting for surgery he was not allowed to go outside. Therefore, we had to go to his home.
| | |
| --- | --- |
| Widow of musician Van Cao | Widow of poet Vu Hoang Chuong |

In the case of the deceased poets Vu Hoang Chuong and Ding Hung, since they both had been forced to the new economic zone for many years right after 1975 then came back to Saigon, no one knew their addresses any longer. In order for us to be able to locate the families of the poets, we had to rely on the help of some famous voices inpoetry recital in Saigon like to Kieu Ngan, Hong Van, Huyen Tran to help us search for them. We finally found them after a week of looking and were able to give them the money.



Singer Da Huong had just gone through a cancer surgery and was still receiving therapy. Musician Giao Tien, (composer of the son Co Tham Ve Lang) whose house had just burned down, had almost no money and was making sticky rice rolls for a living at Cam ranh bus station.



Musicians Hoang Thong drifted from the new economic zone to a business in selling lottery tickets at Go Cong bus station. Singer Tuyet Mai, a famous singer in the era of Duy Khanh, Moc Lan, Chau Ha, Kim Tuoc... was sick and living in poverty. She received her gift of money with tears of deep emotion of an artist who had long been forgotten by colleagues and life. Musician Hoang Bao, who had been released from communist jails after 11 years because of the anti-authority songs he wrote after 1975, was also visited. He was so touched upon receiving the money that he said: "Have you ever thought that this money is the largest amount my family has ever had since1975? It is really like a dream."



After completing our work in the Saigon area and vicinity, we went to Ha Noi to distribute the remaining gifts to the once legendary artists there since the prewar era. These were the muscians and composers before 1954. However, since the Communist took over the North, their works were discontinued for many reasons. Their prewar songs have been extremely popular and loved by the whole country for the past many decades. Thses are musicians: Van Cao (since musician Van Cao was deceased, Mrs. Cao accepted the money on his befalf with her sincere thanks); Hoang Giao, composer of the songs "Ngay Ve" (Day of Return) and "Mo Hoa" (Dream of Flower); musician Nguyen Thien To, composer of the song "Giao Duong Im Bong" (Cathedral with Receding Shadow); and poet Hoang Cam, who had written many very popular prewar poems. He and musician Van Cao were the ones who were previously condemned by the communist during the case of the Literary Work of Humanity. All the musicians and poets accepted their gifts of money with great surprise and emotion.



Leaving the North, we entered the Central region and distributed gifts to Nguyen Van Xuan, a writer who had created many valuable works before 1975. He is now 75 years old but still healthy and continues to write. His latest work is "Duy Tan Movement". He is currently living with his family in Da Nang. Also while in Da Nang, we distributed money to musician and teacher Hoang Bich Son. A well known musician in Da Hnang, Hoang Bich Son has also contributed a lot of effort in the field of promoting music in the Central region of Au Lac.



Upon entering Hoi An, money was given to Nhu Pham, a poet who has written poems really praising life. However, he himself is living in seclusion like an austere monk, practicing in a run down temple in the subrurb of old town Hoi An.



On our way South, we stopped over in Nha Trang to distribute gifts to Vo Hong, a writer who made his name by writing a series of long and short novels befor 1975 -- La Boi, An Tiem, Van, Thoi Moi... Writer Vo Hong expressed his deep feelings when accepting the money and said that this gift was full of meaning, something he never thought that he would receive.



Back to Da Lat, money was given to Buu An, a prominent musician of the highlands, who has created many songs dedicated to Buddhism and the Au Lac youth before 1975. Leaving Da Lat, we made a short stop in the city of Ba Ria to search for musician Tran Quang Loc. He and his family were quite touched by our sudden appearance. On this occasion, musician Tran Quang Loc told us that recently, his newly written songs have been recorded by many artists abroad. For example, such songs as: "Tra Loi Thu Em" (Response to Your Letter), "Tinh Co Gap Nhau"(meeting Each Other by Coincidence)... He said, "I hope that this early spring time gift of yours will inspire me to write more new songs to send abroad."



On the road West, we distributed money to musician Nhat Le, composer of the famous pre 1975 song entitled "Goi Nguoi Gioi Tuyen" who is currently living in Can Tho; and Thien An, an actor in Thep Sung (Gun of Steel) TV program of Cuc Chinh Huan (Political Instructional Department) of the Republic of Vietnam Armed Forces before 1975. Also while in Can Tho, we visited poet Hong Quy, a man with many poems full of the fighting spirit published in the RVN Armed Forces magazines before 1975.



Leaving Can Tho, we went to Long Xuyen and distributed gifts of money to musician Lieu Hoang Anh. He is the one who wrote many heroic songs for the RVN Armed Forces before 1975.



We returned to Saigon after more that 10 day nonstop journey across the country from north to south. The number of writers, poets and musicians who received gifts of money was 128. Before returning to the U.S.A., we held a get-togther party with all brothers and sisters of the artist circle in Saigon and vicinty to say farewell. At this party, the artists extended their sincere thanks to all the artists abroad in the performance of poetry-reciting and songs event, Supreme Master Ching Hai and the Supreme Master Ching Hai Intenational Association. Everyone longed for a day to be able to meet Supreme Master Ching Hai in Au Lac.
I'd like to extend my most sincere feelings of gratitude to Supreme Master Ching Hai and the Supreme Master Ching Hai International Association. Thank you for giving me an opportunity to be part of a journey that brought a spring full of love back to the artists at home.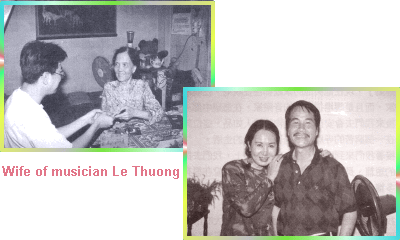 Singer Hong Van (left) and musician Nhat Ngan