M
aster is always deeply concerned when disasters occur in any part of the world. Upon hearing news of such events, She immediately provides financial assistance and sends relief teams. Through such efforts, Her unconditional love and support are conveyed to those affected, thus reducing their suffering while helping them to rebuild their lives.
In recognition of the selfless actions of governments, organizations and relief workers around the globe, Master expresses Her gratitude as follows: "Thank you, all the international help that brings care and necessities to afflicted victims. Thank you all the relief workers for taking time and forsaking your own comfort, even traveling great distances on unfavorable roads and conditions to bring love and assistance to people in a time of need. May Heaven bless you abundantly for your generosity and noble sacrifice."
Master's Love Brings Hope to the Earthquake-Affected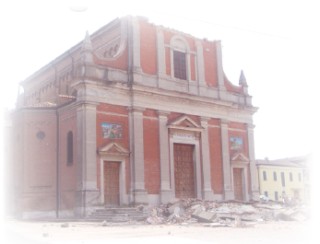 By Paris Relief Team, France (Originally in English)
On May 20, 2012, an earthquake measuring 6.0 on the Richter scale struck northern Italy, leaving thousands homeless and damaging over 100 historic structures. With Supreme Master Ching Hai's blessing and fund of EUR20,800, a relief team of our Association members from Paris, France arrived in the area on May 24 to render aid.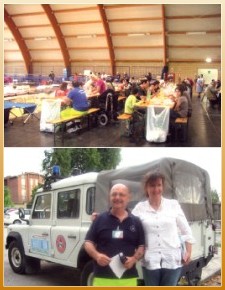 After assessing the needs of those affected, the team visited makeshift shelters through the arrangement of the Ferrara Civil Protection Department, and purchased a large quantity of basic necessities. The team then distributed the items and made more trips for supplies as new requests were received. They also contributed EUR10,000 to the Association of Volunteers of the Ferrara Civil Protection Department to ensure that earthquake-relief efforts would continue, and another EUR1,500 for the purchase of protective clothing for local relief workers.
Concerned about others affected by the quake, the team then traveled to the city of Cento, where the mayor directed them to more shelters. Relief materials were next given to residents of the hard-hit municipality of Finale Emilia in Modena, and EUR6,000 was presented to Mayor Fernando Ferioli to aid people in hard-to-reach areas. Only when they were sure they had visited all the camps in the region did the team members return to France, encouraged by the thought that Master's love had helped alleviate the suffering of many people, and had brought hope and joy into their lives. Expressing the community's thanks for Master's financial contribution, a Finale Emilia newspaper said it was "a gesture that goes beyond symbolic value and that will place the first brick for the rebuilding of our Finale." May all those recovering from the earthquake be blessed with a speedy return to normal life, and such calamitous events cease as humanity grows in kindness toward all beings.


Expenditures by Supreme Master Ching Hai
for Earthquake Relief Work in Italy
Description

Amount (EUR)

Receipt

Financial contributions to the Association of Volunteers of the Ferrara Civil Protection Department for the purchase of urgently needed items

11,500

A

Financial contributions to the mayor of Modena to provide aid to those in hard-to-reach areas

6,015

B

Water, food and other supplies

2,485

C

Travel expenses for the relief team

800

Total

EUR20,800

(US$27,545)


Italy / Iran / India / Bangladesh / Mainland China