Humanity is at a critical crossroads as continued indulgence in old habits speeds up global warming. With a heart of love and compassion as well as a sense of urgency, Supreme Master Ching Hai shares Her great wisdom through a new leaflet that awakens people to the imperative need to adopt an alternative lifestyle that will help reverse the changing weather patterns. The "SOS – Be Veg! Go Green!" leaflet not only presents the hard facts, it more importantly lights the way to sustainable living in a balanced world. Master has sent a clear message: The vegan diet, sustainable energy and green technologies are choices that all must act upon now.
Distributing the Book
From Crisis to Peace Nationwide
By Korea News Group (Originally in Korean)
[Korea] Since the publication of Master's book From Crisis to Peace: The Organic Vegan Way is the Answer, our Korean initiates have printed 170,000 copies and conducted a nationwide distribution campaign. They go to busy streets, metro stations and even slaughterhouse areas to pass out the books, presenting the publication to workers in city halls, district offices, public libraries, schools and community centers. The initiates have also made arrangements with many online vegan stores to give their customers the book free of charge with each order. In addition, they have taken part in major events such as Meat-Out Day, Earth Day, and the 2011 Seoul International Book Fair, thus allowing Master's publication to reach more people.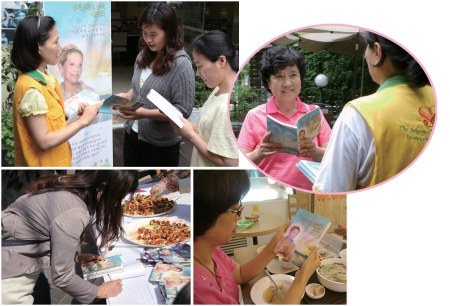 Along with Master's appeal letters, they have mailed the books to experts and leaders in fields such as politics, education, media, legislation and religion, as well as to livestock farmers, fisheries, animal-food processing businesses, and leather-and-fur companies.
At more than 40 Loving Hut restaurants in Korea, the customers have responded positively after having received Master's beautiful, informative book. Some have even called our local Centers to express their thanks. On one occasion, Association members even dissuaded a man from going into the cattle-farming business! The initiates hope and pray that after reading this book, more and more people will quickly adopt the organic vegan diet.
VegeDoctor Inaugural Ceremony and Vegan Seminar
[Seoul] To celebrate the founding of VegeDoctor, the first Korean vegetarian doctors' organization, an inaugural ceremony was held on May 21, Golden Year 8 (2011) at the National Assembly Memorial Hall in Seoul. VegeDoctor, which consists of physicians, dentists and Asian-medicine practitioners, promotes the plant-based diet to enhance public health, respect life and safeguard the earth's environment.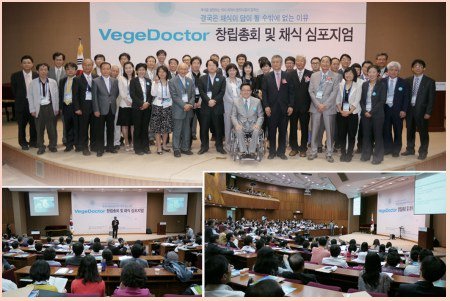 The 300-seat Memorial Hall was filled to capacity for the event, and the participants listened with attentiveness. Most VIPs also remained to the end and afterwards enjoyed a vegan dinner. The event was aired on several TV channels and covered by many newspapers. We thank VegeDoctor for taking the initiative in promoting the cruelty-free, healthy, vegan diet. May Heaven bless all the group's members in their inspirational efforts to make Korea a vegan nation!
Seoul International Book Fair 2011
From June 15 to June 19, 572 publishers from over 23 countries came to the COEX exhibition hall to participate in the 2011 Seoul International Book Fair. Among the participants were our local Association members, who displayed a selection of Master's publications at one booth and decorated another with beautifully carved swans and ducks that attracted many children and youths. During the five-day Fair, the initiates' booths were packed with kids making clay animals and their parents watching Master's DVDs. The event was thus a great opportunity to promote the message of protecting our animal friends, who have much love and many noble qualities to share with us.