| | | |
| --- | --- | --- |
| | Central African Republic | |
Material and Spiritual Support for Bangui Flood Victims
By Cameroon Relief Team (Originally in English)
| | |
| --- | --- |
| | |
| | Association members set up tents and construct wells for local residents. |
In late June and early July 2009, severe flooding struck the capital city of Bangui in the Central African Republic. With Supreme Master Ching Hai's contribution of US$10,000, Cameroon initiates quickly formed a team to conduct relief operations in the most affected 2nd district of the city.
When the team members arrived in Bangui, officials from the Ministry of Social Affairs promptly informed them of the victims' needs and assigned a staff member to accompany them to the affected areas. For families living in temporary shelters, the team purchased food and supplies, distributed relief packages, set up tents for those in need of shelter, and helped to construct wells to provide clean, potable water. In addition to giving relief packages that contained SOS flyers, the team also showed the people how to make gluten from wheat flour to enable them to prepare vegan meals at home. Many recipients asked about Supreme Master Ching Hai and Her care for them, and all were deeply grateful, feeling comforted by Master's timely assistance.
| | |
| --- | --- |
| | |
| Relief team member teaches people how to make gluten from wheat flour. | |
The relief team's efforts were covered by the local media, including Central Africa's largest newspaper Le Confident, which featured a beautiful article entitled "Supreme Master Ching Hai Sends Her Love and Material Assistance to Flood Victims in Bangui." In another popular Bangui paper, L'Agor, the headline read, "Supreme Master Ching Hai Offers Assistance to the Victims of the Bangui Floods." The Ministry of Social Affairs, and the groups National Solidarity and The Family, also wrote letters of thanks to our Association for quickly coming to the assistance of the victims of the Bangui floods.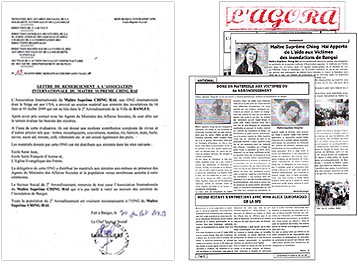 | | | |
| --- | --- | --- |
| Thank you letter from the Ministry of Social Affairs | | News media outlets Le Confident and L'Agor cover the event. (Originally in French) |
Expenditures by Supreme Master Ching Hai
for Flood Relief Work in the Central African Republic
| | | |
| --- | --- | --- |
| Description | Amount(XAF) | Receipt |
| Food (rice, beans, ground nuts, maize, flour, tomatoes, cooking oil, salt, sugar and coffee) Supplies (tents, mosquito nets, mattresses, blankets, clothing, plastic bags, bush lamps and soap) | 4,647,800 | A |
| Construction materials (cement, sand, etc.) and labor for construction | 82,500 | B |
| Total | XAF 4,730,300 (US$10,000) |   |
* Throughout the relief operation, fellow initiates paid
for their own traveling, food, and accommodation expenses.

To view the Humanitarian Relief Activities by the Supreme Master Ching Hai and Her International Association, please visit:
http://www.GodsDirectContact.org.tw/humanitarian
(The list can be sorted by year, country/region and type of events.)