Master has always been extremely concerned about disasters that occur worldwide. Whenever receiving news about disasters anywhere, She immediately renders relief by providing financial assistance as well as dispatching rescue teams to help in the affected areas. Through such relief efforts, we are also conveying Master's love to the disaster victims. It is evident that Master's unconditional love, silent blessing and help have reduced worldwide disasters to a minimum.
In recognition of the selfless actions of all governments, organizations and relief workers from every corner of the world, Master would like to convey this message of gratitude: "Thank you, all the international help that brings care and necessities to afflicted victims. Thank you all the relief workers for taking time and forsaking your own comfort, even traveling great distance on unfavorable roads and conditions to bring love and assistance to people in a time of need. May Heaven bless you abundantly for your generosity and noble sacrifice."
A True Sharing of Love
By Brisbane News Group (Originally in English)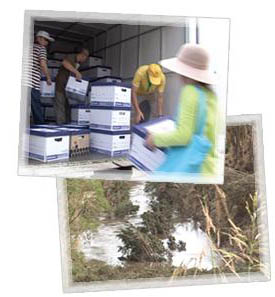 In early January, continuous heavy rains caused flooding in northern News South Wales, Australia, leaving countless people stranded or cut off from communications for at least a week.
The Australian emergency services responded quickly to assist those in the affected areas. However, when people experience such devastation and loss in their lives, they often feel destitute and helpless. Concerned for their situation, our beloved Master instructed Australian initiates to help the flood victims and lovingly contributed US$10,000 toward the relief efforts.
In Brisbane, initiates bought supplies to take to the flooded areas and that evening packed 200 boxes of fresh and dry foods, medicines and Master's literature. On the following day, January 12, practitioners from the Brisbane region and mid-north coast NSW traveled to Byron Bay. When they arrived, a local initiate in Byron Bay let them know that the towns of Kyogle and Coraki seemed to be the worst hit by the floods.
Over the following two days, the team distributed the much-needed gift boxes. Many wonderful heartwarming stories emerged from the relief work. In Kyogle, an elderly gentleman named Rex, whose home had been ruined by the floods and who had lost all his possessions, was still high-spirited and happily accepted the box of relief items. Another lady was very grateful to Master, not just for the cash contribution she received to help her replace lost items, but more so for thinking of and caring for the flood victims.
The relief crew also met up with a saintly man named Darcy Goodwin, who left a lasting impression on them. He is an elderly gentleman who has been providing vegetarian food to surrounding communities from his van almost every single day for the past 17 years. The initiates were deeply touched by his humble and selfless attitude. With Darcy's detailed local knowledge of the area, he became the team's guide and took them exactly to the worst-hit regions to distribute the relief items. (For more about Darcy, please refer to "Darcy Goodwin – A Truly Inspirational Being," News #195)
With Master's blessings, all the gift boxes were distributed within two days to approximately 200 affected families.
From the initiates' perspective, the relief work was a very rewarding experience. It turned out to be more than just providing material necessities to the flood victims; it was about connecting with others through love, and communicating and responding selflessly with love.
Comforting Australian Bushfire Survivors


By Perth News Group (Originally in English)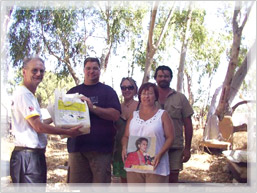 Two bushfire survivors receive bed-linen from a Perth Center initiate.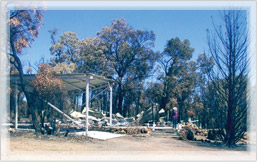 In early January, 2008, a bushfire engulfed the northern and northeastern suburbs 15 to 35 kilometers from Perth, the capital of Western Australia. The areas affected were Cullacabardee, Parkerville and Stoneville, with damaged property including houses and cars. Deeply concerned about the victims, Supreme Master Ching Hai instructed local initiates to carry out relief work.
In Parkerville, the initiates provided a couple with much needed bed-linen "gift-wrapped" in Alternative Living shopping bags, together with Master's publications. The wife was delighted to hear about Master as she had been searching for a spiritual path. On the next day, they delivered bicycles and a case of vegetarian food to a group of children. While conducting the relief work, the volunteers were delighted to see that a family had kept a lamb lost during the fire as a pet in addition to their collection of other rescued animals. The initiates also took local bricklayer Scott O'Dowd shopping for tools, which he needed to support his family. After watching Supreme Master TV at the Perth Center, Mr. O'Dowd subsequently became interested in Master's teachings and gladly accepted a selection of Her literature.

Expenditures by Supreme Master Ching Hai for Flood Relief
in Northern NSW and Fire Relief in Perth, Australia
| | | |
| --- | --- | --- |
| Description | Amount (AUD) | Receipt No. |
| Food | 6,558.45 | A |
| Truck rental for flood relief | 513.2 | B |
| Purchased items for fire relief work | 1,827.52 | C |
| Cash contributions to the flood victims | 2,600.00 | |
| Total | AUD 11,499.17 | |
| | (USD10,116.12) | |