Shining World Compassion Award
Hannah Taylor –
A Girl of Great Compassion
♥♥♥♥♥♥♥♥♥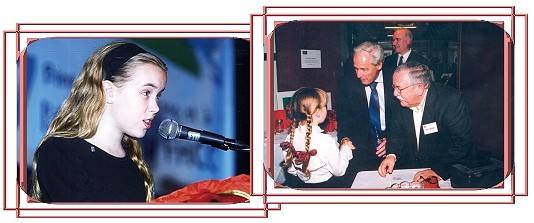 By Vancouver News Group, Canada (Originally in English)
"If you believe something in your heart and you try with all your might, you can help our world be better no matter how old you are."
- Hannah Taylor
Hannah Taylor is a 12-year-old girl who lives in Winnipeg, Canada. When she was five years old, she saw a homeless person and was very shocked. She kept thinking about that person and asking her mother about homelessness. After explaining many times, her mother suggested that if Hannah did something to help, it might make her feel better. The very next day Hannah asked her Grade 1 teacher if she could talk to the class about homelessness. The class was so inspired by Hannah that they decided to raise money for a community homeless shelter by having an art and bake sale and a clothing donation.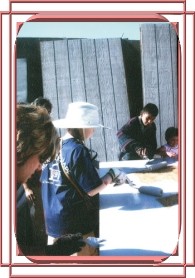 When Hannah was six, she founded the Ladybug Foundation to help the homeless. Since ladybugs are symbols of good luck, she wanted this good luck for her homeless friends. Hannah once said: "The thing I hope, deep in my heart, is that everyone will see homeless people as people. They are just like you and me but they have just fallen on hard times…." In many ways, the Ladybug Foundation tries to raise awareness and funds to benefit the homeless. It consists entirely of volunteers who have been inspired by Hannah's loving vision of all having safe, warm homes.
Hannah has received various awards, including the 2007 Brick Award, which is presented to people under the age of 25 who have made a significant contribution to the lives of others. In 2007, Hannah was also the youngest person ever awarded Canada's Top 100 Most Powerful Women Award. In addition, she has received an invitation to work for the next seven years with The World's Children's Prize for the Rights of the Child.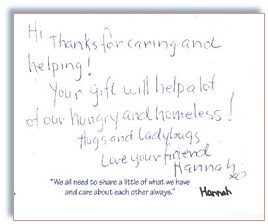 Upon hearing of Hannah's loving spirit and humanitarian work, Supreme Master Ching Hai awarded this compassionate young girl the Shining World Compassion Award along with CAN$5,000 to support her noble service to homeless people. After receiving the award and gifts in January, Golden Year 5 (2008), Hannah sent a thank-you card saying: "Thanks for caring and helping! Your gift will help a lot of our hungry and homeless! Hugs and Ladybugs. Love, your friend Hannah."
Thank you, Hannah, for your loving heart and dedication to help all have warm, cozy homes and dignified lives. May God bless you with your noble endeavors to bring love and comfort to others in the world.

For more information about the work of Hannah and her foundation, please visit http://www.ladybugfoundation.ca/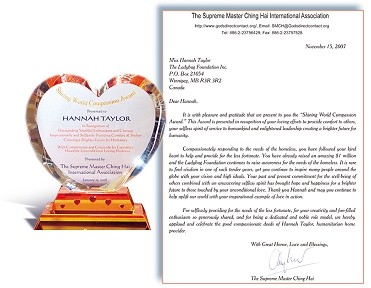 If you wish to know more about the beautiful things happening in our world, please check out our archives of awards presented over the years, including the Awards of the Month, at the following URL address:
http://www.Godsdirectcontact.org.tw/gv/