Israel-Vietnam (Au Lac)
Humanitarian Mission
♥♥♥♥♥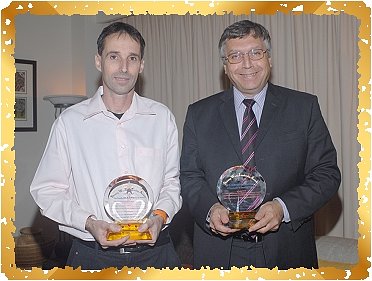 His Excellency Mr. Ephraim Ben-Matityau (right), Dr. Rafi Kot, General Director of Family Medical Practice(left).
By Singapore News Group (Originally in English)
On October 25, Golden Year 4 (2007), representatives of the Supreme Master Ching Hai International Association were in Hanoi, Au Lac to present Shining World Leadership Awards on behalf of Master to Israel's Ambassador to Au Lac, Mr. Ephraim Ben- Matityau, as well as Dr. Rafi Kot and the Family Medical Practice of Au Lac. The awards were made in recognition of their outstanding humanitarian assistance to the less fortunate Aulacese.
Through their Israel-Vietnam (Au Lac) Humanitarian Mission, a team of medical personnel offer free medical treatment and financial aid to people living in remote areas of Au Lac. All parties involved have shown dedication and loving concern for those who have no access to healthcare services.
In their second annual Israel-Vietnam (Au Lac) Humanitarian Mission, the team traveled to Minh Hoa District, Quang Binh Province this year. A delegation comprising 54 doctors, nurses and medical personnel from Israel and other countries throughout the world spent time away from families and loved ones to bring medical care and financial aid to the less fortunate in this remote area. In one short week in May, the Humanitarian Mission helped over 5,400 people, 70 percent of whom were children who had never before seen a doctor.
The Award ceremony took place in an informal and joyous atmosphere at the Ambassador's residence. Other distinguished guests present included Mr. Nati Brook, Deputy Chief of Mission of the Israeli Embassy in Hanoi; Dr. Yaron Atzmon, a medical doctor at the Family Medical Practice in Hanoi; embassy staff and team members of the Israel-Vietnam (Au Lac) Humanitarian Mission.
In accepting the Shining World Leadership Award, Ambassador Ben-Matityau highlighted the need for good partnership to secure the success of the Israel-Vietnam Humanitarian Mission. In particular, he recommended that Dr. Kot, a key partner in their joint efforts, share the honor of the Shining World Leadership Award. Dr. Kot in turn suggested that the honor should also go to the medical staff of the Family Medical Practice, a group of clinics he has established in Au Lac . The enlightened leadership, selflessness and humility of both Ambassador Ben-Matityau and Dr. Kot are truly commendable.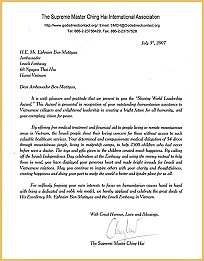 Our representative read out the letter of admiration from Master, which was then followed by the presentation of the beautiful plaques to Ambassador Ben-Matityau and Dr. Kot, the General Director of the Family Medical Practice. Both recipients expressed their gratitude to Supreme Master Ching Hai. Ambassador Ben-Matityau said that he and his colleagues were surprised that they had attracted the attention of our Association. He especially wanted to convey the message to Master that their humanitarian efforts will continue, so as to create a better world for all.
It was truly our honor to present the Shining World Leadership Awards to Ambassador Ben-Matityau, Dr. Kot and the medical staff of the Family Medical Practice, who indeed are shining examples of those who "Walk the Way of Love." Not only has their loving kindness brought much pride to Israel, it has also forged strong friendly relations with Au Lac. May the Most High continue to bless the peoples of Israel and Au Lac, and inspire many more around the globe to bring comfort and love to those in need, making the world a more beautiful place.

If you wish to know more about the beautiful things happening in our world, please check out our archives of awards presented over the years, including the Awards of the Month, at the following URL address:
http://www.Godsdirectcontact.org.tw/gv/