Supreme Master Ching Hai's TV Program
God's Light Shines on Europe
By Duisburg Center, Germany (Originally in German)
We all have been waiting for a long time and many efforts we made to establish WebTV in Europe had been fruitless. Many times we looked at the programs on the internet and realized that Europe was almost the only region in the world where it wasn't available. So we all were overjoyed when it was announced that Master would soon even have Her own Satellite TV Channel, to be received free of charge all over Europe.
European initiates quickly announced the wonderful news of Supreme Master Television through local newspapers and magazines in various countries.
As we had only about 3 weeks to the premiere, we quickly printed flyers and formed distributing teams to all corners of Germany and the neighboring countries, including Austria, Italy, etc.
During the whole distributing time, we again experienced Master's endless blessings and miracles, the most blissful, joyful feelings, which one may have almost only while serving others. We thank God for giving us this wonderful opportunity of serving the multitude and pray that we can always be useful tools!!!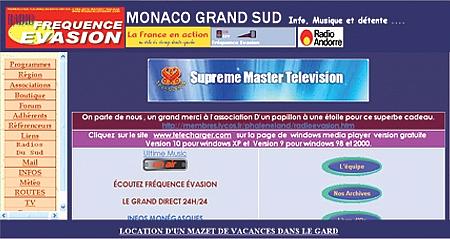 The internet banner was provided free of charge by the French radio company, Radio Frequence Evasion, after French initiates made a 30 second publicity announcement on their radio.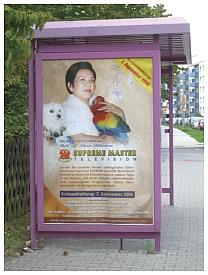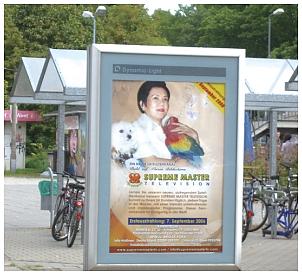 The posters with the information of Supreme Master Television
are very eye-catching.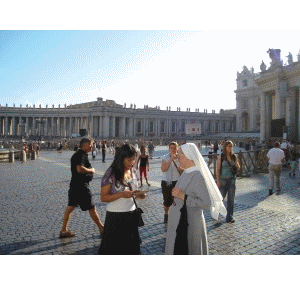 German initiates distribute SMTV flyers in German, Austria and Italy.