Shining World Leadership Awards
Other Recipients of Master's
Shining World Leadership Awards
In the last several months, the US state governments of Washington and Rhode Island, as well as Norway's Ministry of Health and Care Services have received Shining World Leadership Award plaques and signed letters by mail. These awards honor them for boldly leading the world into a healthy, tobacco-free era and for making citizens' health a priority as well as promoting a clean-air environment. Norway's Ministry of Foreign Affairs has also received the Shining World Leadership Award plaque and signed letter by mail in recognition of its outstanding efforts and enlightened leadership in creating a bright future for the world and all humanity, with compliments and gratitude for exemplary kindness.
Smoking Banned throughout the State of Washington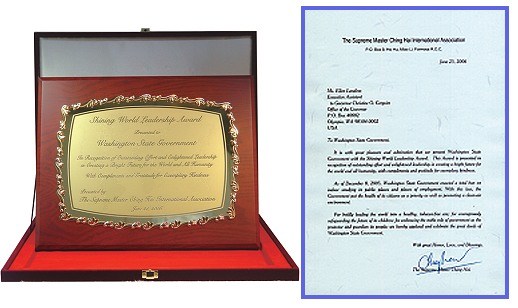 In December 2005, Washington's government enacted a total ban on indoor smoking in public places and places of employment.
The Washington state government has confirmed receipt of the lovely plaque and accompanying letter on behalf of Governor Gregoire.

Statewide Public Health Law Bans Smoking in Rhode Island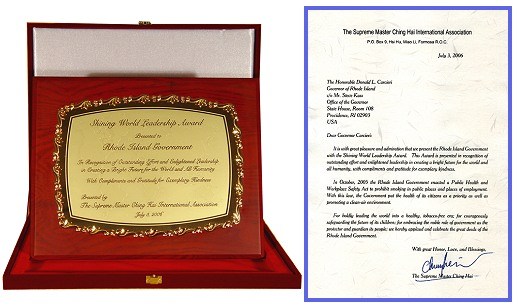 In October 2005, the Rhode Island state government enacted a Public Health and Workplace Safety Act to prohibit smoking in public places and places of employment.
After receiving the award in August 2006, Governor Carcieri told our representative that he was honored to accept it. He inquired further about Master and our Association and invited Master to visit the Governor's office the next time She is here because he would love to meet Her.

Norway's Ministry of Health and Care Services
Puts Public Health First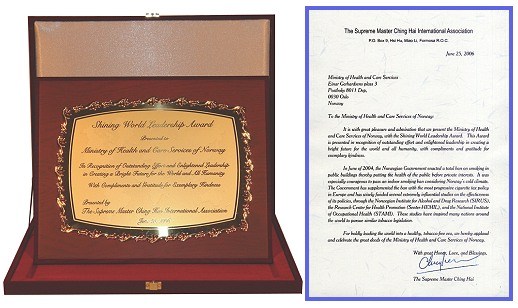 In June 2004, the Norwegian government enacted a total ban on smoking in public buildings, thereby putting the health of the public before private interests. It was especially courageous to pass an indoor smoking ban considering Norway's cold climate. The government has also supplemented the ban with the most progressive cigarette tax policy in Europe and has wisely funded several studies that have become extremely influential regarding the effectiveness of the non-smoking policies, through the Norwegian Institute for Alcohol and Drug Research (SIRUS), the Research Center for Health Promotion (Senter-HEMIL), and the National Institute of Occupational Health (STAMI). These studies have inspired many nations around the world to pursue similar tobacco legislation.

The Norwegian Ministry of Foreign Affairs
Shines As a Beacon of Peace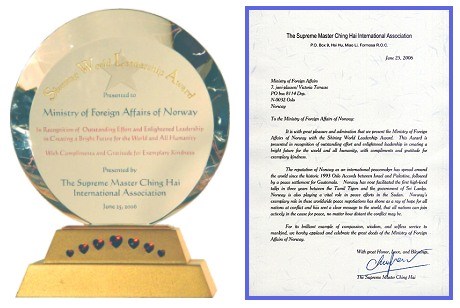 The reputation of Norway as an international peacemaker has spread around the world since the historic 1993 Oslo Accords between Israel and Palestine, followed by a peace settlement for Guatemala. Norway has now facilitated the first high-level talks in three years between the opposition group of Tamil Tigers and the government of Sri Lanka. Norway is also playing a vital role in peace efforts in the Sudan. Norway's exemplary role in these worldwide peace negotiations shines as a ray of hope for any nation in conflict and sends a clear message to the world that all nations can join actively in the cause for peace, no matter how distant the conflict may be.