Shining World Leadership Awards
New Zealand
Presentation of Award to the New Zealand Government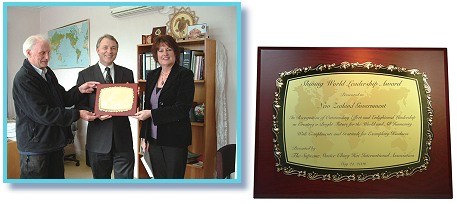 The Honorable Phil Goff (middle), Minister of Trade, was delighted to receive the Shining World Leadership Award in recognition of the outstanding humanitarian efforts of the New Zealand Government to make a better world.
By brother-initiate Peter Morrin, Auckland, New Zealand (Originally in English)
Earlier in this Golden Year 3 (2006) Master Ching Hai invited the government of New Zealand to accept an award for Shining World Leadership. This award is given to those governments that have implemented enlightened policies for the promotion of peace and the betterment of life for all sentient beings.
The government of New Zealand was gracefully invited to receive this prestigious award on the merit of their policies regarding Genetically Modified Organisms being regulated under the Hazardous Substances and New Organisms Act of 1996; their legislation of the New Zealand Nuclear Free Zone and the Disarmament and Arms Control Act, and by supporting numerous international treaties and agreements including the Universal Declaration of Human Rights, the International Covenant on Civil and Political Rights and the Nuclear Non-Proliferation Treaty. (Please see Master's News Magazine #164)
The award was also accompanied by a letter outlining these outstanding achievements of the New Zealand Government written and personally signed by the Supreme Master Ching Hai. The Honorable Phil Goff, Minister of Trade, was delighted to receive the Award on behalf of the New Zealand Government at his electoral offices on July 21, 2006.
Mr. Phil Goff was also presented with Alternative Living flyers and informed of the world wide drive that has been undertaken by Master and fellow initiates to promote a compassionate vegetarian lifestyle.
We also enquired whether farmers suffering from flood damage in many areas of New Zealand could be encouraged to use forthcoming subsidies to change to Alternative Living farming styles if they felt a response to do so. Thus giving them encouragement to produce organic vegetarian food, or switch to energy source farming to supplement our oil and gas supplies. We are sure there must be some who would change rather than reinstate past methods.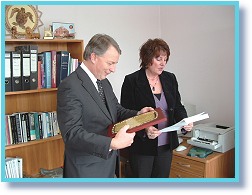 Mr. Goff carefully considered the matter but said animal farming is too entrenched in past practices at present. We assured him that many world-wide are now converting to a compassionate vegetarian diet and that this would be a good time to start changing farming practices to provide for the new requirements.