Reports according to Master's order and rating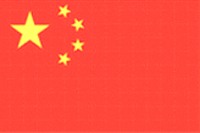 Mainland China
♥♥♥♥♥♥
Mainland China's Government Extends
Loving Aid Worldwide
By initiates from Mainland China (Originally in Chinese)
Since the early 80s when Mainland China opened its doors and started economic reform, the country has experienced remarkable economic growth, and its people's lives have improved drastically. At the same time, the Chinese government is becoming more broad-minded and more actively participates in various international affairs. Apart from helping countries with economic difficulties, the government has also joined efforts in international natural disaster relief and sent out troops to cooperate with United Nations' peace-keeping missions.
*Helping Underdeveloped Countries
Extending Unconditional Aid to Africa
Since 1963, the Chinese government has sent 16,000 medical experts to 47 countries and regions in Africa and helped 240 million medical cases. Over the years, the Chinese government has also facilitated more than 900 projects for economical and social development and provided student financial aid to 50 countries. Moreover, China announced that under the framework of the Forum on China-Africa Cooperation, it will reduce and relieve debts for 31 countries in Africa and waive import duties for certain commodities from several African countries.
In June Golden Year 3 (2006), the Chinese government gave anti-malaria medicine valued at 2 million yuan (US$253,500) to the Republic of Congo and offered medical facilities to two local hospitals. In July, the government again donated US$500,000 to fund post-graduate educational programs for nurses and midwives in Tanzania and Kenya.
Relieving Debts for Developing Countries
At present, China has provided 1,701 aids to 49 of the least developed countries worldwide and relieved debts owed by 36 of these countries 172 times. The Chinese government has also signed debt-relief agreements with 46 countries. The total debt exempted amounts to 17 billion yuan (US$2.2 billion).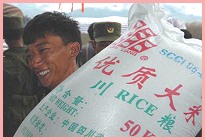 Ten Thousand Tons of Rice Replace Myanmar's Opium Poppy Planting
The northern "golden triangle" area in Myanmar (also known as Burma) has been the world's main opium poppy cultivation area. In recent years, the Myanma government has put tremendous efforts into restricting the planting of opium. To help sustain the basic living of the local people, the Chinese government has provided 10,000 tons of rice to the Myanma government, funded 5 million yuan (US$633,750) to assist in the bold project of replacing opium poppy cultivation in Myanmar's northern area, and has also contributed anti-malarial medicine valued at 500,000 yuan (US$63,375).
*International Disaster Relief Work and Humanitarian Aid
Large-Scale Emergency Aid Given to Tsunami-Hit Areas
On the second day the South Asia tsunami struck, the Chinese government immediately announced it would provide 21.6 million yuan (US$2.7 million) to the affected areas. With assessment of the deteriorated conditions, more aid was arranged, and eventually the contributions totaled 687.6 million yuan (US$87.2 million), setting the largest record in China's history of providing emergency relief. As of November Golden Year 2 (2005), the Red Cross in China had donated 240 million yuan (US$30.4 million) to 11 countries affected by the tsunami.
Providing Emergency Aid for Pakistan Earthquake Relief
In October Golden Year 2 (2005) when a massive earthquake hit Pakistan, the Chinese government pledged four times to Pakistan, totaling US$26.7 million in aid. China also dispatched rescue and medical teams to quake-hit areas in order to help Pakistan with the disaster relief work.
Offering Emergency Aid to Victims of Hurricane Katrina
When Hurricane Katrina hit the southern US in August Golden Year 2 (2005), the Chinese government offered US$5 million in aid along with other emergency supplies.
Rendering Economic Aid to East Timor
On March 6, Golden Year 2 (2005), the Chinese government provided 4,500 tons of rice and 50 tons of cooking oil to East Timor. On September 18, another 500 tons of rice were sent to help people in East Timor survive famine and difficulties.
*Active Cooperation with UN Peace-Keeping Missions
Since 1990 when China sent troops to join the UN peace-keeping operations for the first time, the Chinese military has dispatched a total of 6,600 personnel, which has been highly praised by the UN and other countries.
Peace-Keeping in Liberia Recognized and Rewarded
On March 1, Golden Year 3 (2006), 598 Chinese peace-keeping soldiers stationed in Liberia were awarded UN peace medals. Since November 2003, the Chinese engineering battalions have repaired more than 700 kilometers (435miles) of main roads; the Chinese transportation battalions have assured that 60,000 tons of aid material arrived safely; and the Chinese medical battalions have treated more than 3,000 patients and also provided free medical check ups for the local people.
Life-Risking Tasks Undertaken in Lebanon
One month after Israel and Lebanon ceased fire, in September Golden Year 3 (2006), the Chinese government decided to increase its Lebanon military troops to 1,000 and at the same time provide 40 million yuan (US$5.1 million) in aid. Since the ceasefire, the Chinese engineering battalions have undertaken numerous projects such as repairing roads, humanitarian relief, explosive disposal and barrack guards. To protect the lives of the Lebanese people, peacekeeping soldiers have risked their own lives in removing thousands of explosive devices.
Peace Medals Awarded to Chinese Troops in Lebanon
On October 1, Golden Year 3 (2006), 187 members in Chinese peace-keeping forces were awarded UN peace medals. During the half-year operation, the Chinese engineering battalions have removed 4,000 varieties of explosive bombs, cleared landmines in a 50,000 square meter area and repaired more than 50 kilometers (31 miles) of roads.
Conclusion
These helpful actions carried out by Mainland China in recent years make it clear that China is ready to take on more international engagements. Rising as an economically fast-growing country, China is at the same time trying to show that it is also a peaceful country with good intentions toward others.