Reports according to Master's order and rating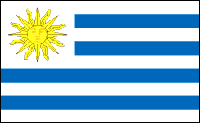 ♥♥♥♥♥♥
The First Smoke-Free Country
in the Americas
By Hong Kong News Group (Originally in English)
On March 1, Golden Year 3 (2006), Uruguay became the first smoke-free country in the Americas.
In Uruguay, President Tabare Vazquez is also called Dr. Vazquez by his colleagues at the clinic. Everyone knows that the president not only serves the 3.3 million people of his country but also cares for his patients. Every Tuesday, Dr. Vazquez goes to the Mammary Diagnostic Center, where he puts on his white smock along with his colleagues, who greet him as "Doctor" rather than "Mr. President." At the clinic, he also reads a mammogram of a patient and gives his opinion to a colleague: "We like to avoid surgery whenever we can, but this is going to require a mastectomy," Dr. Vazquez said.
Dr. Vazquez has been practicing medicine for 36 years. He loves his original profession. "Practicing medicine is not only my vocation, it gives me an opportunity to be in direct contact with people, to see them and hear their needs," President Vazquez said. "Only rarely do patients touch on political issues during a consultation. But I'd feel empty and isolated if I couldn't practice my profession and had to give up that contact."
After finishing his work at the clinic, Dr. Vazquez returns to the presidential palace and continues with his other job.       
He still remembers his life as a medical student. "I was fascinated by each area I studied, whether neurology, urology or surgery." Although it was initially difficult for him to choose a specialty, when his mother and an older sister died of cancer, he started to realize that the circumstances he had gone through would determine his choice.       
In medical school, the continuation of his studies depended on a government scholarship. "I saw how poor people paid taxes so that I and other young people could study," he said. "So I felt a strong commitment to social service." He chose to work for the poor as an oncologist and decided to become a professor of radiotherapy at the University of the Republic medical school.
In 1989, he ran for mayor of Montevideo. He thought that if he lost the campaign, he would return to his original medical practice. But he won. He became the Broad Front's (Uruguay's socialist political party) most promising figure. After ten years of serving as mayor, he was elected president of Uruguay.
"Because of my medical and ideological training, I am accustomed to saying that life is adaptation and symbiosis," Dr. Vazquez said. "Knowing how Uruguayans feel, we in the Broad Front have always stood for change in our discourse. But change has to take place at a Uruguayan pace. This is a society that is measured and serious, that wagers on change, yes, but changes that are rational and gradual."
As a professional doctor, President Vazquez knows very well that tobacco use is harmful to people. "Passive smoking is also linked to chronic disease and premature death. Since there's not a secure level of exposure, the best thing to do is to ban cigarettes in enclosed places," said Dr. Vazquez. "By 2020 more people will be dying from cancer in underdeveloped countries than in the developed world, unless we start with intelligent policies on tobacco, chemical products and the like. The point is to diminish the number of deaths from cancer and reduce demands on the health system," he said.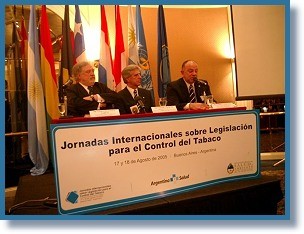 Upon assuming the presidential office, he determined to commit himself to tobacco control. On the first World No Tobacco Day celebrated in Uruguay, the government created a Tobacco Control Program. And on March 1, 2006, President Vazquez passed the smoke-free decree, which included a ban on smoking in public and private workplaces. Thus, Uruguay became the first smoke-free country in the Americas.  
In order to help promote the plan, President Vazquez launched a campaign called "A Million Thanks," which included collecting signatures through leaflets, free phone calls and the website, to thank those who refrained from smoking in public places. More than one million signatures were collected.
At the 2006 World No Tobacco Day celebrations, the "Smoke-free Uruguay" campaign was launched. Sponsored by the government's Ministry of Health, this event used brochures, television and radio spots and posters to educate people about the benefits of not smoking and to help them realize the importance of creating a smoke-free environment.
Master Ching Hai has also shared Her wisdom with us on how the environment we live in can affect our lifestyle and habits. "The good comes from the positive side of our nature; the bad comes from the negative side. Mostly, when we come here, we borrow the negative side from environmental effects, influences, and the habits that we've learned from the people we are with, the company we are in. Just like you are not born a smoker or an alcoholic, you learn it from society. Once smoking becomes habitual, wherever you see a cigarette, you want it. And when you don't see a cigarette, it's still in your mind; you want to have one, or you want to have one more glass of alcoholic liquid. It is because you get into this habit; you are not born with it." (Spoken by Supreme Master Ching Hai, Hawaii, USA, September 6, 1994 Originally in English, News #48 "Questions and Answers" section)
Therefore, how important it is that we create a more positive environment for people, especially children, in order to help them develop good habits and the right lifestyle.
Dr. Vazquez's supporters describe him as a master of consensus, someone who, according to Senator Rafael Michelini, "likes to build coalitions and not leave anyone on the side of the road. Perhaps because he is a doctor, he has always been humble and would rather save a life or situation than reap personal glory."
Regarding his own participation in the medical and political fields, Dr. Vazquez says, "I don't see working in these two realms as schizophrenic, since both are forms of service to society. To me, politics is an extension of what I do in medicine. But society is also a human organism, and politics is a way of dealing with the pathologies that a society can have. You have to act on that society as you would a human being."    

(This report based on an article in the New York Times for August 31, 2006.)  


Websites:
http://fromuruguay.blogspot.com/2006/03/uruguay-first-smoke-free-country-in.html http://www.infoplease.com/ipa/A0108124.html
http://dominionpaper.ca/international_news/2006/03/14/uruguay_im.html