Creating a Compassionate and Vegetarian Global Village
Colombia and Venezuela
A Wonderful Trip of Sharing
and Union with Master's Love
By sister-initiate Marķa Eugenia Gallo, Bogota, Colombia
(Originally in Spanish)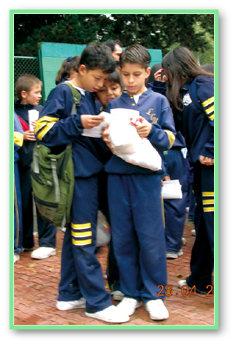 Anchored deeply in Master's great blessing power,  fellow initiates from Peru, Colombia and Venezuela joined together to distribute Alternative Living flyers in April and May. Our loving and educational expedition gave us the opportunity to experience the divine essence in the breath-taking beauty of the landscape, as well as in many wonderful encounters and miracles.
Most of the areas within and between the two countries were covered by long land journeys, which turned out to be beautiful and calm experiences of meditation or ecstasy, because of the gorgeous landscapes. Then we would spend two or three days in the highly populated cities. Master's love was ever present supporting us, giving us strength, protecting us, bringing us every comfort, and recharging our energy during these two months. We felt as if we were in a higher plane of consciousness to which Master took us subtly. This plane was of such a level, that we were never affected by what ordinarily happens in the most difficult situations in the cities. When we asked for information, it was given immediately. We also encountered such a cooperative, supportive attitude and behavior from taxi drivers and all the workers that we had a chance to meet; and because of that, we saved time and did not suffer any setbacks generally speaking. The support of the members of the Quan Yin family was also wonderful.
We distributed for six to eight hours a day under the scorching sun. In the bigger cities the crowds were so intense at times that it made us dizzy. So, even to sit down for ten minutes allowed us to recover our energy in a very evident, fast and extraordinary way. We also decided to have a more inward concentration while we worked. From that, Master kept us in a subtler plane and protected us in wonderful ways.
Master's loving energy that surrounded us gave us great joy and it also maintained a great harmony among us, as well as with all the people with whom we made contact. We could perceive their opening to the tenderness, the higher intelligence that revealed the love in their hearts.
We were also blessed with excellent places to spend the night free of cost. Almost everywhere we could find excellent vegetarian restaurants where we could eat exquisitely. The people who were helping us at this moment were the same ones that we met and who helped us many years ago; another one of God's wonderful arrangements.
In every city, the flyer distribution campaign seemed to invisibly attract the attention of other spiritual groups. Wherever we went, they just appeared and offered to help. They were enchanted by the flyers and its message, and felt that it was an immense support to their vegetarian promotion projects. From them we received some information about the restaurants, and we got to know their projects, literature and the services that they offer to the public.
This contact with the other approaches to vegetarianism allowed us to value the pertinent and universal meaning within of the message of our flyers. The Alternative Living message has love as a central theme and people receive the loving message most of the time in a gentle way, like changing to the alternative life style for honorable, responsible and compassionate reasons.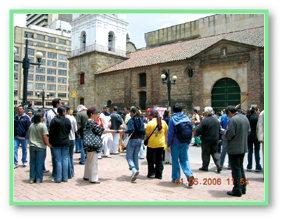 We got in touch with the Colombian Vegetarian Association and the Latin-American Vegetarian Association, in Venezuela. We were informed that soon in Brazil there would be a world meeting on vegetarianism. We also met the other vegetarian groups in the Central University of Venezuela and the University of Zulia. There we shared with them our contact with a group in the State University of Colombia which is developing a program called "The Revolution of the Spoon." There, the students are organized to educate people about a life approach that promotes vegetarianism, in order to eradicate hunger and stop violence. They also have a "communal pot" where they prepare and distribute free of charge many different vegetarian dishes, in the Central Square of the university campus, where sometimes students help with the preparation of the food. After learning this, the vegetarian groups in the Central University of Venezuela and the University of Zulia showed interest in activities like this, in order to impact massively the young students.
In all the cities we visited, we distributed flyers in the public universities, where teachers, directors and students welcomed this message. All of these universities have at least one vegetarian restaurant in their vicinity. Many students did not know about the existence of these restaurants, so we shared this information with them. We also distributed many flyers to educational centers throughout Bogota and at the Worker's Day Celebration on the first of May.
Vegetarian people in some cities feel lonely and pressured by society. Their hopes and strength were restored when they realized the magnitude of Master's vegetarian promotion campaign. They returned later to offer us many delicious recipes and to tell us of things they had discovered.
We had, among others, a wonderful experience, from which we could perceive Master's supporting energy. To enter Venezuala a letter of invitation was needed from a citizen of that country. Since the invitation letters sent by a family of Venezualian initiates did not arrive, we could not enter the country. So we had to continue to stay in the apartment where we were in Cartagena. When entering the elevator of the building, the owner of that apartment met a lady that also lives in his building, who was accompanied by another lady; this latter one turned out to be the Consulate of Venezuela. Our flight was scheduled to leave the next day at 10:30am and she arranged an appointment for us through a travel agent for 8:45am. The next day, when we went to meet the Consulate, they told us that the departure of our flight had been delayed one hour, the exact time that it took to arrange the entrance requirements, being able to arrive on time to take the flight. They quickly reserved and paid for a great hotel for us, with which we were able to enter the country.
Only later we could realize the magnitude of the obstacles that were against the distribution work in Maracaibo. We could not bring the printed material through the border, could not print more in that city, and we could not even contact by Internet the people who could help us. After five hours trying to download some material in a special format to print, there was an interruption in the connection to the Internet and we lost the entire day's efforts. It was not easy to get transportation to go from one place to another within the city; it was the only place where we did not find a single vegetarian restaurant; and after a few days, suddenly, we were pressed to leave our place of lodging to move to another. Since we had already distributed the 18,000 flyers that we had brought in our suitcases, we decided to leave. What did work wonderfully was meditation; we put the solution into Master's hands.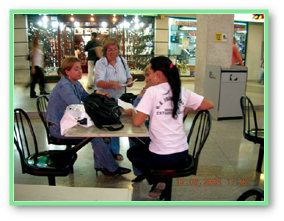 As soon as we left that city everything returned to its normal course. In record time we obtained in Caracas things that only in a miraculous way could be obtained. In two hours we did what in five days we had not been able to do; and we managed, in a huge company, to print flyers in only one day, at a very favorable cost and of very good quality. Later, when we successfully finished distributing flyers in Caracas and the other Venezuelan cities that we had selected, we had to return to Maracaibo since we were not able to return to Colombia from a different city. At that time, we were able to contact other members of the Quan Yin family, structure a plan, and complete in a successful and fluid way the work that had not been possible initially, which indicated to us that Master had intervened again in order to open the path for us to complete the work. This contrast allowed us to learn how to differentiate when it is the appropriate and favorable moment and when there is a blockage so great that it is necessary to withdraw, to recharge ourselves, and to return to try it again at a later time. It also allowed us to see the different ways that Master uses to guide and support us. As well, when it rained from time to time, we could also feel Master's presence in addition to having a fresh atmosphere in a very warm city.
In general terms, this was a project that at the beginning we could barely see its magnitude, which opened itself to us, requiring a very selfless spirit. Accomplishing it allowed us to realize the great potential within us all, in union with Master and Her love and protection. We grew, we learned a lot; to act intelligently, calmly, in an organized way and quickly, to attain the goals that we had set. It demanded detachment, changing of habits, to assume and share responsibilities, and to try our best; but mainly, it demanded 24 hours of divine connection daily. When we returned home, we could feel nostalgia for that wonderful and subtle state that we had experienced and a yearning to maintain it in our daily lives permanently. What we experienced was really an extraordinary coming together of blessings, guidance and support. Thank You dear Master for this wonderful opportunity; although the program was directed to serve others, we were the ones that grew in so many ways, spiritually and otherwise.