[Chiayi] On April 30, Golden Year 3 (2006), the Chiayi Center and the Chiayi City Spinal Cord Injury Association jointly held a seminar on a healthy lifestyle that covered both physical and spiritual aspects. At the seminar, fellow initiates who were medical professionals, spinal injury patients and their relatives, and volunteer workers exchanged insights and knowledge regarding medical treatment and recuperation. Fellow initiates offered a vegetarian meal along with knowledge on meditation and spiritual practice, hoping to share their healthy vegetarian lifestyle with all.
| | |
| --- | --- |
| | |
| Free Chinese traditional medicine consultation (left) | Western medicine counseling (right) |
Two medical professionals explained how one could ensure well -being for the body, mind, and spirit. First, Dr. Lin Meng-shi stressed that detoxification is a fundamental means of ensuring physical health. This theory resembles that of the Quan Yin Method of meditation that purifies our soul. The second speaker, Dr. Hwang Jian-xun, emphasized that the vegetarian diet is the first step to good health. He cited many research findings by medical academic institutes which indicated that a meat diet leads to high acidity in the body and thus may cause many illnesses. Plant protein is more beneficial to health than animal protein.
| | |
| --- | --- |
| | Attendees savoring the food while watching a video attentively. |
For this event, fellow initiates prepared nutritious, healthy, and tasty vegetarian food and shared it with everyone. They also distributed document folders printed with the Alternative Living message that introduces the benefits and nutrition content of the vegetarian diet. A video "The Real Heroes" featuring Master's discourse on the vegetarian diet was shown. Impressed by the delicious vegetarian food and convinced of the benefits, the attendees were more prepared to embrace a vegetarian lifestyle.
Lunch was followed by free medical consultations, health counseling, and teaching of the Convenient Method. Although few attendees were vegetarian, most accepted the advice of having vegetarian meals for ten days each month. About twenty people learned the Convenient Method and enjoyed bliss and the exhilaration brought about by the meditation. Some experienced the inner vision of Light.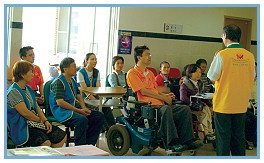 Attendees learning the Convenient Method of meditation.
Before the seminar drew to a close, Mr. Hwang, Executive Director of the Spinal Cord Injury Association, expressed his gratitude to Master and The Supreme Master Ching Hai International Association for their loving effort in jointly sponsoring this meaningful activity. He pointed out that it was indeed a positive approach for the issues of preventive medicine, health-care and spirituality to be discussed in a seminar. He especially asked his staff to survey the members and volunteers in his Association and determine who would be interested in meditation, and then contact The Supreme Master Ching Hai International Association, so that more people could learn to meditate and reap its benefits. Fellow initiates reminded everyone to cherish the form of meditation that they had just learned and choose a healthy and compassionate vegetarian lifestyle that will help to free them from the shackles of the body and to enjoy the bliss of liberation.