Love in Action

Report from Australia
Relief Work to Victims
of Cyclone (Hurricane) Vance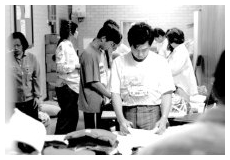 Perth fellow initiates pack a total of 27 cartons of clothes.

[Perth] On March 26, Cyclone Vance struck the town of Exmouthin, Western Australia. Vance was the strongest cyclone to hit there since records were kept. The damage to the town was extensive, with 5000 people reported homeless, having been evacuated with only the clothes they were wearing.

Inquiries showed that the most urgent need for the survivors was clothing. With several practitioners working in the clothing industry, the Perth Center set out to obtain the most needed items; 654 shirts, 243 shorts and pants, and 44 tracksuits with pants were purchased. Fellow initiates were fighting for time to pack these goods for shipment to the affected areas. Since the survivors were cared for by Government agencies, we were not able to deliver the clothes directly; however, the 27 cartons were delivered to a shipping depot to be trucked to Exmouth on Saturday evening.