Shining World Leadership Award
Everywhere in this world, we can see acts of tenderheartedness and manifestations of God's divine love. These beautiful encounters and charitable deeds are infusing positive energy into our society and adding momentum to the elevation of our world. To commend these virtuous actions and to encourage more people to follow their examples, Supreme Master Ching Hai has created a series of awards, including the Shining World Leadership Award, to be presented to these exemplary people, wise governments and organizations, as well as our compassionate and brave animal friends. These awards express our praise and appreciation for the superb ideal that they have set, which will bring a bright future to all beings. The "red heart" ratings represent God's love, reminding humankind to treat all living beings with compassion and love.
Supreme Master Ching Hai
Commends the EU on
Its Nobel Peace Prize
By USA News Group (Originally in English)
On October 12, Golden Year 9 (2012), the European Union (EU) won the Nobel Peace Prize for its decades of work in promoting international harmony, democracy and human rights.
Nobel Peace Prize 2012 - Nobel Prize Ceremony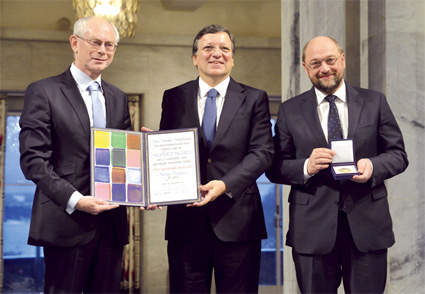 From left to right: His Excellency, Mr. Herman Van Rompuy, President of the European Council; His Excellency, Mr. JosÚ Manuel Barroso, President of the European Commission;
His Excellency, Mr. Martin Schultz, President of the European Parliament
A forerunner of the EU, The European Coal and Steel Community, was established in 1952. The EU was later created in 1957 by the Treaty of Rome. Since then, the organization has grown to include 27 nations extending from Russia to Ireland. Over the years it has helped rebuild Europe from the devastation of World War II, and bring peace and stability to the region after the fall of the Berlin Wall.
Announcing the award in Oslo, Nobel Committee Chairman Thorbj°rn Jagland said that the EU has transformed most of Europe "from a continent of wars to a continent of peace." French President, His Excellency Franšois Hollande said that receiving the Prize was an "immense honor." And then-U.S. Secretary of State, Her Excellency Hillary Clinton offered these words of praise: "Certainly it is quite remarkable to see how unified and peaceful Europe is in the 21st Century, and that did not happen by coincidence. It happened because of the very hard work and dedication of leaders and citizens across Europe." Upon hearing the wonderful news of the EU's Prize, Supreme Master Ching Hai sent the following congratulatory letter to the organization: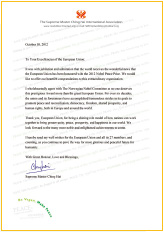 October 18, 2012
To Your Excellencies of the European Union:
It was with jubilation and admiration that the world receives the wonderful news that the European Union has been honoured with the 2012 Nobel Peace Prize. We would like to offer our heartfelt congratulations to this extraordinary organization.
I wholeheartedly agree with The Norwegian Nobel Committee as no one deserves this prestigious Award more than the great European Union. For over six decades, the union and its forerunners have accomplished tremendous strides in its goals to promote peace and reconciliation, democracy, freedom, shared prosperity, and human rights, both in Europe and around the world.
Thank you, European Union, for being a shining role model of how nations can work together to bring greater unity, peace, prosperity, and happiness in our world. We look forward to the many more noble and enlightened achievements to come.
I hereby send my well wishes for the European Union and all its 27 members, and counting, as you continue to pave the way for more glorious and peaceful future for humanity.
With Great Honour, Love and Blessings,
Supreme Master Ching Hai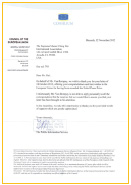 After receiving Master's letter, President of the European Parliament, His Excellency Martin Schulz asked his staff to respond, and their letter said in part, "With regards to the award, Mr. Schulz stated, 'It is a great honor that the EU has been awarded this year's Nobel Peace Prize.' He also highlighted the fact that this Award is meant for all European Union citizens.'"

Thank-you letter from The Public Information Service, Council of the European Union to Supreme Master Ching Hai for Her congratulatory letter
For their remarkable achievements, Supreme Master Ching Hai also honored the European Union and the President of the European Council, His Excellency Herman Achille Van Rompuy with the Shining World Leadership Award. Below is the letter that Master sent along with the Award:


23 October 2012

President of the European Council
His Excellency Herman Achille Van Rompuy
Rue de la Loi 175
B-1048 Brussels,
Belgium
Esteemed President Herman Achille Van Rompuy,
It is with the greatest admiration and immense gratitude that we present to the European Union the "Shining World Leadership Award." This Award is presented in recognition of the Union's unprecedented, historical endeavours towards the development of a unified, free and peaceful Europe and its outstanding influence as an exemplar for peace, democratization and human rights worldwide.
The Union's extraordinary triumph of transforming Europe into a "continent of peace" with "fraternity between nations" has been recognized with the conferral of the 2012 Nobel Peace Prize. Hailed as the single greatest contributor to global peace since World War II, European integration has bequeathed an era of shared prosperity, stability, solidarity; an era of where conflict between neighbours is no longer an option. Increasingly influential in world affairs, the EU has advanced the establishment of universal rights and values, actively promoting the abolition of capital punishment internationally and enshrining freedoms by requiring compliance with its Charter of Fundamental Rights as a condition of membership. With open borders and a single currency, the citizens of Europe enjoy unparalleled freedom to live, work, and travel across this richly diverse community of nations. Now a family of 27 members, the Union continues to act as a harbinger of harmony and unification as it embraces the Balkan countries thus strengthening the reconciliation process in that region, continuing its vital role as peace-maker between East and West and serving as an exemplary model for how sovereign states can cooperate to forge a common destiny.
For nurturing democracies and championing human rights, for being a force for peace on the global stage, and for ennobling and enlightening our world, we hereby applaud and celebrate the exceptional work, the inspirational leadership, and the shining moral strength and guidance of the European Union.
With Great Honour, Love and Blessings,
Supreme Master Ching Hai