Series of Shining World Leadership
Enlightened Leadership Creating a Bright Future
Forgiveness and Tolerance Triumphs
in Norway
By USA News Group (Originally in English)
The Norwegian people have gained an international reputation for promoting peace and tolerance around the world. A beautiful country with approximately five-million inhabitants, Norway has long played a major role in fostering harmony in the global community and in granting asylum and protection to people from other nations seeking greater freedom.
Norway's current Prime Minister His Excellency Jens Stoltenberg is an outstanding embodiment of the noble values and ideals held by the Norwegian people. He strongly advocates using his country's significant petroleum revenues to improve the lives and well-being of all Norwegians through numerous social programs, including universal health coverage, free university education, child care and senior-citizen care. Prime Minister Stoltenberg has also championed efforts to reverse global warming. In December 2011, he became the second head of state to visit the South Pole to draw attention to the need for research in Antarctica to help understand the enormity and significance of climate change.
Having grown up in a family dedicated to public service, Prime Minister Stoltenberg is one of Europe's longest-serving leaders. He took his first journey into politics as a teenager in the 1970s, and continued an active involvement leading to his first ministerial position in 1993. By 2000 he began his first term as Prime Minister, followed by a second term in 2005.
In the face of the July 2011 incident in which the precious lives of 77 people were tragically and senselessly taken, Norwegians, led by Prime Minister Stoltenberg, displayed profound courage, dignity, peace and forgiveness.
After the shocking occurrence, the Prime Minister issued a quiet call for his fellow citizens to respond to the events by making Norway even more open and accepting. "The Norwegian response to violence is more democracy, more openness and greater political participation," Mr. Stoltenberg declared at a news conference. To underline this renewed commitment to openness, Mr. Stoltenberg and the Royal Family made public appearances with little visible security guarding them.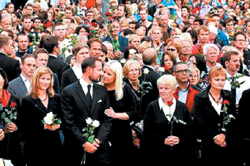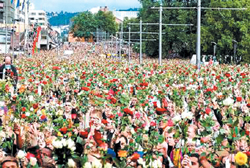 During a flower ceremony in Oslo attended by the grieving Royal Family and 200,000 other citizens, Prime Minister Stoltenberg stated, "Amid all the tragedy, I am proud to live in a country that has managed to stand at a critical time. I'm impressed with how much dignity, care and strength I have met. We are a small country, but we are a proud people. We are still shocked by what hit us, but we never give up our values. Our answer is more democracy, more openness and more humanity, but never naiveté. Nobody said it better than the girl from the AUF who was interviewed by CNN: 'If one man can show so much hate, imagine how much love we all can show together.'"
His Excellency also courageously defends the basic human right of free speech, even for people with views that diverge from those of the government and mainstream society. He affirmed the necessity of allowing people's voices to be heard, and emphasized that it was important for their views to be presented in the open, where discussion and better understanding can occur. He also underlines the fact that the process must be a civilized one, saying, "We have to be very clear to distinguish between extreme views, opinions that it's completely legal, legitimate to have. What is not legitimate is to try to implement those extreme views by using violence."
Since July 2011, Norwegians have continued to mourn their lost compatriots while also living in accord with their values by embracing tolerance and democracy. In the weeks following the tragic event, the country's main political parties have reported surges in the number of people expressing interest in membership. The perpetrator received a fair trial with humane sentencing, which includes psychiatric care.
A year after the tragedy, Prime Minister Stoltenberg urged Norwegians to "honor the dead by celebrating life," saying "The bombs and bullets were intended to change Norway. The Norwegian people responded by reasserting our values. The perpetrator failed to achieve what he set out to do. The people triumphed."
Deeply moved by the courage, compassion and benevolent spirit of the Norwegian people, Supreme Master Ching Hai shed tears of joy and expressed Her hope that other countries could follow their example. She wrote the following words of encouragement in Her letter to His Excellency Prime Minister Stoltenberg: "Your unprecedented accomplishment of transforming Norway's darkest hour into a vehicle for a more open, tolerant and peaceful society sets a truly inspiring example for all in this world. You conquered evil with goodness. Norway knows that Love is what heals and that Love is what gives hope."
Thank you, Your Excellency Prime Minister Jens Stoltenberg and people of Norway for showing the world that love and forgiveness triumph and are the only way to achieve lasting peace on Earth.

References: http://www.guardian.co.uk/world/2011/jul/27/norway-terror-attacks-prime-minister
http://www.regjeringen.no/en/dep/ud/selected-topics/peace-and-reconciliation-efforts.html?id=1158
http://www.salon.com/2011/07/28/norway_4/
http://www.aftenposten.no/nyheter/iriks/article4185069.ece
| | |
| --- | --- |
| | Commendation letter from Supreme Master Ching Hai to Norway's Prime Minister The Right Honourable Jens Stoltenberg |