Correspondence with World Leaders
Turkey Pardon at the White House
By USA News Group (Originally in English)
Partaking in an annual tradition, the newly re-elected U.S. President Mr. Barack Obama pardoned two turkeys in the White House Rose Garden on the day before the Golden Year 9 (2012) Thanksgiving holiday. The public was given the chance to choose between two birds named Cobbler and Gobbler via Facebook for the 65th anniversary of the National Thanksgiving Turkey Presentation. While Cobbler was chosen, the President decided to spare Gobbler as well.
Joined by his daughters Sasha and Malia, President Obama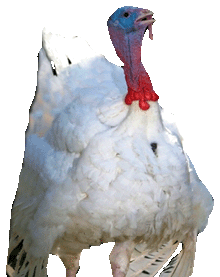 announced, "They say that life is all about second chances. And this November, I could not agree more. So in the spirit of the season, I have one more gift to give, and it goes to a pair of turkeys named Cobbler and Gobbler. The American people have spoken, and these birds are moving forward." Cobbler and Gobbler grew up on the same farm and will happily live out their lives at George Washington's Mount Vernon Estate and Garden in Virginia, USA.
The practice of unofficial presidential turkey pardoning is reported to date back to the days of President Abraham Lincoln, with Presidents John F. Kennedy, Richard Nixon and others also sparing the lives of turkeys in the ensuing years. However, the first official Thanksgiving pardon was given to a turkey by President George H.W. Bush in 1989.
Commending this merciful act as well as his efforts to bring peace to Gaza and comfort those in the eastern US affected by Hurricane Sandy, Supreme Master Ching Hai wrote the following letter to President Obama on November 22, Golden Year 9 (2012).
His Excellency Barack Obama
President of the United States of America
1600 Pennsylvania Avenue NW
Washington, D.C. 20500-0001

Respected Mr. President:
I'm so happy to write you this letter. Although I'm just an honorary U.S. citizen and not officially an American, I am so very proud of you, a humane and caring president.
I thank you for your compassion, and for setting a shining, noble example for the nation and the world. Since coming into office, you have expanded the annual presidential act of showing mercy to turkeys from one to two birds, this year being the lovely Cobbler and Gobbler. Your gesture speaks profoundly of kindness and respect for life. During your speech, Cobbler was even cooing songs singing your praise and thanking God in front of the whole world and cameras. And I'm sure that even if you don't speak "turkish," you know that he thanks you.
I also would like to thank you and Secretary of State Hillary Clinton together with President Mohamed Morsi for your crucial roles in brokering the ceasefire in Gaza, which will save countless lives including innocent children and women, who, as Secretary Clinton stated, deserve the chance to live free of fear and violence. Your dedicated efforts also raise the promise of lasting stability in the region.
In addition, you even went back to New York almost immediately after you were re-elected to comfort and encourage the victims of Hurricane Sandy, and to reiterate your promise to help with the rebuilding process. That shows just how genuine your concern is as a leader not for the votes, but rather for the well-being of your co-citizens.
These symbolic acts of compassion surely touched Heaven, and Heaven will pardon humans for many incorrect doings. With every such benevolent act, you bring us closer to the time when all beings may give thanks for the blessings of living a peaceful life.
Respectfully yours,

Supreme Master Ching Hai
P.S. In furthering your goodness, we will contribute US$50,000 to the non-kill animal shelters in New York for the homeless and troubled animals in the wake of Hurricane Sandy (in support of the President's kindness toward Gobbler and Cobbler) — for the humans, I have already sent some material and emotional comfort. Thank you again for reminding the world to be loving and kind.