Weeks of continuous rain that started at the end of December 2010 hit the east coast of Sri Lanka heavily, forcing more than 300,000 people out of their homes. Many villages were cut off from supplies and tens of thousands of hectares of rice fields were inundated. It's estimated that more than one million people had been affected. Even though the government had deployed the military to carry out relief work, more help was needed.
Expressing deep sympathy for the afflicted people, Supreme Master Ching Hai provided a US$15,000 relief fund and asked our Association members to bring urgent provisions to the neediest. On January 6, 2011, a team of Formosan Association members flew to Colombo, the capital city of Sri Lanka, and then travelled 9 hours to reach the city of Batticaloa in the Eastern Province that was in urgent need of help.
Accompanied by Mr. Vilvaratanam, the Divisional Secretary, and Mr. Yogaverl, Director of the Batticaloa Chamber of Commerce and Industry, they visited local shelters to assess the situation. To a 101-year-old blind man staying in a ruined temple, our relief team gave all the remaining food in their car and made sure that more supplies would be delivered to him and his family.
With the help of local volunteers, they purchased and loaded relief materials for 1,368 families from four villages (Unnichchei, Ayithiyamalai North, Nediyamadu and Vavunatheivu). However, due to unexpected, non-stop rain that began on January 8, they had to postpone distribution until the roads became accessible.
The lengthy rain affected even more people, many of whom came to the town in search of food. The relief team immediately purchased 1,100 kg of rice for a Methodist Church and 20 kg of dhal for the workers at the Batticaloa Chamber of Commerce and Industry who were serving food to the people. They also gave LKR28,318 (US$255) to a local temple to serve hot vegetarian meals to the people and offered some cash to 13 victims near their hotel.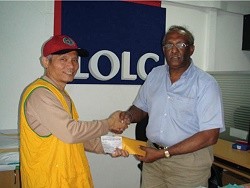 Mr. Yogaverl, Director of the Batticaloa Chamber of Commerce and Industry, presented thank you letters from the local government and organizations to our Association member.
Due to the dangerous flood situation, our relief team was advised to leave the country. Later, after the rain stopped, all 1,368 packages were successfully distributed by Mr. Yogaverl and local volunteers. The recipients were extremely happy to receive aid for the first time and expressed sincere appreciation for Master's love.
In mid January, central and eastern Sri Lanka experienced another severe flood which destroyed over one hundred thousand acres of farmland and affected more than one million people. Declaring the flood as the worst natural disaster since the 2004 tsunami, the government sent more than 30,000 navy and air force personnel to assist in the relief effort.
With Supreme Master Ching Hai's loving contribution of US$20,000, our Association members from Formosa and other countries joined the local relief team to provide immediate aid once again, to the affected people in Batticaloa District. After consulting Government Agent and District Secretary, Mr. Suntharam Arumainayaham, and obtaining a list of people who needed urgent help, they quickly prepared 2,250 food packages and delivered them to the Valaichenai, Arayampathy, Jayanthipara, Garnasnriyam and Thiraymadu regions.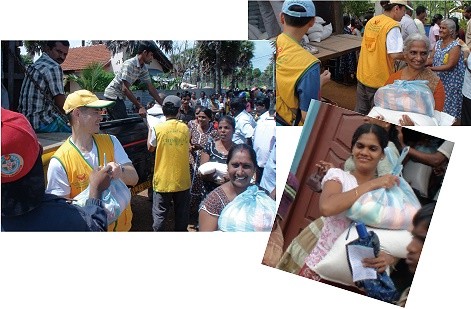 The receipt of the goods brought beautiful smiles to the faces of the simple-hearted Sri Lankan people, which depicted their gratitude and love for God. Our relief team thank the kindhearted local officials and volunteers for helping them accomplish their mission. May the people of Sri Lanka quickly turn to a more compassionate way of life so that they may live in harmony with nature.