| | |
| --- | --- |
| Story World | |
| | | |
| --- | --- | --- |
| | A Change of Heart: From Dairy Farmers to Compassionate Vegans | |
Compiled from Supreme Master TV Program (Originally in Persian)
On June 25, Golden Year 5 (2008), Supreme Master Television received a letter addressed to Supreme Master Ching Hai from Mr. Mehran Houshmand who lives in Rasht, the capital city of the northern province of Gilan, Iran. With much love and sincerity he wrote, ". . . Master, ever since I've known of your benevolent work, teachings, lectures and way of thinking about all beings, I've gradually changed. I owned a dairy farm and had plans for it for the next 50 years, but your talks and words touched me so much that I've been following a complete vegetarian diet for the last six months. I think I am the first person in Iran who has stopped his animal husbandry business to reduce environmental pollution. I hope this encourages others to do the same, and we can see more animal farms closing every day in all countries around the world."
At first, Mehran and his brother Mehrdad were pleased to provide society with dairy items produced from the 40 milk cows that they raised on their ranch. However, after they watched programs on Supreme Master Television, the kindhearted siblings realized that not only was their way of life environmentally unsustainable, it also caused great suffering to the animals. Having to endure incessant daily milking, a lack of exercise and cramped living conditions, these beautiful giving creatures very often became ill. The newborn calves were taken away from their mothers and fed hay, alfalfa, all sorts of concentrates and other drugs, which were harmful to them. Because the cows were constantly kept pregnant, to force them to produce large quantities of milk, they were frequently calcium deficient, making it very common for them to break their hips or legs. In addition, the brothers began to perceive the sentient and sensitive nature of these loving beings and realized the severe emotional distress this business was inflicting on the cows.
As they became painfully aware of the damage that their dairy farm was causing, Mehran and Mehrdad made a very important decision, to change their lifestyle. Explaining to their family the benefits of closing the farm, to the environment and to all people on this planet, as well as being a great service to humanity, they unanimously agreed. One compassionate action led to another and the two brothers have now become vegans. In an interview with Supreme Master TV, Mehran mentioned that this new compassionate way of life is a great comfort to him, "When you are vegetarian, your relationships with your fellow beings are better, and this feels very good. I would like all people in the world to experience being a vegetarian so that we can save the planet."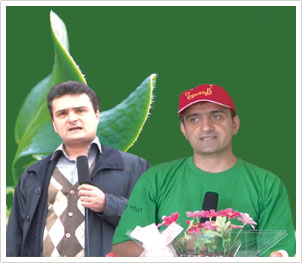 Mehran and Mehrdad made a very important decision,to change their lifestyle
The brothers now support themselves through more environmentally friendly endeavors. Mehran works for the Gilan Provincial Government at the General Bureau for the Environment as an environmental expert responsible for protecting the Anzali Lagoon and its wildlife from fishing and hunting. Mehrdad has found a new career at the recently opened "Kolbeh Mohabat" vegan restaurant, which means "Loving Hut" in Persian. It is the first establishment of its kind in the entire country. Mehrdad said, "Here, I feel very happy. The people who I work with are very nice and highly elevated. They promote veganism …, and this motivates me every day to encourage others to become vegan."
Through their influence, Mehran and Mehrdad's parents and two of their sisters have adopted the plant-based diet. At work, Mehran's colleagues now enjoy vegetarian food when having lunch with him, with some expressing interest in becoming fully vegetarian. During Supreme Master Television's 3nd Anniversary Celebration, Master recounted Mehran's touching letter to the attending guests. She expressed these words of praise for his noble example of courage and compassion, "I want to reply to this person in a much more affectionate way, but I was running out of words. So I would just tell him something like, 'Oh I love you and God bless you. You're so wonderful.' ... I was so touched, so happy."
The Houshmand brothers are heroes working for the betterment of our shared planet, our animal brethren and humanity. Their bravery symbolizes the true freedom of heart and conscience which their fellow citizens value highly. We are grateful to Mehran and Mehrdad Houshmand and all farmers around the world who have made the switch from raising livestock to more loving occupations. Blessed be your benevolent hearts and selfless endeavors.

 To watch Supreme Master TV's complete program, "A Change of Heart: From Dairy Farmers to Compassionate Vegans," please visit: http://video.Godsdirectcontact.net/magazine/AW1178.php