| | |
| --- | --- |
| | Shining World Compassion Award |
| | |
A Kind-Hearted Jewish-American Helps Africa
♥♥♥♥♥♥♥♥♥
By New York News Group, USA (Originally in English)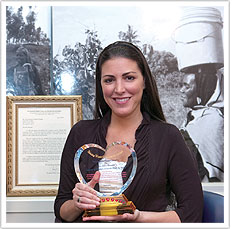 After witnessing the hardship of the African people during her travels, Israeli-born Mrs. Sivan Achor-Borowich founded the non-profit organization Jewish Heart for Africa in January 2008. The New York-based group brings sustainable Israeli technologies to rural African villages to help conserve water, curb climate change, and support economic development.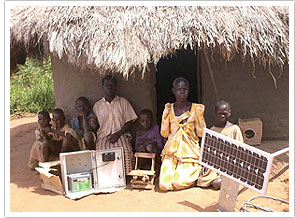 Jewish Heart for Africa's first initiative, Project Sol, provided solar energy to villages in Tanzania, Ethiopia and Uganda. The solar panels are purchased at cost price from Israel. This low maintenance and sustainable energy allows health centers to have refrigeration for medicines, provides lighting to schools and clinics, and enables water pumps to operate. For instance, in Shangaroo Village in Tanzania, people can now get water from three taps around the township instead of spending six hours daily gathering water from a great distance. It is estimated that at least 30,000 people had benefited from the new power source last year. The group's next undertaking, Project Agro, will work in conjunction with Project Sol and use Israeli innovations to improve water use in farming and food production.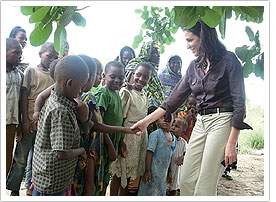 In recognition of her devotion and care for others, Supreme Master Ching Hai honored Mrs. Sivan Achor-Borowich with the Shining World Compassion Award. A ceremony was held on June 25, Golden Year 6 (2009), at the Summer Gala in New York. The attendees included Sivan's parents and husband, the Tunisian Ambassador, an Israeli reporter, and the Deputy Director of Communications for the U.S. Representative to Israel. On Master's behalf, our Association members presented Mrs. Achor-Borowich with a crystal plaque along with US$30,000 and a selection of Master's DVDs and books. After the ceremony, Sivan's husband, Mr. David Borowich, expressed interest in learning more about Master Ching Hai.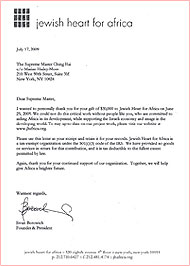 Thank you letter and receipt for US$30,000 from Mrs. Sivan Achor-Borowich
In a follow up correspondence, Association Executive Director of Jewish Heart for Africa, Ms. Rachel Isholfksy, wrote that their organization has grown significantly in the last year—"bringing light, clean water, improved education, and proper medical care to 70,000 more people. This growth has been in large part thanks to the Supreme Master's gift. We are greatly indebted to the Supreme Master for the kindness she has shown us, and would welcome any opportunity to speak with her in the future and thank her for all that she has made possible."
Our thanks go to Mrs. Sivan Achor-Borowich and the staff at Jewish Heart for Africa. May God bless your work on behalf of Africans in need, and may all Earth's inhabitants soon live on a happy, abundant and viable planet.

If you wish to know more about the beautiful things happening in our world, please check out our archives of awards presented over the years, including the Awards of the Month, at the following URL address:
http://award.godsdirectcontact.net