Special Reports
Supreme Master Television Celebrates 2nd Anniversary with Musical Concert -
"A Cultural Celebration Honoring All Life"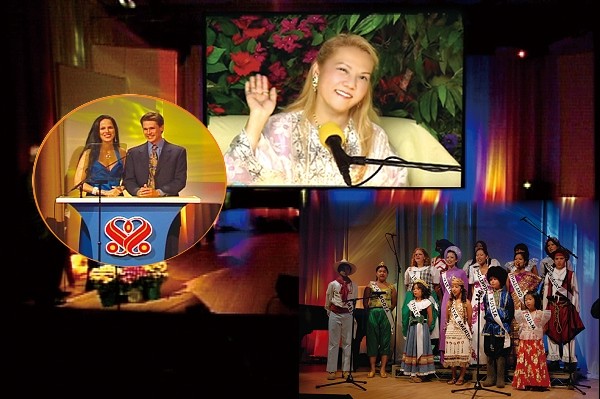 Compiled by Supreme Master TV Team (Originally in English)
On September 7, Golden Year 3 (2006), a new era in television was born. It was called Supreme Master Television―a unique TV channel running 24 hours a day and 7 days a week, focusing solely on constructive news and programs from around the world. Today, Supreme Master TV, inspired and guided by Supreme Master Ching Hai, broadcasts on 14 satellite platforms, in over 40 languages and is the planet's first "Constructive Global TV Channel" sharing its sincere message of love and hope with the world. In commemoration of this television network's second anniversary, a very special in-studio concert was held entitled "A Cultural Celebration Honoring All Life."
Dignitaries, past guests, as well as other friends of Supreme Master Television came to take part in this joyous event. We were excited to greet the Croatian Consul General, Honorable Ante Barbir, as well as Dr. Ali Jafarey, co-founder of the Zarathushtrian Assembly of Los Angeles. Other noted guests were Mr. Vladek Juszkiewicz, President of the Polish American Film Society, Dr. Larry Timm, Professor of Music at California State University, Fullerton, and Ms. Zina Bethune, acclaimed actress and choreographer.
| | |
| --- | --- |
| | |
| Dr. Larry Timm and his wife | Ms. Zina Bethune |
The concert was warmly emceed by famous Hollywood stars, Mariana Tosca, who is a vegan, and Billy McNamara, a vegetarian. Mr. Bernie Williams was our guest speaker, a long-time Hollywood figure and executive producer of the 2006 movie version of Charlotte's Web. He shared his endearing experience of working with the 80 talented animals on the film set, which helped him realize that all animals have emotions and a personality of their own, while also reminding us that factory farming is definitely not a part of God's plan.  
The highlight of the event came when Supreme Master Ching Hai graced us with Her presence via live videoconference. She was so warm and friendly with everyone and cordially interacted with some of Her friends in the audience. Later, She recounted a touching email from a Supreme Master Television viewer in Iran who owned an animal farm that could have provided her a lifetime of income: "…But because she watched Supreme Master Television, which showed some of my seminars, and she turned around, she doesn't want to do this animal farming anymore, she became vegetarian. And then she doesn't even want to sell the animals to other people because she worries they might kill them to eat. Therefore, she's still keeping them. But not selling them, not killing them anymore…I was so touched, so happy."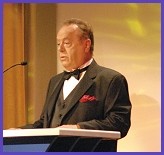 Mr. Bernie Williams
Mr. Bernie Williams spoke with Supreme Master Ching Hai, "I have the highest respect for anyone who cares about humanity and animals, especially animals because they can't speak for themselves. And we have to speak for them."
After Master's joyful and inspiring words of wisdom, She graciously thanked all those who came for the celebration and wished them the utmost fulfillment in their lives. The atmosphere took on a certain magical quality and everyone seemed to be floating in a sea of love.
From Irish music to Gospel, Mexican to Australian Aboriginal, Opera to Middle Eastern, a unique combination of musical styles and culture brought an amazing array of colorful life to the stage. To start off the much-anticipated entertainment program was the adorable and award-winning International Children's Choir, who sang the favorite "Let There Be Peace on Earth."
Mr. George Thatcher is an acclaimed composer and lyricist from the United States, who conducted at Supreme Master Ching Hai's benefit concert "One World of Peace through Music" in Los Angeles in 1998. He played so gracefully on piano "Winter Night in Iserlohn," a poem from Supreme Master Ching Hai that he set to music, with accompaniment by singer Miriam Estrada. Next was the wonderful folk band "Ed, Bob and Mike," who set Master's poem "For the Afternoon Walk" to music and followed it with a stirring rendition of Bob Dylan's peace song, "Blowin' in the Wind."
Ancient Chinese instruments were next to adorn our audience's ears as the pipa (Chinese lute) and the yang chin (hammered dulcimer) were played beautifully by the Queen of Chinese String Music, Ms. Betty Zhang, and Ms. Yanwen Tang, respectively.
Vegan Catherine Manna, an award-winning artist, singer and songwriter from Canada, then dedicated a song called "You are Beautiful" to Master. Before performing the song, Ms. Manna gave a sincere speech, expressing admiration for Master: "Supreme Master Ching Hai is our blessing today, is a gift from God for everyone."
The soul-stirring sounds of legendary singer Margie Evans followed. She is the founder of Los Angeles Music Week and reminded all of us to use our positive thinking power to do anything we want. Following the wonderful blues music were the jubilant and upbeat sounds of the Mexican ensemble Mariachi Juvenil Nochistlan.
Words can't express the next performance by comedian, actress, steadfast vegan and animal advocate, Debra-Wilson Skelton. She chose to play an ancient Australian instrument called the didgeridoo and for many, the vibrations reverberated deeply within our souls. Before the song, she commented, "… the creation of Supreme Master Television is coming from such a spiritual, loving, pure, organic place, from Supreme Master Ching Hai, to create a television network that says, 'We are not going to discriminate…'"
A talented violinist and devoted vegan, Jennifer Argenti performed a duet with the accomplished cellist Hope Easton. Together they played Master's beloved song "Ocean of Love" followed by Vivaldi's "Summer" from the Four Seasons. After the performance, Ms. Argenti was "completely moved" by Supreme Master Ching Hai's words saying, "She brought tears to my eyes, Her expression to the world and about caring for the planet, all its creatures and beings, and all the people on it, all of humanity."
Kerry Walsh, who also performed at the One World concert, has a voice that's been described as "meltingly beautiful" with a "golden tone." This beautiful and talented soprano singer, who also chooses the compassionate way of eating, debuted her musical compositions of Master Ching Hai's elegant poems entitled "Forget Me Not," "Togetherness" and "Innocent Kind." After her performance, Ms. Walsh shared these words, "I felt very, very inspired and very guided and transported, really. And I just felt that I was sort of floating on a cloud and I felt the love in the room and Supreme Master's love and just the wonderful energy of this occasion. I'm very honored, very honored to be here today."
There were also wonderful performances that took us to the beautiful shores of Ireland, Korea and the Middle East. Next was the children's favorite, Bob Baker's Marionette Theater. Aulacese star Ms. Diem Lien then sang one of Master's poems and made a wonderful wish, "May the channel always be successful! Successful! Successful!" The conclusion of this heart-warming, global event came from the group that started the show, the International Children's Choir, as they performed a Jewish traditional dance called the "Hora."
The Supreme Master Television staff was touched by the kindness of all the guests and the brilliance of all the performers. It was truly an international celebration as glorious musical traditions from many countries were represented. Everyone was so happy; the guests, the staff members and the performers. Everything went so smoothly, thanks to Master's boundless blessings which filled the atmosphere with love and pure joy. A few days after the concert, guest performer Margie Evans wrote to Supreme Master Television saying that her life had changed. She wrote: "I'M NOW A VEGETARIAN."
We sincerely thank Master for being the soul inspiration and guiding light of the channel since its beginnings. May the loving efforts of Supreme Master Television offer international viewers happiness and peace while fostering harmony and understanding on our beautiful planet Earth.

To watch Supreme Master Television's coverage of this music concert, please visit:
http://video.Godsdirectcontact.net/magazine/EE723s.php