Korea
Sharing the SOS Environmental Messages
at the Busan Sea Festival
By Busan News Group (Originally in Korean)
[Busan] In August, Golden Year 5 (2008), local initiates came together at the Busan Sea Festival that took place at Haeundae  Beach and Gwangalli Beach, where tourists and local citizens gathered to enjoy colorful and quality cultural performances.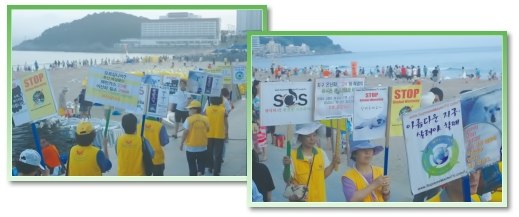 With hopes of raising people's awareness of the urgency of the global warming situation, they shared fans and fliers printed with the SOS messages and information on how vegetarianism is the best and quickest solution to the problem. Many tourists accepted the materials out of curiosity, but after reading the information, they became concerned about the current situation and agreed that everyone should act quickly to save our beautiful earth. 
---
Soy Products Appreciated by the Young
By Seoul News Group (Originally in Korean)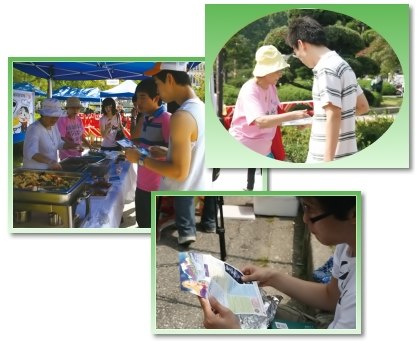 [Seoul] On September 10, Golden Year 5 (2008), our Seoul Center participated in the Yonsei Food festival, as part of the three-day food festival organized by the Yonsei University Student Association. For this event, the initiates prepared a wide variety of soy meats for sample tasting, introducing the animal-free diet to the students. The response was great! Most were amazed by the taste and meat-like texture of the soy products. Within two hours, all the prepared food was gone and SOS flyers distributed.
One of the student organizers commented, "Soy meat isn't meat at all, but it can taste like it, which means we don't have to kill animals to have that taste, and I really like that idea. So we arranged this event. I hope our fellow students learn more about soy meats and have more interest in vegetarianism." Another student said, "It's our job as a student body to present students with a balanced view on food." He also added, "To provide an alternative choice for students, we'll think of a way to include soy products in our school cafeteria menu."
From this event the initiates feel that vegetarianism is becoming more of a trend and is gaining much popularity in Korean society. All the initiates are truly grateful for Master's boundless grace.