Ireland
Accelerated Interest in Vegetarianism
at the Mind Body Spirit Festival
By Dublin News Group (Originally in English)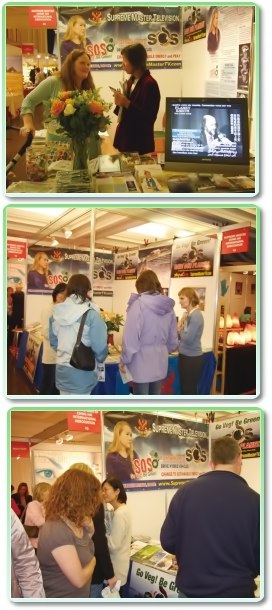 [Dublin] From September 12 to 14, Golden Year 5 (2008), Dublin Center initiates were blessed to participate in the Mind Body Spirit Festival in Cork to promote the important message- "Be Vegetarian to Save the Planet!"
Their stand was in an excellent location directly in front of the main entrance hall, highlighting a large banner with Master's photo, a Supreme Master Television heading and the "SOS, Be Veg – Go Green" slogan. Various packets of vegetarian food were displayed and a list of names and addresses of vegetarian restaurants and health stores in the Cork area was provided. A lot of the guests were already vegetarian or considering vegetarianism to better their health and the environment. Many were eager to help spread the vegetarian concept to even more people. A guest speaker at the festival who owned an Ecology Center in Australia took over one hundred SOS leaflets and DVDs for his students.
The festival was a tremendous success with so many more Irish people changing to the vegetarian diet for their health and to curb climate change. The response was very positive and encouraging for the Dublin initiates, increasing all prospects to save our beautiful planet Earth.
---

SOS Message Reaches Readers
via Ryanair Inflight Magazine

By Dublin News Group (Originally in English)

[Dublin] Through Master's divine power, on September 10, Golden Year 5 (2008), the Dublin Center received a call from Ryanair, the largest airline in Europe, asking them whether or not they were interested in advertising through their inflight magazine. Since they are a non-profit organization and it was a last-minute deal, the airline offered them the price of £1,500, which was a huge difference from the normal price of £11,500. The initiates designed a poster specially for airlines, clearly stating that the meat industry is a greater contributor to global warming than all forms of transportation put together. At the end of the advertisement, readers are directed to a website and Supreme Master Television for more information. The Ryanair Inflight Magazine will be on every Ryanair flight for one month from September 17 to October 17, and has a potential readership of five million passengers.