India
Rev. Dada J.P. Vaswani Celebrates 90th Birthday
By Formosa News Group (Originally in Chinese)
[Pune] Prominent Indian spiritual leader Rev. Dada J.P. Vaswani celebrated his 90th birthday at his Pune Center in western India on July 27, Golden Year 5 (2008). Supreme Master Ching Hai was invited to the occasion, but was unable to attend due to previous engagements. However, She did send a representative to extend Her congratulations.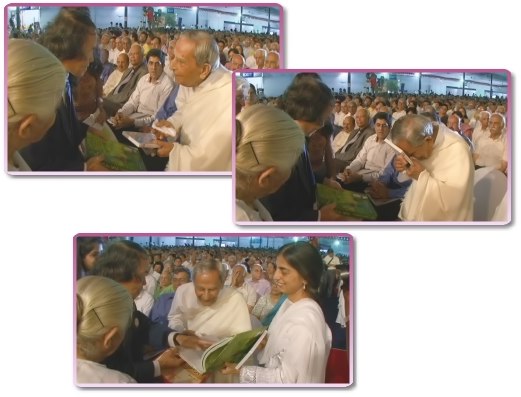 Dada and the Supreme Master first met at a spiritual seminar held in Pune in 1997. They met again two years later when both were invited to address the World Conference on Religion and Peace in South Africa. Since then, their mutual respect for each other has grown. Dada was delighted to receive Master's best wishes and gifts presented by the chairman of The Supreme Master Ching Hai International Association. "She has always taken care of me, just like a mother taking care of her child," said Dada, expressing heartfelt gratitude for Master's love. Many distinguished guests, who fondly remember Master from the 1997 Pune meeting, also extended their sincere greetings to Her.
Dada heads the Sadhu Vaswani Mission, an international humanitarian organization based in Pune with branches all over the world. The Mission is dedicated to performing good deeds and helping as many people in as many ways as possible. In addition to elevating people's spirituality, it is also devoted to humanitarian work, which includes education, medical care, helping the poor as well as the physically and mentally challenged, rehabilitation, and animal welfare. Among its main activities is International Meatless Day.
Dada's weeklong birthday celebrations, from July 27 to August 2, included a concert, a free clinic for the poor, and giving artificial limbs and hearing aids to those in need. The event reached a climax when Dada delivered a speech on "Attitudes That Attract Success," amply displaying his exceptional humor and wisdom. He also revealed the ten secrets to success, the most crucial of which are to embrace an enthusiastic and positive attitude, and not give up easily.
We wish all the best and good health to Dada, and hope that more people will benefit from his love and wisdom.