Shining World Leadership Award
Highest Honor for Supporting the Noble Diet
By Formosa News Group (Originally in Chinese)
Hsinchu
Hsinchu County Magistrate
Cheng Yung-chin (left)

Hsinchu County Magistrate Cheng Yung-chin with our Association members
On August 25, Golden Year 5 (2008), on behalf of Supreme Master Ching Hai, our Association members presented the Shining World Leadership Award to Hsinchu County Magistrate Cheng Yung-chin in recognition of his wise and compassionate governance. Magistrate Cheng was the first local government leader in Formosa to openly support the noble vegetarian diet. On Earth Day, he played an exemplary role by inviting his entire government staff to enjoy a most delicious and healthy, eco-friendly plant-based diet meal with him. He also encouraged Hsinchu residents to join the "No Meat, No Heat" endeavor. Magistrate Cheng recently instructed the relevant departments to launch a nutrition project, urging local elementary and junior high schools to provide at least one vegetarian lunch per week.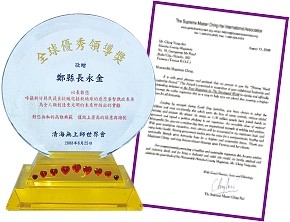 The Award presentation took place in a cordial ceremony. Awed by Master's immense love, Magistrate Cheng expressed his eagerness to help realize Master's noble ideal of compassion. While thanking the Supreme Master for this highest honor, he reciprocated with a meaningful gift of an eco-friendly bag and porcelain mug as well as a letter in memory of his late mother, who had also been a vegetarian.
WWe hope that all government leaders in the world will step forward to encourage people to adopt a compassionate, healthy and sustainable plant-based diet, and to work together to save our planet.

Changhua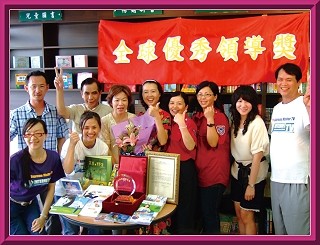 Ms. Liu Bi-xia (Back row, third in the left)
with Association members
On August 29, on behalf of Supreme Master Ching Hai, members of the Changhua Center presented the Shining World Leadership Award to Ms. Liu Bi-xia, chairperson of the Mediation Committee of Xianxi Township, Changhua County, commending her outstanding example as a compassionate vegetarian and her endeavors in advocating a sustainable plant-based diet, thus bringing hope for a bright future. Amiable and humble, Ms. Liu was modest about her efforts and expressed surprise to receive this Award that to her represents the highest honor. However, in accepting the Award on behalf of the many local inhabitants who wish to perform good deeds and contribute to society behind the scenes, she acknowledged that this was valuable and meaningful.
Ms. Liu is a delegate to the Xianxi Township Assembly. She works to improve the lives of the people and mediates disputes. Her enthusiasm about public-benefit projects can be seen in her efforts as head of the Women's Fire Prevention Publicity Squad organized by the Xianxi Fire Station. Having benefited from her vegetarian diet, she often shares the positive aspects of a plant-based diet with others. She is a very noble soul.

To watch Supreme Master TV's interviews and coverage of this Award presentation, please visit:
http://video.Godsdirectcontact.net/magazine/EE793.php
If you wish to know more about the beautiful things happening in our world, please check out our archives of awards presented over the years, including the Awards of the Month, at the following URL address: http://www.Godsdirectcontact.org.tw/gv/